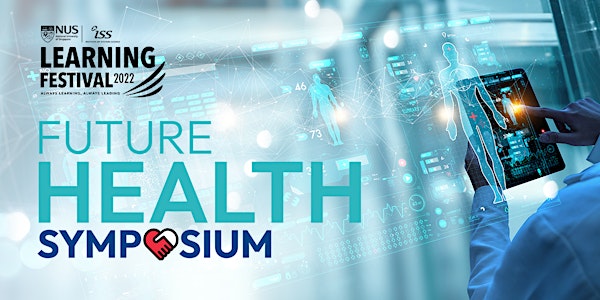 NUS-ISS Learning Festival presents Future Health Symposium
Join us for a series of online talks conducted by NUS-ISS Smart Health Leadership Centre as part of NUS-ISS Learning Festival
About this event
As part of NUS-ISS Learning Festival, our Smart Health Leadership team will be organising a day of virtual talks targeted at social and healthcare industries.
The Future Health Symposium connects impact-driven individuals and professionals to drive meaningful conversations, actions, and collaborations to achieve integrated care across the health and social care systems and building a healthy, person-centered and caring environment for everyone.
Programme
10:00am - 11:00am: Digital Transformation in Integrated Care
11:00am - 12:00pm: How will Data Shape the Future of Health and Social Care
1:00pm - 2:00pm: Designing Human-Centered Services (Part of NUS-ISS x NVPC Community Matters Series)
2:00pm - 3:00pm: Powering Sustainable Health Innovation
3:00pm - 4:00pm: Explanatory AI for HealthTech - Are We There Yet?
More details can be found on our website here.