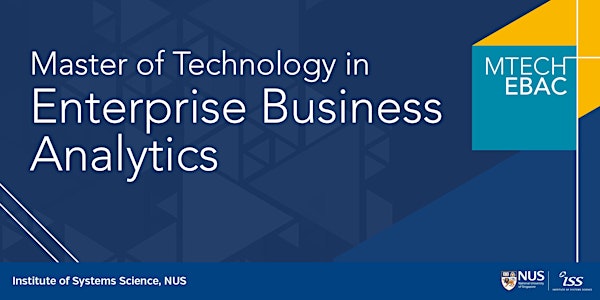 NUS Master of Technology in Enterprise Business Analytics Virtual Preview
Applications for the August 2023 (FULL-TIME) Intake is now open!
Date and time
Thu, 9 Feb 2023 03:30 - 04:30 PST
About this event
The NUS Master of Technology in Enterprise Business Analytics (MTech EBAC) / Stackable programme is specially designed to meet the industry demand for data scientists who can help organisations to achieve improved business outcomes through data insights.
This programme prepares students for specialist, expert and leadership roles in enterprise business analytics to create business value through strategic use of data, analytics, models and frontline tools.
Programme Highlights
24-month structure practice-oriented programme
Series of courses interleaved with practice to create competence
Constantly updated to meet the current skill requirements for industry
The online session will be hosted by the faculty member and is a good opportunity for you to find out if our programme is the right fit for you.
This Online Information Session will be conducted via ZOOM. Register for the session by clicking on the "REGISTER" button that leads you to the Registration Form. The ZOOM link will be sent to those who have registered successfully.
Please note on Eventbrite Privacy Policy and NUS PDPA clauses
Please note that by submitting personal information you have given the consent to NUS-ISS to collect, use and/or disclose the personal data submitted for the purpose of administration and/or management of the event. You also acknowledge that photography and videography will be taken during the event, and given your consent that NUS-ISS may use some or all of these images in print and social media.
About the organiser
Established in 1981, the Institute of Systems Science at National University of Singapore (NUS-ISS) develops digital talent for the industry through graduate education, professional development programmes, consultancy, applied research and career services. NUS-ISS is widely recognised as a champion of the national SkillsFuture movement, enabling a digital economy that is always learning and always leading.
NUS-ISS has implemented a unique portfolio of multiple learning pathways, with a wide spectrum of programmes in critical industry disciplines, such as software development, data science, artificial intelligence, cybersecurity, smart health, digital government and digital innovation.

To date, over 135,000 infocomm & business professionals, 7,200 corporate customers and 6,250 post-graduate alumni members have benefitted from NUS-ISS's suite of services. Its programmes are delivered by NUS-ISS staff with an average of more than 20 years of industry experience.