KICK OFF NEW YEAR'S EVE IN 1920's FASHION & STYLE!
About this Event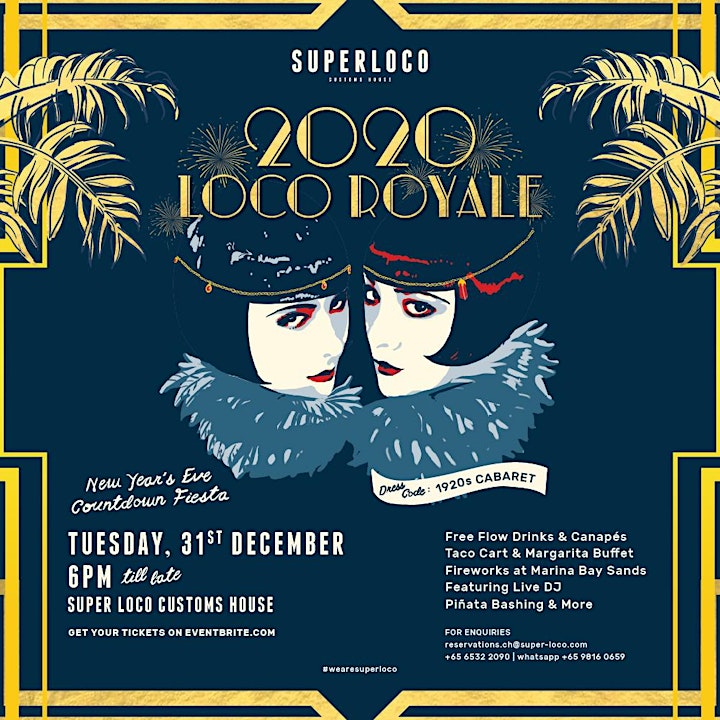 LOCO ROYALE: 2020 COUNTDOWN FIESTA
Glam up and join us in 2020's countdown fiesta in fringe and fedoras, as we turn Super Loco Customs House into a dazzling realm from a hundred years ago. Get ready for a night of amazing fireworks by the bay, and indulge in free-flow tacos, canapés & drinks! Come in your best 1920's glamourous cabaret outfit, and dance the night away.
Enjoy a 4 hour premium beverage free-flow including a margarita buffet along with canapes and a 'all-you-can-eat' live taco station. Featuring one of Singapore's top DJ's with a mash up of all your favourite hip hop, pop, RnB & dance classic hits!
Strut from 1920s into 2020s with class, style, and fiesta!
4 HOUR FREE FLOW from 8PM to 12AM
Beverages, (See below for menu)
Fresh fruit Margarita buffet
Mexican starters, canapes & dessert
Live taco station
Spectacular view of the New Year fireworks
Piñata bashing
Free standing tickets start from $179 (including GST & SVC).
* All table bookings are entitled to a complimentary bottle of Veuve Clicquot or Arquitecto Tequila (Quantity varies per table tier).
We promise you a fun & festive night as we countdown to 2020. No resolutions, only Tequilas.
Limited seating, so lock down your tables! Follow our events page on Facebook for updates!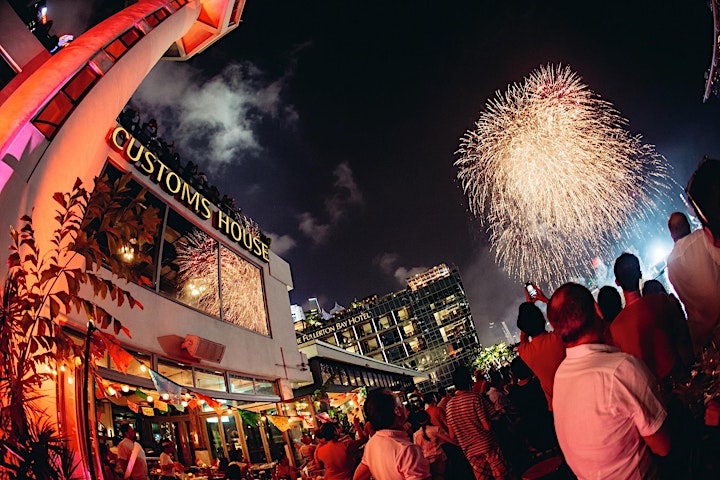 FREE - FLOW CANAPES MENU
Totopos Con Salsa
Corn chips | Roast Tomato & Chipotle Salsa | Guacamole | Mexican Tarama.
Aguachile De Ostras
Oysters | Serrano | Coriander | Salmon Caviar.
Cochinita En Flauta
Mexican Braised Pork Cigars | Burnt Apple & Serrano. (G)
Apionabo
Celeriac | Crispy Tapioca | Mustard. (D)
Ceviche De Vieira
Canadian Scallops | Tomatillo Salsa | Chicharron.
Huitlacoche Tostada
Mexican Truffle | Jalapeño | Sweet Corn | Whipped Goats Cheese. (D)
Camarones Y Platano
Prawns Plantain | Achiote | Lime | Avocado. (D)
Salpicon De Pollo
Mexican style Chicken Salad | Piquillo, Lime.
Tartaleta de Lima
Mini Tartlets of Lime Curd & Berries. (G), (D), (E)
Trufa De Chocolate Mole
Chocolate Truffle | Mole Spices. (D)
Dietary specification contains: (G) Gluten, (D) Dairy, (E) Eggs.
ALL YOU CAN EAT - TACO CART
Pollo Al Pastor
Spit Roasted Chicken | Achiote, Guajillo | Orange.
De Cachete
Slow Braised Beef Cheeks | Mexican Spices.
De Vegetariano
Artichoke | Poblano | Zucchini | Epazote.
Mixed Lettuce | Pico De Gallo | Pickled Jalapeño and Red Onion | Pineapple Salsa | Cotija Cheese | Chipotle Mayo | Tomatillo Salsa Verde | Mole Rojo | Lime Crema
FREE-FLOW DRINKS
D.I.Y FRESH FRUIT MARGARITA
Mango | Passionfruit | Watermelon | Strawberry | Lychee
SPIRITS
Widges Gin | Tried & True Vodka | Plantation Original Dark Rum | Arquitecto Tequila
COCTELES
Frozen Calamansi & Lime Margarita | Frozen Pina Margaritas
WINES
Espeto Tempranillo | Maycas Chardonnay | Botter Prosecco
BEER
Agua Bendita Bottle | Pesado Pilsner Draft |Nuevo Gringo Pale Ale Draft
SOFT DRINKS & JUICES
Coke | Coke Zero | Soda | Orange | Cranberry
FREE FLOW MENU IS AVAILABLE FROM 8PM - 12AM. We use premium and eco-friendly wine, liquor & spirits.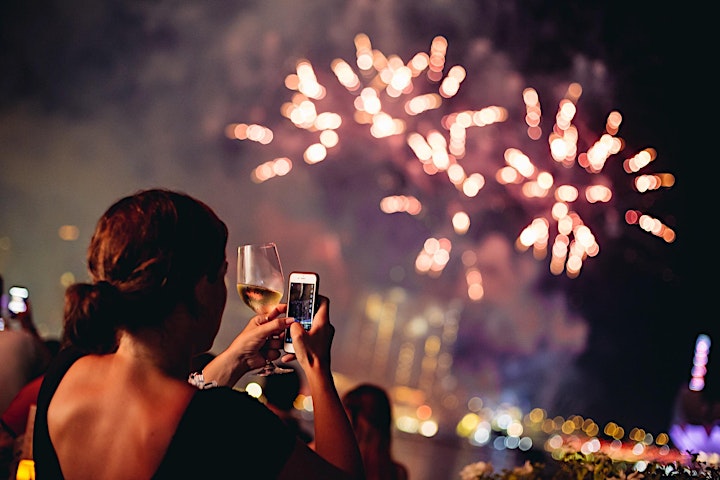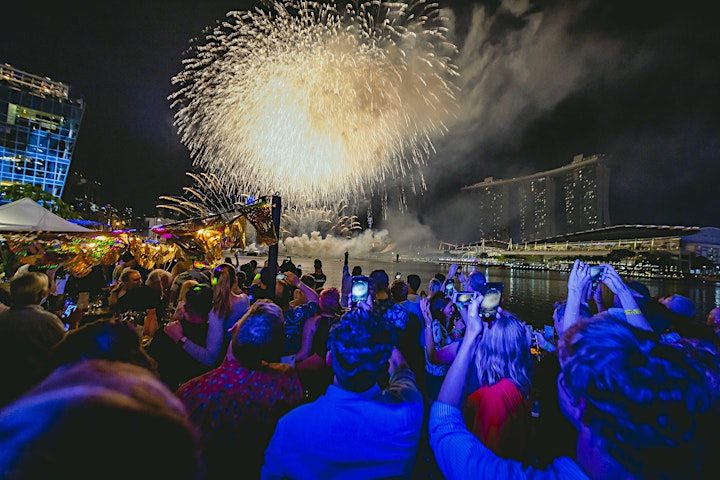 FAQs
Is there a menu available before the free-flow period?
Guests can order from our reduced a la carte menu for beverages and food, between 6pm-7.30pm.
What are my transport/parking options for getting to and from the event?
Taxi - this is the best option, alight at OUE Bayfront
Car - you may park at OUE Bayfront
MRT - alight at Raffes Place MRT station and head towards One Marina Boulevard
Bus - alight at The Sail
IMPORTANT - some roads will be closed on the day of event, so best plan your trip and allow some extra time to arrive if you are meeting friends
Will there be any road closure in the area on the event day?
Please follow our events page for details on road closure.
What's the dress code?
1920's Cabaret.
Gold. Shimmery. Glitzy.
Cool and lightweight fabrics recommended.
Are there ID or minimum age requirements to enter the event?
This event is open to all ages.
Children under the age of 7 get free entry. For children between the ages of 7 and 11, ticket is priced at $59. And children 12 years old and above will have to purchase an adult ticket.
Kids menu available upon request.
Children have to supervised at all times.
How can I contact the organiser with any questions?
Please visit our Facebook events page for details.
Email us at reservations.ch@super-loco.com or call +65 6532 2090 / whatsapp +65 9816 0659 for ticketing information.
TERMS & CONDITIONS
Tickets are sold on a first come first served basis.
We will require full payment to confirm your reservation. Refunds allowed up to 7 days before the event.
Guests with table packages may be asked to run a credit/debit card tab for additional beverages ordered on the night of the occasion.
Customs House will be exclusively available to guests who have bookings in venues on New Year's Eve. We will have a host at the entrance and only ticketed guests will be able to get entry. We may have walk-in tickets available for sale at the door, subjected to availability and capacity.
This is a rain or shine event with limited sheltered seating. The party continues, and we will do our utmost to make our guests comfortable. There will be free ponchos available in the event of wet weather.
As this will be a free-flow food and drink event, we advise against stockpile ordering so as to discourage wastage. Guests are entitled to a maximum of 2x drink orders per request. Kindly consume all food and drink orders before requesting for more.
We do not have a corkage policy. No outside food and drinks allowed.