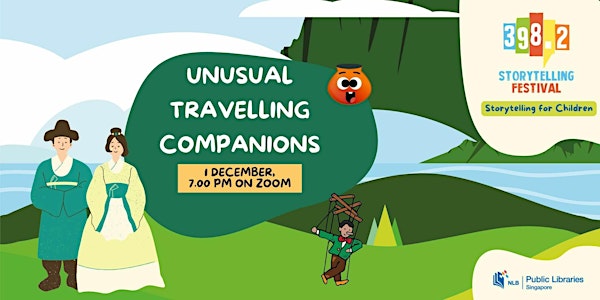 [Online] 398.2 Storytelling Festival 2022: Unusual Travelling Companions
Listen to stories of unusual companions going on long journeys together, such as a talking pot and walking puppet.
About this event
About the Programme/ Event
We're back with more exciting sessions this November! Our storytellers from Storytelling Association (Singapore) will whisk you and your family away into the fascinating world of fairy tales and folktales. Extraordinary adventures await you! This programme is suitable for children aged 4 to 9 years old. Register for free now!
This programme  is conducted on Zoom.
Theme: Unusual Travelling Companions
Talking pots, walking puppets and a mysterious grain of Korean rice. Where will these strange acquaintances take us? Will the journey be funny, spooky or enlightening? Come and find out.
This programme is part of Love Our Libraries and Archives (LOLA) 2022 celebrations
About LOLA - Love Our Libraries and Archives:
LOLA invites you to (RE)CONNECT with the libraries and archives through a month-long suite of programmes and activities. Explore our spaces, be a part of our Celebrations and continue your reading journey with the Big Book Giveaway. Finally, immerse yourself in stories told by experts and everyday heroes, as they share personal narratives and experiences at Share Fest.
Let's meet, connect and be inspired this November! Sign up at https://go.gov.sg/lola22-collection.
Please note the following:
This programme is conducted entirely online. You may access Zoom via the app or using a web browser.
Please ensure that you enter a valid email address as you will receive an email with the link to the online programme/event near the day of the programme/event.
The link of the programme should not be shared with others.
Do ensure you have a strong internet connection. Using your mobile data is not recommended.
The National Library Board, Singapore (NLB) reserves the right in its absolute discretion to disqualify or refuse admission to any registrant without any reason and notice.