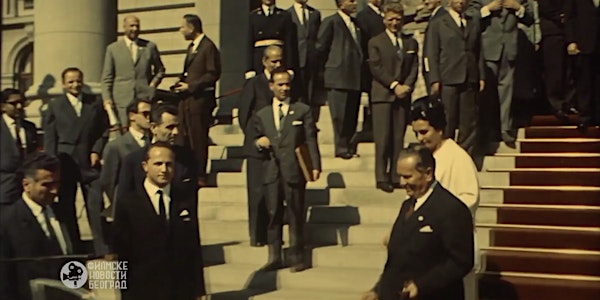 Online Screening: First conference of Non-Aligned Movement, 1961
Register to receive the password to view the film.
About this event
Archive footage from the first conference of the 1961 Non-Aligned Movement, otherwise known as the Belgrade Conference, presenting historical events from the meeting. The inaugural conference was initiated by three key figures: Josip Broz Tito, President of Yugoslavia; Gamal Abdel Nasser, President of Egypt; and Jawaharlal Nehru, First Prime Minister of India. Attended by 25 countries from Asia, Africa, and Latin America, the conference is a direct response to the division of sphere of influence settled between the major world forces after WWII and the Cold War, enabling members to independently formulate their own position in international politics.
___
Selected films from our film programme Third Way / After Bandung, curated by Mark Nash and Vladimir Seput, screened on-site in parallel with the exhibition Non-Aligned, are being made available to be streamed on our website for limited periods of time.