Online Session : Twin SuperFullmoon Meditation I &II (SOLD OUT)
About this Event
We are going into two special super fullmoon again this year with twin energy which these two Super Fullmoons have an ultimate Supercharge power to the earth and human magnetic field and core energy.
The force between the moon and earth today will be extremely strong and powerful, most living creatures will feel it in different way such as the reaction from the physical and emotions. Some people may have the need to organize everything chaotic and disorganized. Try being more tolerant and accept imperfections of life.
Good news is we can make use of this Super power day to recharge and upgrade our physical and soul energy. It is a rare scenario that happen, together with the new energy, our DNA and nerve system will go into energy integrating, do some breathing exercise, meditate and yoga will benefit your physical and mental self a lot.
Benefits and Key takeaways:
• Set a new beginning platform and map to tackle our new life
• Realign with the high energy and remove the negative one if any
• Super power healing to charge up your internal and external energy field
Twin SuperFullmoon Meditation I &II
With Michele Chong
9th March & 7th April 2020
7.30pm-9pm
[Ticket fee Sgd66 for March and April session, limited to 33 slots only]
*No single session allowed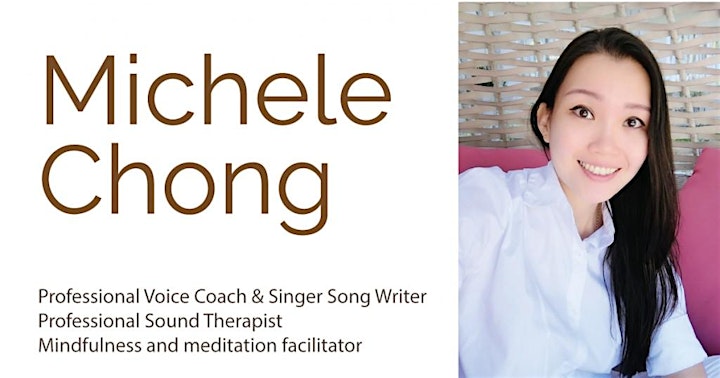 Michele has been invited to run workshops and private sessions across the world, including in Indonesia, Malaysia, Dubai, Hong Kong, Shanghai etc. Her workshops and sessions have been extremely popular. Through her sound therapy work, she has transformed and healed many of her clients. She believes that sound is the most powerful medicine. Michele continues to enhance her knowledge and skills by pursuing courses related to health and wellness, human psychology and relationships, and self-improvement.
Her favourite quote is "Nothing is Impossible". Michele believes strongly in what she is doing and loves helping people to transform their lives. She hopes that everyone will discover their mission in life and work wholly towards it with positive energy and trust.
Learn more about Michele here.