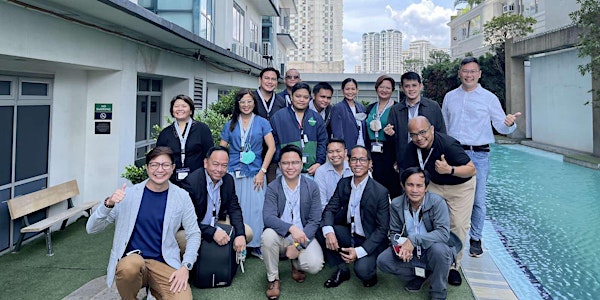 Onsite @ Manila - Python Programming Foundation
Acquire foundational knowledge on how to use Python Programming to develop simple applications
Date and time
Monday, October 24, 2022 · 9:30am - 5:30pm PST
Location
GT Tower International corner H.V. Dela Costa Makati, NCR 1227 Philippines
Refund Policy
Contact the organizer to request a refund.
About this event
For more information: www.casugol.com/ppf
International Acclaimed Certification. 5-Star Reviews
Suitable for everyone. Learn in an Interactive, Supportive and Encouraging Environment.
Course Fee: SGD $108 Nett
Register via www.casugol.com/ppf
Duration: 8 Hours
Certification: Participants will receive a Certificate of Completion upon successfully completing the course
Who Should Attend: Aspiring Software Developer, Programmers, Data Analyst, IT Professionals, Software Engineer, Business Leaders, Managers, Supervisors and anyone seeking to acquire foundational knowledge on Python Programming.
Course Objective
Acquire foundational knowledge on how to use Python Programming to develop simple applications
Learn the key components of Python Programming, its extensive libraries and how it can be used to kickstart quick development.
Pre-Requisite
No pre-requisite. Python Programming Foundation is suitable for everyone
Examination
No Examination Required
Topics Covered
Introduction to Python Programming
Setting up Python IDE and Programming Environment
Understanding Structure of Python Programming
Python Variables: Integer, Floats, Strings
Using of List vs. Dictionary
Operators and Loops: If-Else, For, While, Break, Continue
Types of Functions in Python
Introduction to Built-In Functions in Python
Introduction to Classes in Python
What is Object-Oriented Programming (OOP)
Unleash the Power of Python Libraries
Python Programming Foundation involves rigorous usage of real-time case studies, hands-on exercises and group discussion
About the organizer
"The duty of helping one's self in the highest sense involves helping of one's neighbours" – Samuel Smiles
CASUGOL is an international certification body offering a wide-range of professional training and certification programs designed for all industries and verticals.
Participants attending our programs will develop the skills and knowledge in their chosen area of professional, personal or academic interest. Programs are constantly reviewed by educators who are industry experts in their chosen field to ensure that they remain current, relevant and consistently high quality.
CASUGOL strives to be a contemporary international neighbourhood where individuals gather to learn, be inspired, share ideas, knowledge, and resources to acquire all that necessary to pursue and advance in a career of their passion. Training and certification programs are also being offered in 25 Countries including Singapore, Canada, France, Thailand, Vietnam and Malaysia through our global Certified Training Partner (CTP) network.
Empowering people to be their best by making education, knowledge, and resources accessible has always been our commitment. With programs that cover a diverse range of interests, participants can certainly learn update their knowledge, gain new skills, or unleash their creativity.