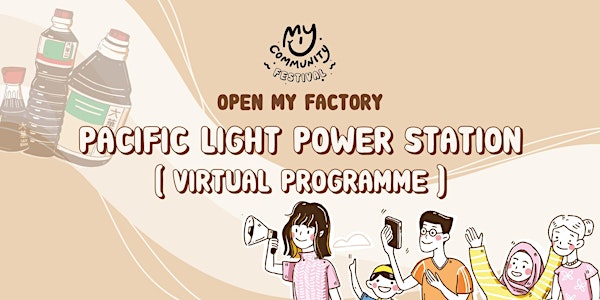 Open My Factory: PacificLight Power Station
Bring home a handmade furniture or hang with the postal workers responsible for sorting through the nation's mail.
Refund Policy
Contact the organiser to request a refund.
Eventbrite's fee is nonrefundable.
About this event
Ever wondered what goes on inside our power plants, mail processing centre and sugar factory? Find out more about the people and processes behind these restricted walls!
About the Power Station
PacificLight Power Station is a joint venture between FPM Power Holdings and Petronas Power. It was constructed in 2011. At its helm is Kwong Kok Chan, PacificLight Power's deputy general manager. Aside from organising outreach programmes and caring for his staff's safety and well-being, Mr Kwong is also the power station's resident tour guide.
Born in the 1950s, Mr Kwong remembers the days when kerosene lanterns and dynamo lights were commonplace. All social activities in Singapore typically came to a stop by dusk, he shared. Things only changed in the 1960s when the Public Utilities Board rolled out its 10-year Rural Electrification Programme. Mr Kwong recalled the early days when the first lampposts were installed to light up the streets of his kampung: "When electricity first arrived, my neighbours would gather at lampposts to marvel at the technology."
Mr Kwong entered the energy industry in 1988 and has witnessed the transformation of the electricity sector from its early beginnings at St James Power Station to the greener jet-fuelled power in use today. He shared: "Our plants can operate with one or two persons per unit with 60 per cent efficiency. At older stations such as Pasir Panjang Power Station, efficiency used to be much lower or at about 30 per cent. A lot of manpower (about 60 to 70 people) was needed to run the show."
Details of the Virtual Programme
5 & 19 Dec (Sat)
8pm-9.30pm (on both dates)

Meeting place: Zoom (Link will send one-day before the tour)
For updates:
Visit www.mycommunityfestival.sg for updates.