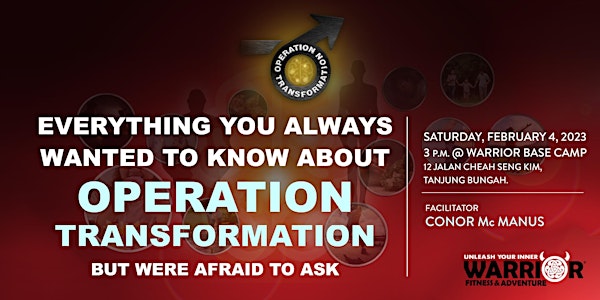 Operation Transformation 2023 Talk - 4th Feb 2023
Introduction and Q&A session about Operation Transformation
When and where
Location
Warrior Base Camp 12 Jalan Cheah Seng Kim, Tanjung Bungah George Town Penang, 11200 Malaysia
About this event
You realised that managing your weight issues is a struggle on your own. Or maybe you would like to fine-tune your nutritional plan to improve your athletic performance. Here is how we can help you.
Come join us for the first FREE TALK and Q&A in this series on Operation Transformation to learn about this program and how it can work for you.
This program is suitable for anyone who is:
✅ Looking for some extra MOTIVATION to TRANSFORM your LIFE
✅ Looking for a program that will overall IMPROVE your HEALTH and FITNESS level.
✅ Looking to IMPROVE your LEAN MUSCLE MASS, REDUCE BODY FAT.
✅ Want to feel BETTER and increase your ENERGY levels, IMPROVE athletic performance
Join Coach Conor for this informative talk to better improve your well beings. To learn more about the program, see
http://www.warriorfitnessadventure.com/programs/operation-transformation
ABOUT THE FACILITATOR
CONOR Mc MANUS is a former military tactical fitness trainer, he is also a certified Group Personal Trainer, Precision Nutrition Level 1 Coach, Youth Exercise Specialist, & Rehab Trainer.
When he's not coaching he is active in Road running, Ultra running and Spartan Racing. He has completed Ultra trail races such as Vibram 100 (HK), TMBT (Sabah), UTMF (Japan), Spartan Elite.
Conor is a certified PN Level 1 coach and has helped many in Warrior® Fitness to achieve their health and fitness goals through their vast knowledge and experience in fitness and nutrition.