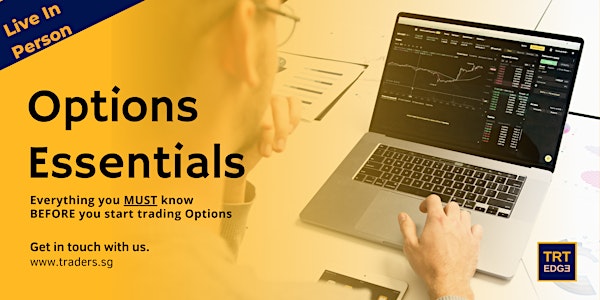 Options Essentials Masterclass
This options trading for beginners masterclass contains everything you need to know BEFORE you start trading options in Singapore.
When and where
Location
TRT Academy Learning Centre 5 Purvis Street Talib Court #02-07, Singapore 188584 Singapore
Refund Policy
Contact the organiser to request a refund.
About this event
You see it all over Social Media, but what is Options Trading all about?
Options is a trading instrument that helps Sophisticated Investors to hedge against potential dangers that might happen when they are holding on to their investments by buying or selling an Options Contact.
For Traders, Options provides the opportunity to profit from the market, whether it goes up, down, or sideways, for lesser capital committed than it would that buying shares.
For new Investors or Traders, trying to start on Options can be daunting.
There seems to be alot to learn when you search Options Trading.
However, when you look everywhere on Social Media, they don't seem to tell you what you need to know before you start.
There are little or no opportunities to clear your doubts.
This In-person class provides you the opportunities to get clear on what you must know before you get started on Options.
What Options Essentials masterclass is about?
In this masterclass, students will learn what they must know before they get started on Options.
They will learn the good, the bad and the ugly about Options, so that they will be able to determine for themselves if Options is right for them.
In this masterclass at TRT Academy, you will learn:
a) The 8 Major Option terms and how they work.
b) The 3 Major Option Trading Style.
c) Capital considerations and Competitive Analysis against other types of Trading.
d) Open Risk vs Fixed Risk.
e) Ways of the Thinking Trader.
Who should attend this masterclass?
Investors and traders who want to start learning about Options.