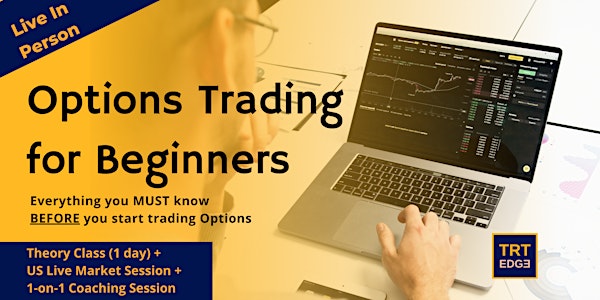 Multiple dates
Options Trading for Beginners
This masterclass contains everything you must to know BEFORE you start trading options. This forms part of the Traders Incubation Program.
Date and time
Sat, 25 Mar 2023 10:30 - Sat, 24 Jun 2023 17:00 +08
Location
TRT Academy Learning Centre 5 Purvis Street Talib Court #02-07, Singapore 188584 Singapore
Refund Policy
Contact the organiser to request a refund.
About this event
You see it all over Social Media, but what is Options Trading all about?
Options is a trading instrument that helps Sophisticated Investors to hedge against potential dangers that might happen when they are holding on to their investments by buying or selling an Options Contact.
For Traders, Options provides the opportunity to profit from the market, whether it goes up, down, or sideways, for lesser capital committed than it would that buying shares.
For new Investors or Traders, trying to start on Options can be daunting.
There seems to be alot to learn when you search Options Trading.
However, when you look everywhere on Social Media, they don't seem to tell you what you need to know before you start.
There are little or no opportunities to clear your doubts.
This In-person class provides you with the opportunity to get clear on what you must know before you get started on Options.
What Options Essentials masterclass is about?
In this masterclass, students will learn what they must know before they get started on Options.
They will learn the good, the bad and the ugly about Options, so that they will be able to determine for themselves if Options is right for them.
In this masterclass at TRT Academy, you will learn:
a) The 8 Major Option terms and how they work.
b) The 3 Major Option Trading Style.
c) Capital considerations and Competitive Analysis against other types of Trading.
d) Open Risk vs Fixed Risk.
e) The Thinking Traders Process.
Bonus :
1) 1x Live Application of Options done in Live Market Conditions on a weekday evening.
2) 1x One-on-One Trader Coaching Session to help new traders understand how they can start or experience traders who are facing difficulties in trading.
Who should attend this masterclass?
Investors and traders who want to start learning about Options.
About the organiser
TRT Academy was founded by Thomas SAW in 2009 to provide a community environment for aspiring traders to receive good-quality education, peer support from other fellow traders, and coaching from successful practing traders.
As practicing traders, we are making our money from trading. Not from providing trading education.
We collect a fee from you for attending our Premium Programmes, as a gesture to ensure that you are really committed to attending and learning. Your fee is a contribution towards the operational expenses to maintain the facility and the infrastructure for all your LIVE Market Learning sessions. And our post-course Continuous Learning Support will ensure that your skillset is always kept updated with the changing market conditions.
As practicing traders, we strongly advocate that trading is a skillset best learnt by hands-on practice, practice and more practice to achieve mastery. The best learning environment for practicing trading skills is the dynamic conditions of real markets. As such, 80% of all our education programmes are LIVE Market Learning sessions, conducted during regular UK and US trading hours. And we intentionally maintain small class size, so that you will receive all the personal attention you deserve and need to excel in your learning.