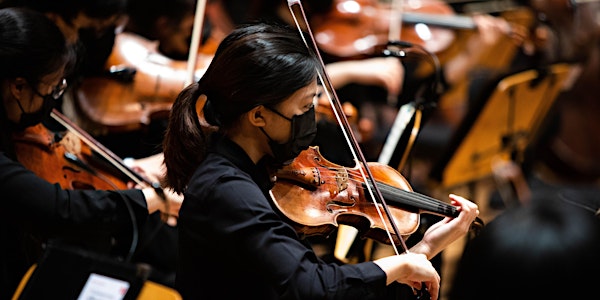 Orchestral Institute: Pärt, Britten and Elgar
Join the YST Orchestral Institute in this Britten-centric programme, featuring Alan Bennett, William VerMeulen, and Luke Dollman.
When and where
Location
Yong Siew Toh Conservatory of Music YST Concert Hall Singapore, Singapore 117376 Singapore
Refund Policy
Contact the organiser to request a refund.
Eventbrite's fee is nonrefundable.
About this event
YST Orchestral Institute
with
LUKE DOLLMAN, guest conductor
WILLIAM VERMEULEN, french horn
ALAN BENNETT, tenor
PROGRAMME
PÄRT
Cantus in memoriam Benjamin Britten
BRITTEN
Serenade for Tenor, Horn and Strings, Op. 31
I. Prologue
II. Pastoral
III. Nocturne
IV. Elegy
V. Dirge
VI. Hymn
VII. Sonnet
VIII. Epilogue
ELGAR
Enigma Variations, Op. 36
Theme. Andante
Variation I. L'istesso tempo "C.A.E."
Variation II. Allegro "H.D.S-P."
Variation III. Allegretto "R.B.T."
Variation IV. Allegro di molto "W.M.B."
Variation V. Moderato "R.P.A."
Variation VI. Andantino "Ysobel"
Variation VII. Presto "Troyte"
Variation VIII. Allegretto "W.N."
Variation IX. Adagio "Nimrod"
Variation X. Intermezzo: Allegretto "Dorabella"
Variation XI. Allegro di molto "G.R.S."
Variation XII. Andante "B.G.N."
Variation XIII. Romanza: Moderato " * * * "
Variation XIV. Finale: Allegro "E.D.U."
ABOUT THIS EVENT
Guest conductor Luke Dollman leads the YST Orchestral Institute in this Britten-centric programme, featuring Alan Bennett (tenor) and William VerMeulen (french horn).
TICKETING INFORMATION
Out of respect for other concertgoers, no children under 6 years of age will be allowed admission.
To help keep our community safe, here are the measures that we will be adhering to:
• Only individuals who are fully vaccinated or exempted from Vaccination-Differentiated Safe Management Measures (VDS)* may be admitted to performances with more than 500 audience members.
• *Exempted from VDS: Individuals who have recovered from a COVID-19 infection and are within 180 days of their first positive test result, individuals who are medically ineligible for COVID-19 vaccination, and children aged 12 and below.
• All audience members must warrant that all vaccination and VDS information is correct when requested for disclosure.
• All audience members must consent to the collection, use and disclosure of personal data in relation to the ticket holders' vaccination and VDS data.
• Do bring along your photo identification and proof of vaccination. We regret that patrons who do not have their photo ID or proof of vaccination may be denied entry. Please visit the MOH website for details.
* Please refer to ystmusic.nus.edu.sg for the latest event updates.