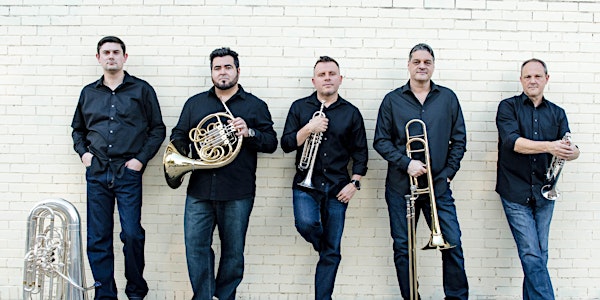 Orchestral Institute: Sounds of Cinema with Boston Brass
Boston Brass leads the YST Orchestral Institute in this programme of film music.
When and where
Location
Yong Siew Toh Conservatory of Music YST Concert Hall Singapore, Singapore 117376 Singapore
Refund Policy
Contact the organiser to request a refund.
Eventbrite's fee is nonrefundable.
About this event
YST Orchestral Institute
with
JASON LAI, principal conductor
BOSTON BRASS:
JEFF CONNER, trumpet
JOSE SIBAJA, trumpet
CHRIS CASTELLANOS, horn
DOMINGO PAGLIUCA, trombone
WILLIAM RUSSELL, tuba
PROGRAMME
RICK DEJONGE
The Sounds of Cinema
JOHN WILLIAMS
Jurassic Park: Theme
MICHAEL GIACCHINO
Music from Up
ELMER BERNSTEIN
The Magnificent Seven
BERNARD HERMANN
Psycho: A Short Suite for String Orchestra
JOHN WILLIAMS
Harry Potter and the Sorcerer's Stone: Suite for Orchestra
I. Hedwig's Theme
– Intermission –
TAN DUN
Crouching Tiger Concerto
I. Crouching Tiger, Hidden Dragon
VI. Farewell
LEONARD BERNSTEIN arr. SAMUEL PILAFIAN
Presto Barbaro from On the Waterfront
MICHAEL GIACCHINO
The Incredits
JOHN WILLIAMS
Star Wars Suite
I. Main Title
III. The Imperial March
II. Princess Leia's Theme
V. Throne Room & End Title
ABOUT THE ARTIST
For 35 years, Boston Brass has set out to establish a one-of-a-kind musical experience. Performing exciting classical arrangements to burning jazz standards, Boston Brass treats audiences to a unique brand of entertainment captivating all ages. The ensemble's lively repartee, touched with humor and personality, attempts to bridge the ocean of classical formality to delight audiences in an evening of great music and boisterous fun. The philosophy of Boston Brass is to provide audiences with a wide selection of musical styles in unique arrangements, provided in a friendly and fun atmosphere.
ABOUT THIS EVENT
Boston Brass leads the YST Orchestral Institute in this programme of film music.
TICKETING INFORMATION
Out of respect for other concertgoers, no children under 6 years of age will be allowed admission.
To help keep our community safe, here are the measures that we will be adhering to:
• Only individuals who are fully vaccinated or exempted from Vaccination-Differentiated Safe Management Measures (VDS)* may be admitted to performances with more than 500 audience members.
• *Exempted from VDS: Individuals who have recovered from a COVID-19 infection and are within 180 days of their first positive test result, individuals who are medically ineligible for COVID-19 vaccination, and children aged 12 and below.
• All audience members must warrant that all vaccination and VDS information is correct when requested for disclosure.
• All audience members must consent to the collection, use and disclosure of personal data in relation to the ticket holders' vaccination and VDS data.
• Do bring along your photo identification and proof of vaccination. We regret that patrons who do not have their photo ID or proof of vaccination may be denied entry. Please visit the MOH website for details.
* Please refer to ystmusic.nus.edu.sg for the latest event updates.