Description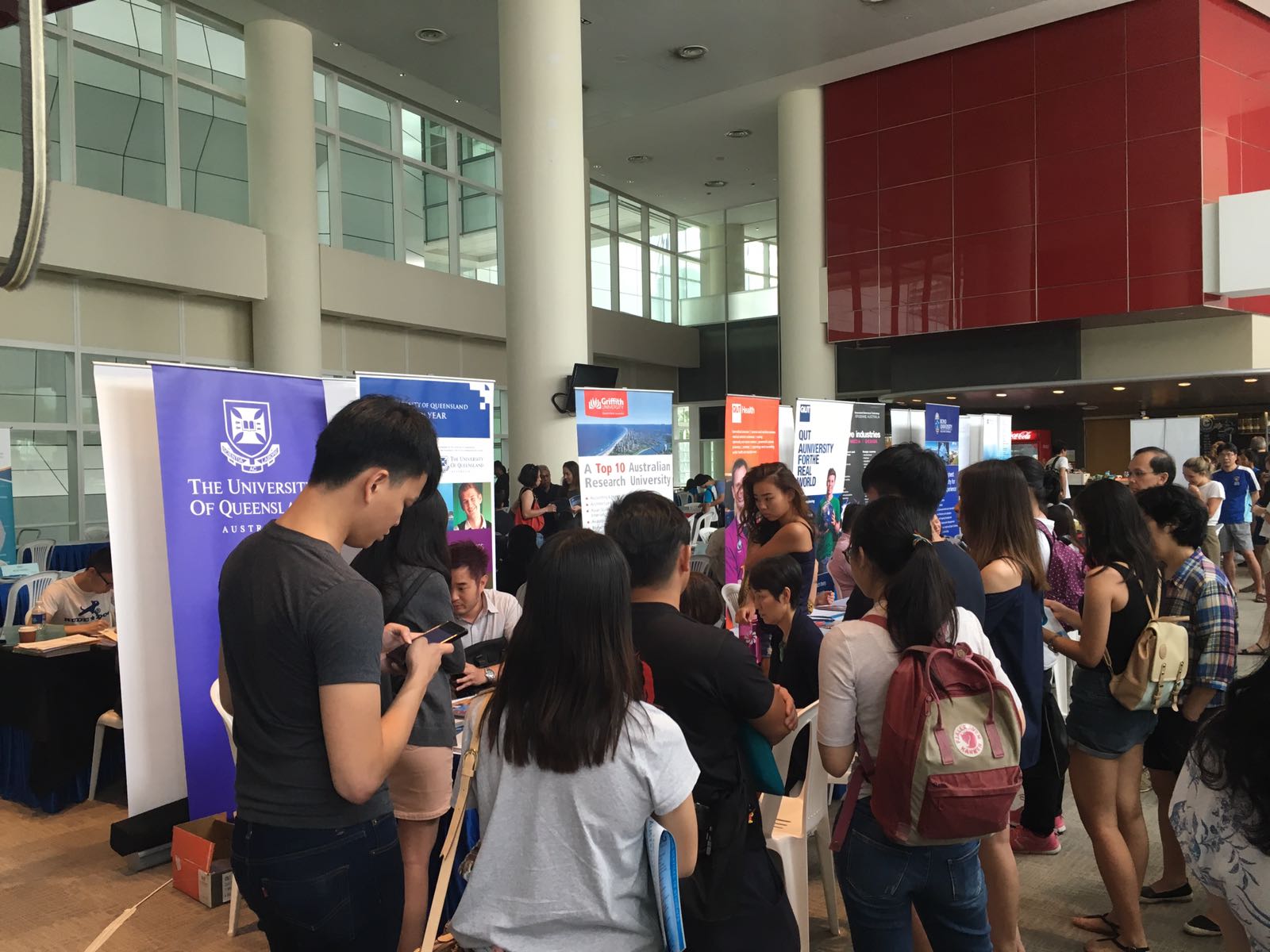 Calling all students!
Are you looking into studying in Australia, United Kingdom, Ireland or Malaysia?
Come join AUG Singapore for the first University Expo of the year!
Kickstart your year right - plan your university options now!
Why come to AUG University Expo?
Speak directly to university representatives to find out the schools available

Understand your scholarships, credit exemptions options

Put in university applications and apply on the spot

Enquire about accommodation, visa regulations and part-time work in the study destinations



---
This event is suitable for:
1. Students completing Secondary 4 (IP Stream, N Level or O Level)
This event has a Special Foundation Corner for parents and students interested in embarking on the Foundation route to university. Choose from over 50 subject combinations at foundation colleges. Parents are encouraged to come and understand the different options available beyond the traditional A Levels, Polytechnic or ITE route.

2. Polytechnic Diploma students
Received your 5th-semester result?
Put in your application to Australia and UK universities at the event and enter Australia (July 2019) and UK (Sep 2019) intakes!

If you need to serve National Service after your polytechnic diploma, fret not! Applications are open for 2020 and 2021 intake. Receive an offer before your National Service and secure your spot in university!
3. A Level or IB students
Find out more about the specialised programs available abroad – from Medicine, Dentistry, Commerce, Engineering, Physiotherapy, Speech Pathology, Arts & Design etc! Speak directly with university representatives to learn more about studying abroad and scholarships available for international students.
4. ITE Certificate
Embark on a foundation or diploma program abroad! Equip yourself with the skills and capabilities to take on tertiary studies at university. Completion of the program allows progression into universities
---
What should you bring along?
Original education certificates and transcripts

A copy of your passport

A lot of questions for overseas education!
Popular courses available:
Medicine, Dentistry, Biomedical Science, Biological Science, Genetics, Health Sciences, Physiotherapy, Occupational Therapy, Speech Pathology, Clinical Psychology, Clinical Audiology, Business, Marketing, Advertising, Management, International Business, Commerce, Finance, Economics, Finance, Taxation, Actuarial Science, Computer Science, Data Analytics, Data Science, Civil Engineering, Aerospace Engineering, Mechanical Engineering, Electrical and Electronic Engineering, Physics and more!
Participating Universities:
The University of Western Australia
Canning College
The University of Queensland
Curtin University
Griffith University
Queensland University of Technology
UNSW Sydney
Flinders University
Murdoch University
The University of Sydney
University of South Australia+
Edith Cowan University+
Deakin University+
La Trobe University+
The University of Newcastle, Australia+
University of Canberra+
Western Sydney University+
INTO University PArtnerships
Bournemouth University
The University of Sheffield+
Durham University+
University of Sussex+
University of Lancaster+
University of Leicester+
University of Surrey+
University of Leeds+
University of Bristol+
Queens Mary University of London+
University of Exeter+
Newcastle University+
University of East Anglia+
City University London+
International Medical University Malaysia
+Foundation Provider present at the expo
---
Come and inquire at the fair!
The application has commenced for all universities. Put in an application to kick-start your higher education journey!
To inquire, please register for the event below.
Should you require more information, please call our friendly counsellors at 6227 0380 or email us at singapore@augstudy.com.sg
Remember to bring along your ORIGINAL educational transcripts and certificates to apply at the fair!
---
REGISTRATION TERMS & CONDITIONS
By registering for the seminar, you will be auto-included in AUG's mailing list to receive informational and promotional content related to AUG Student Services Singapore. We respect your privacy and will keep your information confidential; we will not disclose it to any third party without prior written consent from you. However, if you do not wish to receive any informational and promotional content related to AUG, you can unsubscribe from the mailing list upon receiving the first email. Please note that you will still receive information on the current event that you have registered for. We reserves the right to amend the terms and conditions.