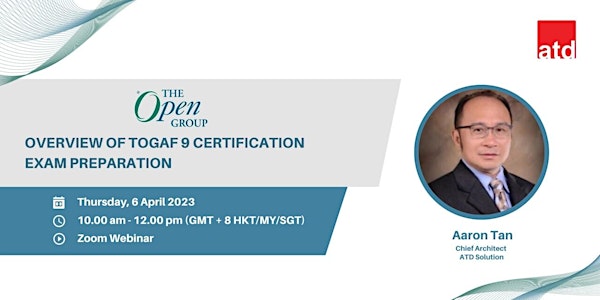 Overview of TOGAF® 9 Certification Exam Preparation
Attend this session to increase your chances of passing the exam!
Date and time
Wed, 5 Apr 2023 19:00 - 21:00 PDT
About this event
The Open Group Architecture Framework (TOGAF®) is widely recognised and adopted as the leading framework for enterprise architecture by many organisations worldwide. Being certified in TOGAF® 9 demonstrates that you have a solid understanding of the framework and its principles.
The TOGAF® 9 exam assesses candidates' abilities to become experts in combining business structure and IT goals to enable their overall operation and the knowledge of many aspects such as TOGAF® 9 basic principles, building block concepts, major deliverables of the ADM cycle, TOGAF® reference models, and business scenario-based questions that apply to every topic you learn in real life.
What we will cover:
Refresh the TOGAF® 9 topics
Practice the selected exam questions
Learn about the exam tips
Conversion to the NEW TOGAF® Standard, 10th Edition
*Please note that, zoom webinar link will be sent to individual emails after registration
About the organiser
Founded in 2009 by a group of highly skilled and passionate business and IT professionals, ATD Solution is a world-class leading provider of business IT architecture solutions. As the leading business IT architecture firm in Asia Pacific, we are dedicated in changing the way companies in the region use and adopt IT through our specialised services, which includes extensive business IT architecture training, consultancy services, as well as hands-on coaching and mentoring. To date, we have served over 3,000 clients in Australia, Indonesia, Singapore, Malaysia, Taiwan, Hong Kong, Macau, China, Japan and India. Our strength lies in our ability to combine expertise in business IT architecture best practices, software compliance, process methodology, advanced systems and method design together with consulting and training to develop & deliver specialised IT programs for professionals in the industry.
ATD is proud to be the authorised provider and distributor of all Iasa IT Architecture training & certification programs in Asia Pacific. Iasa (The Global IT Architect Association) is the premier association focused on the IT architecture profession through the advancement of best practices in the enterprise, product, education, and government sectors while delivering programs and services to IT architects of all levels around the world.   Iasa Global
ATD is an official Accredited TOGAF® Training Course & Certification provider as well as an authorised Open Group ArchiMate® training and certification provider.  The Open Group
ATD is the APMG's Accredited Organizations for COBIT5® training and examination on all three levels: Foundation, Assessor, Implementation.  The COBIT 5 logo is a Registered Trade Mark of ISACA. The ACCREDITED by APMG-International and Swirl Device logo is a trade mark of the APMG Group Ltd.   APMG International
For more information, please visit http://www.atdsolution.com