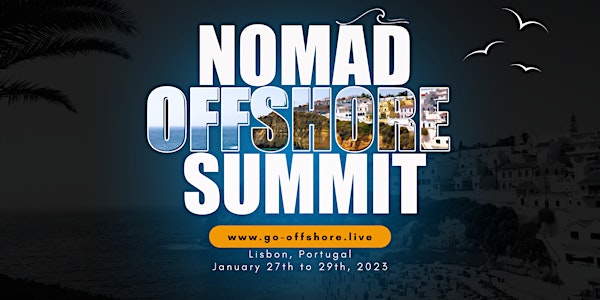 PAID EVENT - (LIVE) Nomad Offshore Summit 2023
PAID EVENT - NOMAD OFFSHORE SUMMIT 2023
When and where
Location
TRYP Lisboa Caparica Mar Hotel 47 Avenida General Humberto Delgado 2829-506 Costa da Caparica Portugal
About this event
To Register Click the Link Below:
What would I get from the Nomad Offshore Summit?
After more than 2 years of being locked up? The world is finally reopening! But things are not the same as before. Are you ready for the new normal? We can help you.
It's the ultimate place to learn from highly successful professionals and network with hundreds of like-minded people who share your goals and lifestyle of location independence.
Embracing the Nomadic Lifestyle
Pillar 1 – Developing Your International Plan
Topics would include :
– Sharing from Nomads who've recently spent time in the Caribbean, Latin America, the US, Canada, Portugal and other parts of Europe, and South East Asia.
– How to find other international professionals to collaborate with.
– Going offshore as we help you identify the elements of a successful 'International Plan'
Pillar 2 – Navigating the New Visa Landscape
– The days of gaming the immigration system and doing visa runs are over. Second residency and citizenships are an asset class in itself. Get prepared to embrace this new normal by doing things the correct way.
– Which countries offer digital nomad type visas?
– Let's talk about residency by investment.
– Let's talk about citizenship by investment.
Pillar 3 – International Tax Optimization
– Onshore is the new offshore. The days of hiding in obscure jurisdictions are over.
– Understanding international banking rules.
– What's all the fuss around acronyms like AML, KYC, FATCA, CRS, BEPS etc.
– Understanding the International Tax rules. Avoiding the blacklist. New minimum tax rules. Principal purpose tests.
– Why are Dubai, the Caribbean and Singapore so attractive?
BONUS
– Networking opportunities to allow you to make new connections. At the Summit, we have options for a networking reception, a party and a cruise. Remember that your network is your net worth. Make connections from all over the world.
– Join our inner circle community on SLACK. Attend regular livestreams. Conversations with subject matter experts. In 2020 and 2021 we have done at least a livestream per week now viewed by tens of thousands of people living that international life. https://htj.tax/youtube/
– We have over 1000 videos with lots of Q&As. Have your questions answered too.