About this Event
It is normal to feel confused about your child with Autism going to school as there are a lot of different opinions on this and depending on who you go to.
You may get all kind of advices on whether you should or should not be sending your child to school. But school is a place all parents want their children with ASD to go to and there are also many things to consider prior to going to school.
Most parents are concerned with preparing their child with Autism for school. So what does it take for a child with Autism to be truly ready for school?
During this conference, we will be touching on critical skills designed to help you and your child with Autism to prepare for school.
Topics include:
Importance of Addressing Disruptive Behaviors Early
Critical Skills To Be An Independent Learner
Equipping Your Child with Essential Language and Communication Skills
The Necessity of Developing Social Interest and Social Skills
Details are as follows:
Date: November 9, 2019 (Saturday)
Time: 9:00 am – 5:00 pm
Venue: York Hotel Singapore, Carlton Room (Level 2), 21 Mount Elizabeth, Singapore 228516
Fee: Regular: SGD 200/person
Early Bird: SGD 180/person – Extended till 20th Oct, 2019
Group of 5 or more: SGD 150/person
For Parents of Children with ASD: SGD 150/person
(all fee inclusive of lunch and refreshments)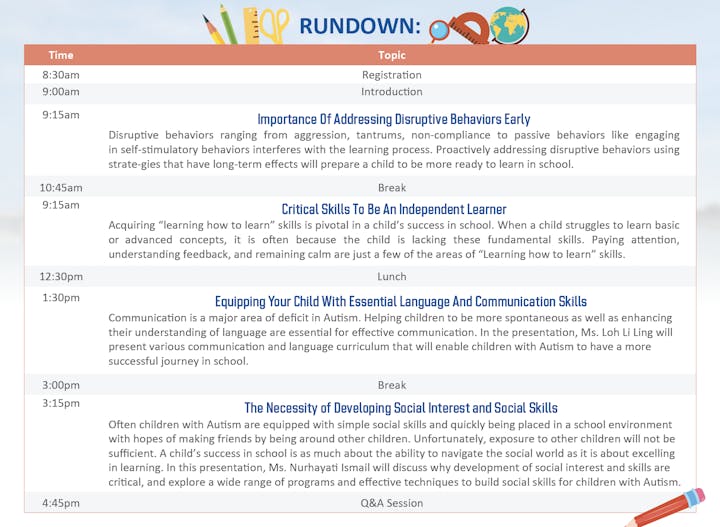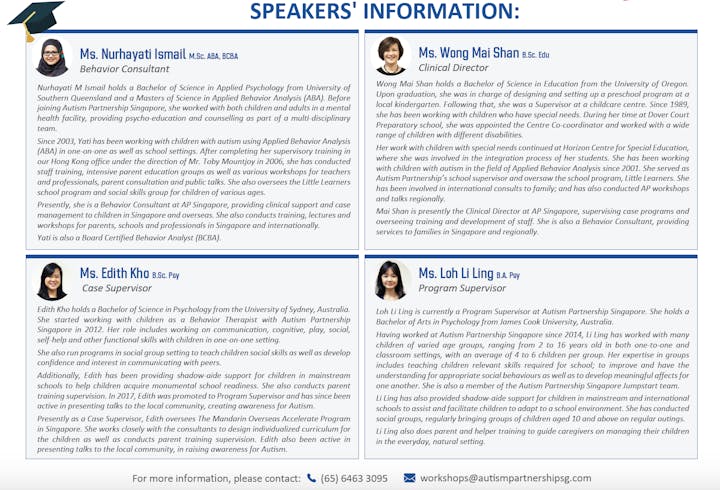 This conference is open to the public and to parents of children with Autism (ASD).
Call us now at +65 6463 3095 to learn more!
For more information, please visit: https://www.autismpartnershipsg.com/en/k-event/preparing-a-child-with-autism-for-school-conference-singapore/
For more updates, please visit: https://www.facebook.com/autismpartnershipsg/