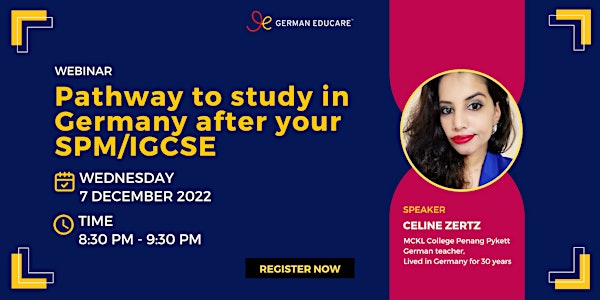 Pathway to study in Germany after your SPM/IGCSE webinar
Looking to study abroad but not sure where to go? Your chance is here!!! Find out the pathway to study in Germany after your SPM or IGCSE.
About this event
It's never too early to start preparing yourself for the next step after SPM or IGCSE.
Here's your chance to find out more about the pathways available to study in Germany. Don't forget to ask us questions about your further studies plan.
Guest speaker:
Celine Zertz was born and bred in Germany and lived there for 30 years before coming back to Malaysia. She is well equipped with the nits and grits of studying in Germany.
🔔 Happening on
Date: 7th December 2022
Time: 8:30 PM - 9:30 PM
Register now with us so that you don't miss out the chance of furthering to Germany.