Description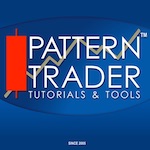 The Pattern Trader™ Tutorial and all its specialist workshops are designed for short-term traders, medium-term investors and individuals (e.g. business owners) who are looking to improve their financial knowledge and status.
For more than 12 years, the Tutorial has evolved to become an all-encompassing, complete and holistic educational program for Finance and Economics.
It has been the starting ground for many novice retail traders and has groomed many institutional traders, financial analysts, bunker traders, dealers, brokers, remisiers and financial graduates from all over the world
More importantly, the Tutorial has moved well into its second decade, the Tutorial has outlived almost all of its rivals to continuously support and grow its graduates. The Pattern Trader™ Community currently consists of about 3,500 members and is still growing.
The belief is that financial education never ends and is always evolving. To stay the course and maintain this level of dedication takes a lot of Passion, Energy and Stamina, all of which the Pattern Trader™ has proven to have beyond any doubt.
The knowledge gained from the Tutorial will stand the graduate in good stead both online and offline. As most of our money is offline, it is only wise that we know what is safe, where is safe and when to move it for better gains such as fixed-income securities, properties, businesses and investment products. It is imperative to know the difference between what is real and what is toxic or whether it is a scam.
---
Who is the Pattern Trader?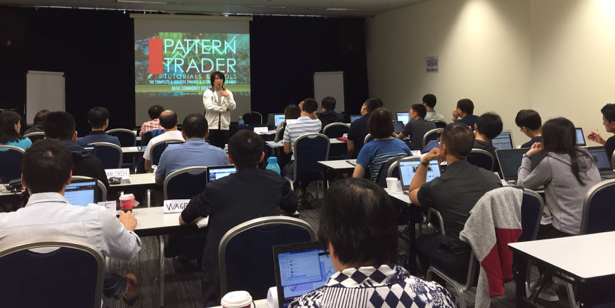 Well-Trained, Well-Practiced, Well-Reputed
Conrad Alvin Lim has been an on-line trader since 2004. After a poor start, he persisted by going to the US to learn from the likes of John Person (Chicago), Ron Ianieri (NASDAQ), Jon Najarian (NYSE) and a host of other Wall Street professionals between 2006 and 2007.
Over the next 3 years, he further educated himself on Economics and humanities under the mentorship of David Caploe, (Hon AB Harvard/PhD Princeton).
Today, he is highly sought after for his intimate knowledge of Macroeconomics, Sector Rotation, Defensive Analysis, Financial Psychology and short-term trading techniques including Swing Trading, Day Trading and Scalping.
He is known for his unique and simplified blend of Macroeconomics and Financial Management for his defensive and psychological approach to trading.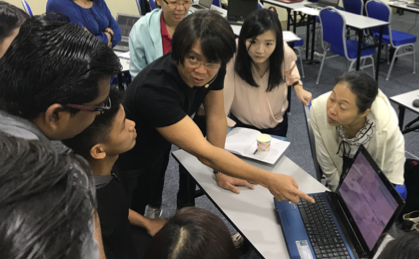 Conrad's Appearance:
Conrad has repeatedly been requested as a speaker/trainer with Macquarie Capital Securities, UOB Kay Hian, OCBC Securities, RHB Securities, CIMB Securities, DBS Vickers Securities, Phillip Securities and Phillip Futures.

Regular speaker at ShareInvestor's INVEST Fair, the ATIC, Investor's Exchange and SMART Expo.

Repeat guest speaker at Malaysia's Bursa (Exchange), Singapore NTU's Alumni, NTUC, Wealth Expo and Singapore Institute of Management

Regular contributor to INVEST Magazine (ShareInvestor) and the Business Times (SPH).

Appeared on Channel NewsAsia's 'Cents & Sensibilities' and 'Primetime Morning'.


Conrad's best-selling publications:
#1 best-selling co-author of Secrets of Millionaire Investors (2007)


Best-selling author of Secret Psychology of Millionaire Traders (2009)


#1 best-selling co-author of Profit from the Panic (2009)


Best-selling author of Winning Psychology of Defensive Traders (2014)


Creator of Candlestick Patterns (2008) and Breakout Patterns (2009) Quick Reference Cards

Creator and owner of the Candlestick Patterns and Breakout Patterns apps (2016)
---
Register & Join Us At The Pattern Trader Tutorial Introductory Session Now!
What You Can Learn At The Session:
Conrad's 12-year journey and experience in the business of trading.

Brutal Industry Truths and skill-sets you should know in order to succeed as a trader - be it part-time or full-time.

Why the Trader has the advantage over the Investor - and the real difference between the two (nope, it's not the timeframe)

Learn where 90% of your RISK comes from (No, you cannot find it on your charts or technical indicators)

How you can profit in any market direction - be it bullish, bearish, or sideways

How to discover the instrument that best suits your lifestyle, needs, and risk appetite.

How to identify risks (and minimise your risk factors) while converting information into cash and trading opportunities (by learning the "Five Whys" that move the market)

How you can anticipate the future of the economy - and Conrad's prophecies for 2018.

Why Singapore is still an "immature market" in the online trading space in spite of our economic progress.

Two keys every global macro trader should look out for when seeking opportunities

How to use a 400-year old Japanese psychological tactic to defend your hard-earned capital through highly reliable, low risk trades

How to take control of your trading psychology and mindset and stay on top of market volatility and manipulation

Conrad's Economic Prophecies – where the economy is headed for in 2018 and how it will affect YOU and your money

BONUS! Learn a simple long-term investing strategy FREE when you attend this FREE session

BONUS! Learn one simple leading indicator you can watch to anticipate market reversals 6 months to 1 year in advance when you attend this FREE session