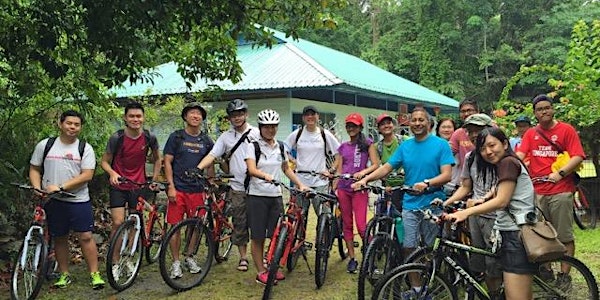 Pedal Ubin with the NUS Toddycats
When and where
Location
Wayang Stage, Ubin Town, Pulau Ubin Singapore
Description
Balik Chek Jawa with a Journey to the East with cycling guides from the NUS Toddycats, volunteer guides of the Lee Kong Chian Natural History Museum.
We will visit the Chek Jawa Open House by the Chek Jawa community and enjoy a guided tour of the Chek Jawa boardwalk. And check out the fun activities at House No. 1!
Along the way, we will cycle through the sensory trail, past old plantations, old kampongs, forest, quarries and mangroves, stop for a coconut or two and listen to the guides as they share with you stories of Ubin's wildlife, past heritage and present conservation efforts.
To register, enter your details below. We have places for 30 participants only. They are reserved on a first come first served basis.
The ride is technically challenging as we go off road in some parts, and there are steep slopes on the trail to and from Chek Jawa. For safety reasons, participants must be at least 12 years old and must be able to ride a bike. No tandem bikes please.
FAQs
Q: Who are you?
A: The NUS Toddycats are a group of volunteer guides with the Lee Kong Chian Natural History Museum (ex-Raffles Museum of Biodiversity Research) at the National University of Singapore. The name comes from the Common Palm Civet (Paradoxurus hermaphroditus), the last wild carnivore that survives in urbanised Singapore.
Q: Are the rides free?
A: Yes indeed, they are absolutely free! You will have a good time with us and we ENCOURAGE you to contribute to Pulau Ubin. For example, we suggest you donate to one of the many animal welfare groups in Singapore that are doing excellent work, e.g., Cat Welfare Society, and Project SOUND, a great organisation working to sterilise and treat stay dogs on Pulau Ubin.
Q: Where do we meet? What time to meet? What if it rains?
A: We meet opposite the Wayang Stage on Pulau Ubin at 8:00 am - we will meet rain or shine! If there is no apparent threat of lightning we will ride in the rain, so bring a poncho! Note that you have to take the Ubin ferry from Changi Ferry Terminal at 7:30 am latest in order to have enough time to meet us and pick out a bicycle. We can help you with picking a bike too.
Wayang stage – 100 metres to the left of the Jetty.
Q: Is there anyone I can inform if I am unable to attend the event?
A: Yes, please let us know at toddycats@gmail.com