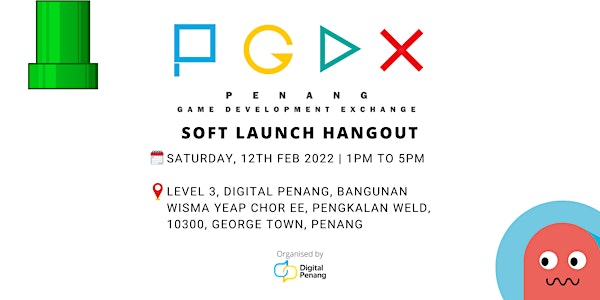 Penang Game Development Exchange (PGDX) Soft Launch Hangout
Be a part of the hottest growing game development community in Penang!
When and where
Location
Level 3, Digital Penang, Bangunan Wisma Yeap Chor Ee Pengkalan Weld George Town, Pulau Pinang 10300 Malaysia
About this event
Are you a game developer looking for someone to test our next big hit, a hobbyist looking for like-minded people, a student wondering what is waiting for you at the end of your academic year, or are you just a curious bystander wondering what is game development all about?
This is the hangout for you!
Want to showcase and get feedback on your game? Drop us a message to request for a spot. It's FREE!
==============
Speaker Spotlight
==============
Amber Lim, a recipient of the Toge Game Fund Initiative, will share her transitional journey from a graphic design major to a game developer as well as the challenges faced being a self-taught game developer.
========
Schedule
========
1pm
Networking and registrations.
2pm
Tony Yeoh, CEO of Digital Penang gives a speech.
2.15pm
William Chong, Head of Program at PGDX will give an introduction to PGDX and what can be expected from it in the future.
2.30pm
A sharing session with Amber Lim to talk about her life as a solo game dev, and how she managed to be a recipient of the Toge Game Fund Initiative.
3.30pm
Hang out, ask questions and network.
5.00pm
Event end.
======================
Frequently Asked Questions
======================
• Will there be food?
There will be light refreshments.
• Where to park?
There are public parking spots within the vicinity of the space.
• Is there an entry fee?
No.
• I am not a game developer, am I allowed attend?
Yes! Anyone and everyone is allowed to attend!
Follow us on Facebook for current and future updates!