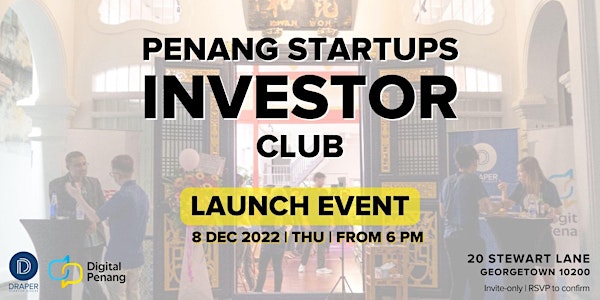 Penang Startups Investor Club Launch Event
Investors, join us and Digital Penang for an evening of connection and inspiration!
When and where
Location
Draper Startup House for Entrepreneurs 20 Stewart Lane George Town, Penang 10200 Malaysia
About this event
Join us on 8 December, 6pm at Draper Startup House Penang!
Come meet, network, and interact with the other investors, successful founders and senior professionals!
--
About Digital Penang
Digital Penang is a government-linked company owned by the State of Penang, which began operations in April 2020 to accelerate efforts to capture opportunities in the digital economy and promote a digitally engaged society.
To bring to life the Penang2030 vision of a family-focused, green and Smart State, the journey of transformation will focus on driving digital adoption amongst the community, more data-driven governance, a diverse talent pool for entrepreneurship and investment, and a resilient digital infrastructure to sustain a liveable environment.
--
About Draper Startup House Ventures
Draper Startup House Ventures is a global syndicate created for the purpose of helping entrepreneurs receive better access to funding while helping to cultivate a network of entrepreneurial growth. If a company is not prepared for funding, its founders get support from the Draper Entrepreneur Network so they can lift their chances. Draper Startup House Ventures provides access to its own venture capital fund, and the ability to submit pitch decks for circulation to the Draper Venture Network, which has 24 global funds.
About Draper Startup House, Draper Venture Network, and Tim Draper
Draper Startup House is part of a global network connected to services, education, and investment, with locations in Argentina, Croatia, Denmark, Estonia, Hungary, India, Indonesia, Malaysia, Morocco, Philippines, Singapore, Spain, United States, and Vietnam. It is a unit of the Draper Venture Network, which is among the world's premier venture capital networks, with thousands of portfolio companies funded globally.
The Draper Venture Network was founded by Timothy Cook Draper, the US venture capital investor. Draper also founded Draper Fisher Jurvetson (DFJ), Draper University, and Draper Associates.
Draper's most prominent investments include Baidu, Hotmail, Skype, Tesla, SpaceX, AngelList, Twitter, Coinbase, Robinhood, and Focus Media.
We have one combined vision and mission: ONE MILLION ENTREPRENEURS BY 2030.