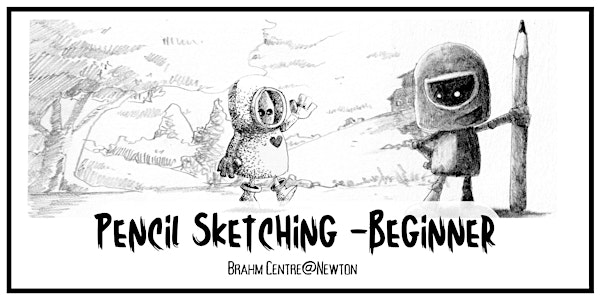 Pencil Sketching Course by David Liew - NT20221011PSC
Learn the basic skills of pencil sketching from David Liew – illustrator and cartoonist.
When and where
Location
Brahm Centre @ Newton 47 Scotts Road Goldbell Towers #04-02A Singapore, 228233 Singapore
About this event
WHO?
This in an introductory course to the art of drawing and sketching in pencil. It will guide the participants through the areas of techniques to capture form and shape, to drawing from observation.  At the end of the course, participants would be able to draw basic objects that contain shade and tone.
WHAT?
In this course, participants will explore the art of sketching images in graphite pencil. They will learn to observe and sketch objects, giving them form with shade and tone. The course will be rounded off with the creation of a personal artwork with the participants' own choice of topic.
Lesson Plan:
Session 1:
Basic handling
Mark-making and pencil handling
Basic shapes
Session 2:
Freeing the hand
Introduction to contour sketching
Session 3:
Drawing from observation
Introduction to light and shade
Basic still life
Session 4:
Introduction to tone
Session 5:
Blending and Textures
Creating form with light and dark
Session 6:
Introducing perspective
Basic landscape sketching
Session 7:
Basic composition
Rule of thirds
Start of personal project
Session 8:
Personal project: Creating your own personal drawing piece (Topic to be discussed with instructor beforehand)
Learning Outcome
Appreciate and understand the art of pencil sketching
Ability in using various techniques for appropriate subjects
Understand subject with light, shadow and texture
Using pencils for creative expression
WHEN?
Tuesday, 11 October - 10am-12noon
Tuesday, 18 October - 10am-12noon
Tuesday, 25 October - 10am-12noon
Tuesday, 1 November - 10am-12noon
Tuesday, 8 November - 10am-12noon
Tuesday, 15 November - 10am-12noon
Tuesday, 22 November - 10am-12noon
Tuesday, 29 November - 10am-12noon
No of Sessions : 8
WHERE?
Brahm Centre @ Newton
Materials provided:
Sketching Pencils
Sketchbook
Basic stationery set
_________________________________________________________________________________
Course Fee: $280 |$56 for seniors eligible for National Silver Academy (NSA) subsidy*
*NSA subsidy is for Singaporeans and Permanent Residents aged 50 and above.
In addition to NSA subsidy, course fee may be offset by SkillsFuture Credit (SFC).
First, course participants are to make payment for the course through Brahm Centre Eventbrite page.
Brahm Centre will reimburse the amount that is successfully claimed upon receipt of the funds from SFC.
Notes:
Please note that payments for courses are non-refundable.
There are no make-up lessons if you miss any session.
If you miss the first session, you are allowed to proceed with the course. However, the trainer is not obligated to do a recap during the second session.
Trainer Bio
David Liew is a book illustrator and educator.  He works in both traditional and digital media in his work but whenever possible, returns to his favourite genre of pencil work.
Some of David's sample work :