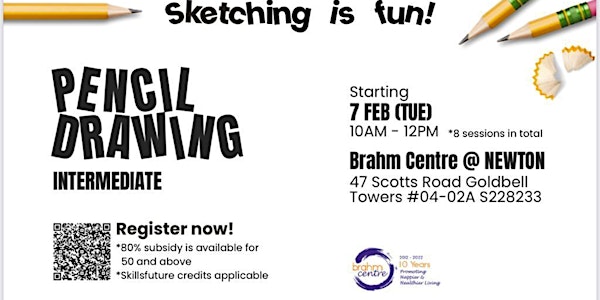 Pencil Sketching Course (Intermediate) by David Liew - NT20230207PSCI
Participants will explore pencil drawing and sketching techniques to build their ability to draw with confidence.
When and where
Location
Brahm Centre @ Newton 47 Scotts Road Goldbell Towers #04-02A Singapore, 228233 Singapore
About this event
WHAT?
This intermediate course builds upon basic skills pencil skills learnt from the beginners' course and expands the range of techniques. Participants would be introduced to techniques to approach drawing different materials and textures, and apply them to creating a composition.
WHO is this for?
Participants would have completed a basic pencil course and wish to strengthen their core skills and expand their range of techniques to approach different materials and textures.
Learning Outcome
1. Be able to appreciate and understand the art of fine pencil-sketching
2. Develop ability to create aesthetic and quality sketches and drawings
3. Be able to draw with detail, proportion and perspectives
4. Understand the various techniques of pencil-sketching for creative expression.
Materials provided:
1. Drawing set
(5 different grades of pencils, kneadable eraser, soft erasers, sharpener)
2. Sketch Book
3. Blending stumps / Tortillons
WHEN?
Tuesday, 7 February - 10am-12noon
Tuesday, 14 February - 10am-12noon
Tuesday, 21 February - 10am-12noon
Tuesday, 28 February - 10am-12noon
Tuesday, 7 March - 10am-12noon
Tuesday, 14 March - 10am-12noon
Tuesday, 21 March - 10am-12noon
Tuesday, 28 March - 10am-12noon
No of Sessions: 8
**Minimum 12 participants to start class.
WHERE?
Brahm Centre @ Newton
COURSE FEE:
$280 |$56 for seniors eligible for National Silver Academy (NSA) subsidy*
*NSA subsidy is for Singaporeans and Permanent Residents aged 50 and above.In addition to NSA subsidy, course fee may be offset by SkillsFuture Credit (SFC).
Payment Procedure:
1) Upon registration, course participants are to make payment for the course through Brahm Centre's Eventbrite page.
2) Participants have to claim with SFC before the course start date through the SkillsFuture portal, https://www.myskillsfuture.gov.sg/content/portal/en/index.html
3) Brahm Centre will reimburse the amount that is successfully claimed upon receipt of the funds from SFC. This procedure can take up to 12 weeks from the course start date.
4) Participants must achieve a minimum of 75% attendance, to be eligible for their SkillsFuture Credit reimbursement.
Notes:
• Please note that payments for courses are non-refundable.
• There are no make-up lessons if you miss any session.
• If you miss the first session, you are allowed to proceed with the course. However, the trainer is not obligated to do a recap during the second session.
• Brahm Centre reserves the right to replace a trainer, should the trainer be unable to conduct the class due to unforeseen circumstances.
Trainer Profile
David Liew is a children's book illustrator and arts educator. His teaching journey has brought him to many points from teaching general art at secondary schools and junior colleges to drawing at the Singapore University of Technology and Design and the Puttnam School of Film and Animation at the Lasalle College of the Arts. Whenever he's not drawing or painting (both traditionally or digitally), David creates and teaches sculpture and assemblage in upcycled materials. He is also the serving Regional Advisor for the Singapore chapter of the Society of Children's Book Writers and Illustrators.