Social Innovation in the Food Sustainability Space with Just Dabao
About this event
How can we put surplus food to good use?
Just Dabao is here with us to talk about how they manage to offer a sustainable solution to food waste in Singapore that brings consumers their favourite foods for a fraction of the original price.
About the Speaker
Jennifer is a self-driven and focused individual who is passionate about sustainable livelihood in Asia. Getting a simple yet life-changing product into the hands of millions of people to make small changes in their lives is her reason to wake up every day. She left her full-time job at Bloomberg in the midst of COVID-19 and co-founded Just Dabao in August 2020. She knew that food waste has become a national issue, and saw the need for a sustainable and fun solution. Through people's familiarity with and love for food, Just Dabao aims to remodel sustainability as people's first choice without compromising on their lifestyle. Prior to Just Dabao, Jennifer worked with successful startups in the e-commerce industry in Indonesia and a Bill & Melinda Gates Foundation-backed social enterprise startup in healthcare. Before her MBA, she worked with P&G.
About the Speaker
Mei Shuen is an intern at Just Dabao. After completing her pre-tertiary studies in 2019, she took a gap year and will be enrolling in a liberal arts and law double degree programme later this year. Having done a stint at a restaurant previously, she witnessed the sheer amount of edible food wasted after buffets and functions and this was what led her to join Just Dabao, whose cause she strongly believes in. She has always been passionate about reducing food waste and has committed herself to do her part on an individual level by finishing whatever food she purchases.
About Just Dabao
Just Dabao, a government grant recipient, is a social impact start-up that tackles food waste issues in Asia. With a mission to rebuild sustainability as people's first choice without compromising on lifestyle choices, Just Dabao is formed through collaboration with various entrepreneurs, ex-founders, and high-achievers who want to make an impact. Its unique and innovative concept backed by strong leadership has helped grow the company very quickly by getting over 250 merchants onboard and over 7,000 customers in just the last 6 months.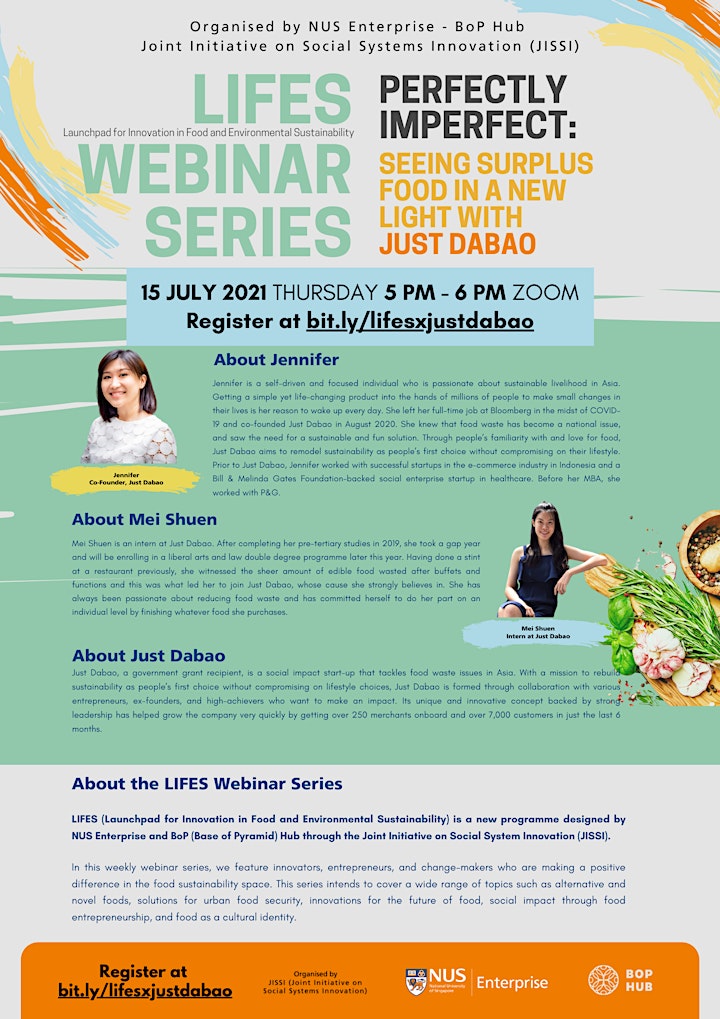 Organiser of Perfectly imperfect: Seeing surplus food in a new light with Just Dabao