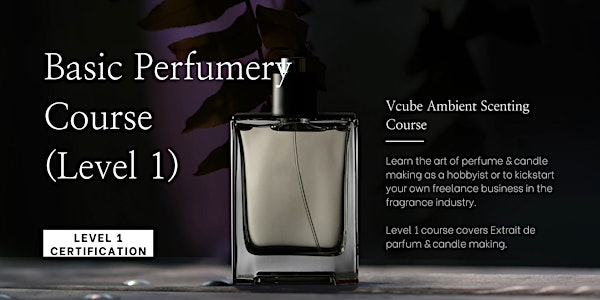 Perfume Course (level 1 to 6)
Become a basic perfumer. Get a Basic Perfumery Certificate (Level 1) and go back with your own 30ml parfum & 300g candle creation.
When and where
Location
Perghchicks 23 Bali lane Level 2 Singapore, 189859 Singapore
About this event
Contact 98571961 to check for availability before placing a booking. Minimum 2 pax to commence (maximum 8 pax per class). Social distancing rules are adhered to. For alternative dates and times, kindly contact the number above.
Process:
Step 1: Dive into the basics of the history and usage of fragrances. Learn about how perfume houses build fragrances and how their molecular weight affects their function in a fragrance.
Step 2: Explore the diverse array of "The Jars of Smells" while recording observations on image/colour and impressions.
Step 3: Learn about pairing different families of fragrances well together while isolating and selecting from the fragrance & essential oil set provided (around 25 pure oils provided).
Step 4: Devise an intent.
Step 4: Craft your own formulations for your 30ml extrait de parfum & 300g candle.
Step 5: Session ends with you going back with your own parfum and candle. You will receive a certificate of completion (Level 1 Basic Perfumery Course) at the end of the session (your name/date would be indicated)
*Participants who have completed the level 1 course would be able to partake in the level 2 course (we have 6 levels of competencies).
For this course, it is advisable you bring :
- your own perfume notebook
- pen