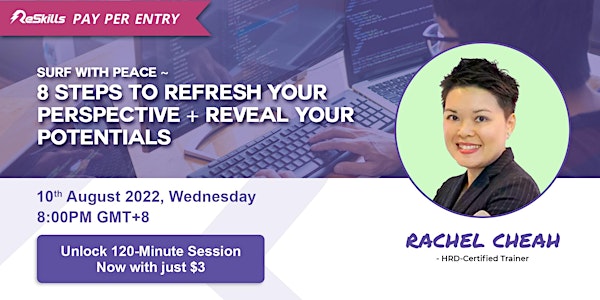 Personal Development Webinar | 8 Steps to Reveal Your Potential
Identify your unique potential and find the correct path in your life in this exclusive webinar.
About this event
Are you at a crossroads of selecting the right path for yourself, whether it's a course for higher education, or the type of work that is aligned with your passion?
Sometimes, it can be hard to determine which way you should go in life. However, the deeper you understand yourself, the more precisely you can fuse your talents with your endeavours.
Explore the Surf With Peace 8-Step Technique to discover a structured method that can cast a light on your path of spotting your unique talents, potentials, and passion.
At the end of this session, you will be able to:
Acknowledge and ingrain the essence of Surf With Peace to refresh your life perspective
Reveal your potential with the Surf With Peace 8-Step Technique
Learn from 2 real-life stories from Japan on how to fuse one's passion with work
Register now as limited seats are available!