Event Information
Refund policy
Contact the organiser to request a refund.
Eventbrite's fee is nonrefundable.
Is your marriage truly over? How can you be sure? And if it is well and truly over, how do you end it?
About this event
Who Should Attend
This workshop is specially designed for those of you who feel you are going nowhere in your marriages. It might have been quietly happening for a long time. You hardly talk anymore, you have no intimacy and you live fairly separate lives. You feel sad or helpless when you think about your marriage.
Or it happened because of a devastating incident. Violence, infidelity, loss.
At this workshop, we aim to show our participants how.
Workshop Topics
The 5 stages when you know your marriage is on the rocks
Talking through divorce before the writ is even filed i.e. Pre-Writ
Checklist of things to do
Explaining the divorce process Amicable vs Acrimonious
Effects of acrimony on yourself and on your children
Q&A
Please Note:
Fee: $20.00 [for launch session only]. All other sessions will be offered at our standard rate.
Participants may also be grouped according to their specific situations.
For this reason, we will require all participants to fill in all the fields in the registration form .
We seek your understanding as we hope to create a safe space for all of our participants to share candidly. Incomplete forms will not be accepted and registration will be cancelled and buyer will incur EventBrite's fees.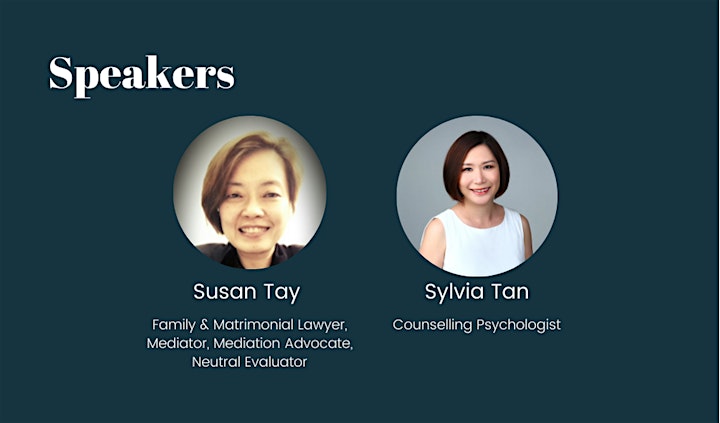 Susan Tay & Sylvia Tan are affiliates of PracticeForte Advisory. They are part of the PF Restructure team of professionals. Susan and Sylvia are working together to care for families in distress. They aim to guide these families to more informed decisions and better and enduring outcomes that will be in the best interest of their children, themselves and other family members.
More information on Susan here.
More information on Sylvia here.
Date and time
Location
Refund policy
Contact the organiser to request a refund.
Eventbrite's fee is nonrefundable.
Organiser of PF Restructure: Pre-Divorce Workshop
TWIN PILLAR FOCUS OF BUILDING PEACE, BUILDING EXPERTISE

The twin pillar of "Building Peace, Building Expertise" are the core focuses the affiliate firms of PracticeForte Advisory wish to show in the way we serve our clients as well as in how we work amongst ourselves as professionals.

Building Peace

We believe that the future of professional services will be very much tempered by conciliatory approaches in resolving differences, whether it be in the theatre of business, or in the affairs of life. We continue to remind ourselves that many clients who walk through our doors for consult or services call on us for help in dealing with any one of life's major decisions. It might be a divorce or buying a house, selling a business or the taking out of a probate upon the death of a loved one. We continue to remind ourselves of empathy and compassion and the humanising of our services. And where our professionals provide more options, they also provide perhaps, better outcomes. And any solution that is mindful of the strategic management of conflict may reach a resolution greater than the sum of its parts. And often such a solution must be a winning one. One that cannot be easily replaced by technology. Such is the value that can be brought to clients. Mediation and other alternate dispute resolutions, conflict coaching/training and counselling will be gratifying additions to our toolkit for a chance at peace.

Building Expertise

We believe that with our platform, our professionals have the ability to collaborate with others who have come to specialised in it; professionals who wish to do more of what they focus on; professionals whose experience naturally makes them gateways to clients looking for a spectrum of services from professionals they can trust. With time and growth and support, individual affiliates firms are now able to collaborate together as specialist division with the focused practices of Forensics, Family, Conveyancing, Mediation and more. Within each division, we may yet see 2 umbrella threads of "Life" and "Business".

Life – where it touches personal affairs of heart and home;

Business – where it relates to work and commerce.

Affiliate firms have found their level and fulfillment in these spaces, bringing aspiration and expertise to a resulting specialisation. With the strength we have come to find in the number and quality of our affiliate firms, and the capability of PracticeForte managers and executives, we are poised for true collaboration within the network as a whole.