About this event
PingCard品学卡拥有
超过10个国家地区的优秀老师入驻 (东西方顶尖大师)
CP值最高最实用的线上课程 (精选100套人生必修课)
PingCard品学卡是全球唯一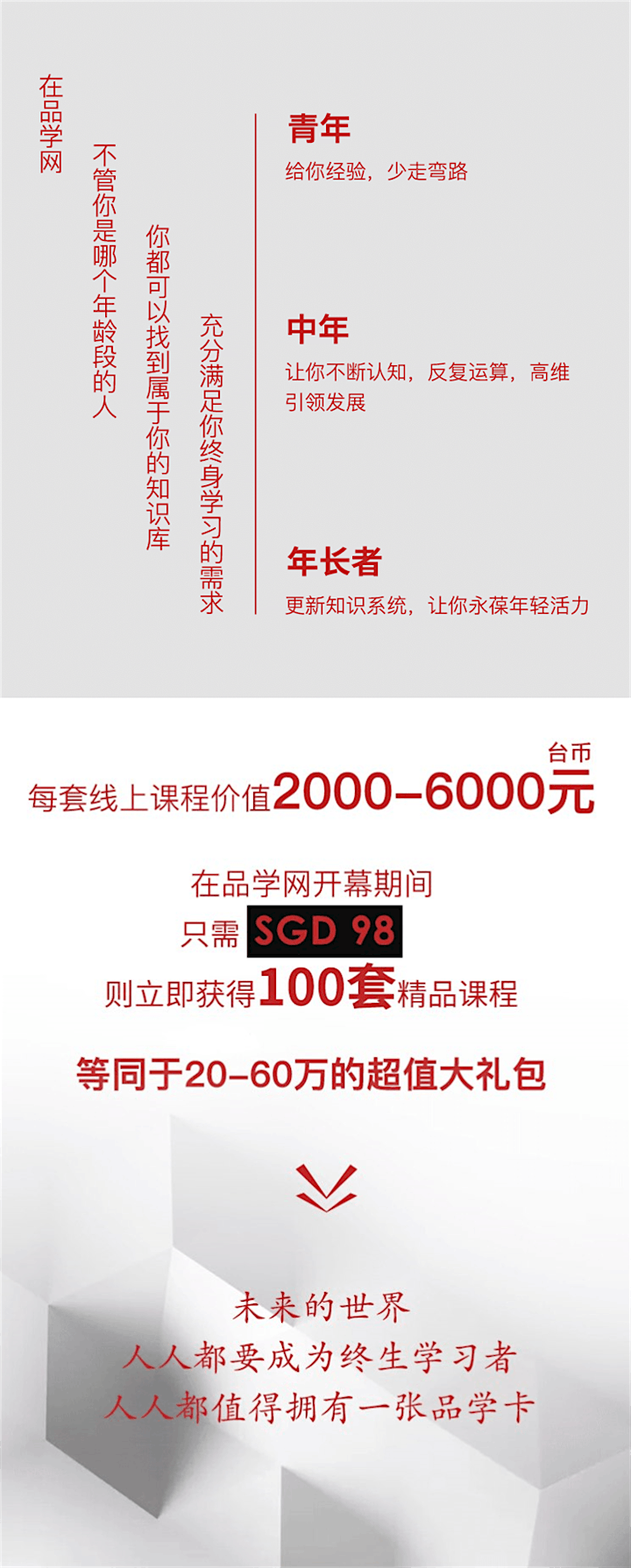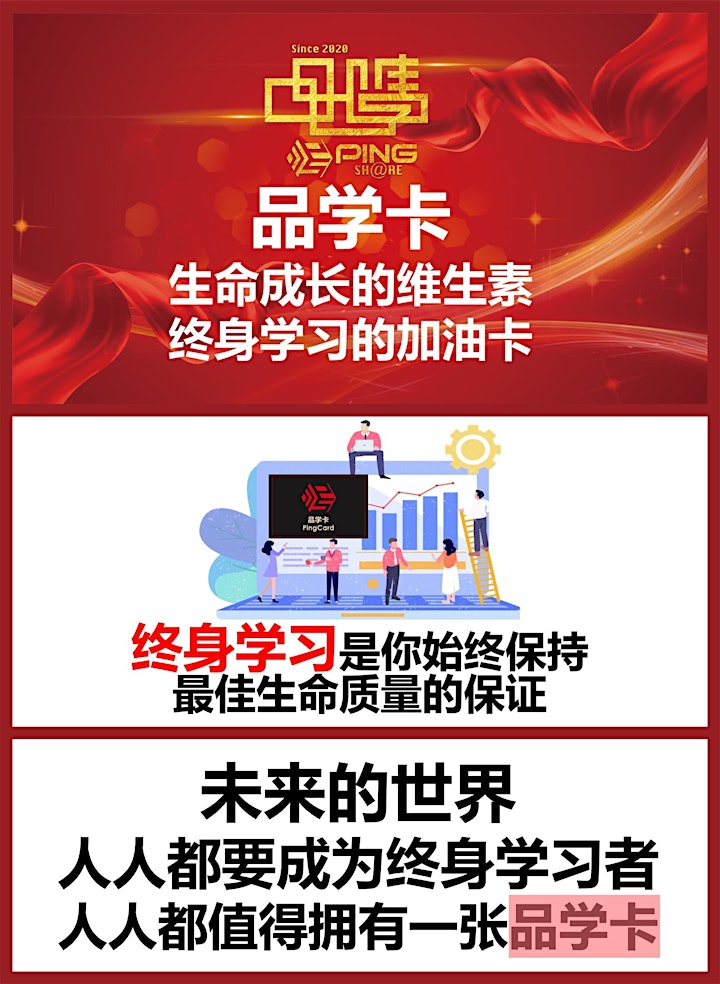 Terms & Conditions
These terms and conditions govern the way in which we supply products to you, including any e-Learning courses.
Please read these terms carefully before you submit your order to us. These terms tell you who we are, how we will provide products to you, how you and we may change or end the contract, what to do if there is a problem and other important information. All rights not expressly granted in these terms are hereby reserved.
You agree to review this agreement periodically to ensure that you are aware of any amendments to this agreement, which may be made at any time.
About Us & Contacting Us
We are Doers Knowledge Management Pte Ltd, trading as E-Learning App, a company registered in Singapore and registered office at 8 Burn Road #05-02, Trivex Singapore 369977.
You can contact us on +65 6338 8801 or by writing to us at doers@singnet.com.sg
Grant of License
In consideration of your payment, we hereby grant you a license to use the purchased e-Learning courses ("the Products"). This license is limited, revocable, non-exclusive, non-sublicensable and non-transferable, and is subject to the rights and obligations granted under these Terms.
This license is personal to you and cannot be shared or exchanged with others.
General
We develop, distribute and maintain the Products and will also provide you with log in details. We will also manage your access to the Products and provide support to you, where necessary.
You shall not copy, modify, transmit, distribute or in any way exploit the Products or any other copyrighted materials provided other than for your individual training. Any other purpose is expressly prohibited under these terms. You shall also not permit anyone else to copy, use, modify, transmit, distribute or in any way exploit the Products or any other copyrighted materials.
We provide the materials 'as is' and without any warranties, whether express or implied, except those that cannot be excluded under statute. We also do not warrant that the materials will be error free, including technical inaccuracies.
We do not make any guarantee to you that you will obtain a particular result, professional qualification or employment opportunity from your purchase and completion of any of the courses.
We reserve the right to vary or withdraw any of the Services described without notice.
Access to Materials
The starting date of your access to the Product(s) is deemed to be the date of purchase. We will attempt to contact you 1 month prior to the expiry date to inform you of this. If you do not think this will be possible, then extensions of time are available for purchase at an additional cost.
We will take all commercially reasonable steps to provide you with uninterrupted access to the Products. However, your access may be restricted from time to time for reasons beyond our control. Such reasons include force majeure events, power outages and actions from computer hackers and others acting outside the law. Your access may also be interrupted due to software issues, server downtime, increased Internet traffic, programming errors, regular maintenance and other related reasons. Where this is the case, we will take commercially reasonable steps to restore your full access within a reasonable period of time. 'Commercially reasonable' in these terms shall mean reasonable efforts taken in good faith, without an unduly burdensome use or expenditure of time, resources, personnel or money.
Our joint aim is to provide courses and materials of the highest quality. As such, improvements or changes to the Products or any other materials may occur at any time without prior notification in order to ensure that they are up to date and accurate.
Where your access to the Products is restricted for any of the above reasons, we may provide you with a free extension of time at our sole discretion.
Pricing & Payment
We use third party payment provider– Eventbrite. Payment for the Products must be made at the point of purchase.
You agree to provide payment for the Products in the stipulated currency and you will be liable to pay any relevant conversion charges, as well as applicable sales tax in your region. Please note that we must receive your payment in full before providing you with access to the Products.
Your payment includes the licensing of the Products for a limited period of time that is appropriate for the e-Learning content. We are unable to provide a refund if you fail to complete the content within the allocated time.
We reserve our right to review and change the pricing of any of our products. This will not affect products that have already been purchased.
Cancellation Policy
NO CANCELLATION upon full payment.
It is your responsibility to ensure that you meet the system requirements, including compatible hardware, software, telecommunications equipment and Internet service, prior to purchasing any content. We are unable to provide refunds where your access to the Products is inhibited due to insufficient system requirements.
We may restrict your access to the Products if you breach these terms, including without limitation:
a) A failure to make any payment due to us; or
b) Failure to provide accurate information that is necessary for us to provide the Products to you
In these circumstances, we will inform you in writing with seven (7) days' notice that your access to the Products will be restricted.
Intellectual Property
All rights, title and interest in intellectual property rights relating to the Products including copyright, patents, trademarks, trade secrets, improvements, developments, proprietary information, know-how, processes, methods, business plans or models (including computer software and preparatory and design materials thereof) and all other intellectual property (whether registered or not) developed or created from time to time shall exclusively be owned by Doers. While you may utilise the intellectual property, you understand that there shall be no transfer of ownership of the same.
Nothing that you see or read in the Products may be copied, reproduced, modified, distributed, transmitted, republished, displayed or performed for commercial use.
All other trademarks, service marks and trade names in this material are the marks of the respective owners and any unauthorized use is prohibited.
Other Terms
You need our consent to transfer your rights under these terms to someone else. We may not agree to this as these terms grant a license for your benefit only.
All courses or programmes or products fee fully paid are not included accommodation, transport, meal and competition fund.
You shall attend the course or programme or product you have fully paid within one (1) year from the date of registration or date stated by Company; otherwise the course or programme fee will be forfeited without further notice.
If you are not able to participate in the course or programme product after full payment, and wish to transfer the registration to another date, other course or programme, or another person, you shall inform the Company in written form. All changes can be made only once within one (1) year from the date of full settlement subject to availability and the discretion of the Company. (Not applicable for complimentary items).
If you are not able to attend a seminar, convention or forum, or any product, the registration shall lapse, and neither refund nor transfer of registration or products shall be allowed.
No refund is allowed for the courses or programmes, products, conventions or forums even if you do not attend all the sessions in full.
The complimentary items are only entitled to applicants who have registered and paid in full. Complimentary items are not exchangeable with cash, cannot be offset with any courses or programmes or transfer to another person. And you shall utilise the complimentary item as the date stated by the company otherwise it will lapsed without any further notice.
You shall pay for course management fees, venue and meals fees for complimentary courses or programmes. The course management fees, venue and meals fees are not refundable or transferrable.
No cancellation and refunds are allowed once the complimentary items have been utilized or partially utilised.
The Company shall reserve the right to reject any registrations without assigning any reason and refund any money paid in full.
The Company shall reserve the right to change the date and venue of the course or programme or activity under any circumstances that the Company deems fit and appropriate.
Nobody else has any rights under these terms – they are between you and us. No other person shall have any rights to enforce any of its terms.
If a court finds part of these terms illegal, then rest will continue in force.
Even if we delay in enforcing this contract, we can still enforce it later. If we do not insist immediately that you do anything you are required to do under these terms, or if we delay in taking steps against you in respect of your breaking this contract, that will not mean that you do not have to do those things and it will not prevent us taking steps against you at a later date.