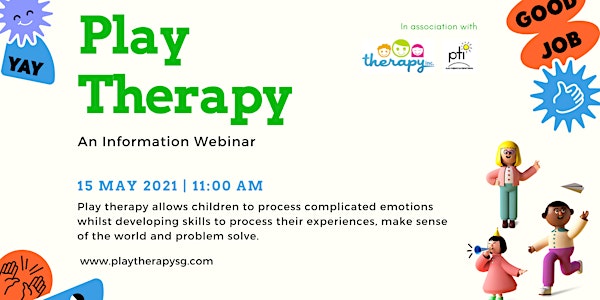 Play Therapy - An Information Webinar
Learn how Play Therapy creates emotionally healthy children with positive long-lasting behavioral change.
Date and time
Mon, 10 May 2021 20:00 - 21:00 PDT
About this event
Neuroscience evidence shows that play triggers the brain to release happy hormones such as Endorphin. These hormones foster feelings of emotional health and connection, supporting the therapeutic relationship. It reduces aggressiveness and anxiety, brings a calmer mood, encourages openness to learn, and produces a better sense of well-being. With guidance and support from a trained play therapist, positive use of the therapeutic tools in a safe environment will create new connections in the brain that lead to behavioral change.
Many children need support in emotional literacy. Others have behaviour or mental health challenges at some stage that prevents them from fulfilling their full potential.
All child development experts agree that children generally learn and develop a lot through play, and those with special educational needs are no different. Play can be fundamental in supporting the specific difficulties your child might have. For example, if a child has a hearing or visual impairment, play strengthens their other senses through the physical experience and helps them to navigate and explore the world in a safe and supported environment. If your child has a mobility impairment, play exercises their muscles and improves their overall coordination. Children on the autistic spectrum disorder may appear to be less social or imaginative with their play. As a parent you may find that they instead show interest in non-toy objects, and get enjoyment from things like counting or sorting objects - this is still playing! A qualified Play therapist uses your child's interests to encourage social and imaginative play, by combining the activities they enjoy.
Join us in this webinar to learn how Play Therapy can benefit your child.