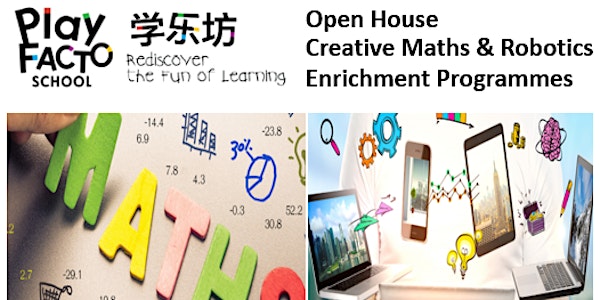 Playfacto Open House (collaboration with Aldersgate Praise Centre)
Open House - An opportunity for parents to find out more about Playfacto's award winning enrichment programmes (Creative Maths & Robotics)
When and where
Location
Aldersgate Methodist Church 98 Dover Road Singapore, 139647 Singapore
About this event
An opportunity to find out more about the enrichment programmes, sign up on the spot to enjoy huge discount & attend parent-accompanied trial lessons on the same day.
Singapore's Leading Math Programme for Primary Schoolers
PlayFACTO School's award-winning Creative Math Enrichment Programme, co-developed with Korean education experts subscribes to experiential learning, whereby the natural curiosity of the primary schoolers is supported by a hands-on manipulative-orientated approach. This provides children provides opportunities for the development of higher-order skills. Such an approach encourages the development of metacognitive skills that leads to greater confidence when attempting math in school.
PlayFACTO Monthly is our award-winning curriculum designed to help lower primary school students see mathematical connections in everyday life and develop cognitive abilities. Through experiential learning, children cultivate the ability to think creatively and acquire important problem-solving skills to help them set a strong foundation for Upper Primary Math concepts. Our programme also recognises the importance of helping your child develop positive attitudes, habits and mindsets towards Mathematics learning.
Singapore's Award-Winning Coding & Robotics Programme
PlayFACTO School's award winning Coding & Robotics Enrichment Programme has been carefully crafted, merging years of experience in high-quality STEM education and toolkits, enabling young students to learn and apply coding and robotics principles into the world around them. Our Coding & Robotics programme modules are specifically created to enable young students to become inventors, learning to innovate and fulfilling their curiosity to problem-solve through computational thinking. Our series of robust modular units, together with a design thinking process, stimulates curiosity and develops communication, collaboration, creativity, and critical thinking, applicable in the real world.
Important notes for signing up :
Limited seats - Creative Maths session is limited to only 30. Robotics session with hands-on experience & accompanying adult is limited to 20 pairs.
Robotics - There must be an accompanying adult. There will be hands-on experiences so the child has to be present for better appreciation & experiences.
Creative Maths - 1 parent to attend. Child's presence is optional
Registration starts at 9am & sessions start at 930am