Refund policy
Contact the organiser to request a refund.
Eventbrite's fee is nonrefundable.
Come join us in this new initiative that lets you have a taste of what it's like to work in different industries and find your true calling!
About this event
This Masterclass workshop is designed to give you a feel of what it is like to work in a Venture Capital firm!
As a Venture Capital associate, you are responsible for sourcing new potential and profitable deals for your company and also support existing deals with the technical knowledge. You will play a significant role in market research, due diligence to even financial modelling and developing investment thesis.
Masterclasses are conducted via video lessons by experienced industry experts in top companies. One-on-one guidance by TalentLink team is in place to address participants' questions and to offer timely feedback on assignments as well.
Features include:
Structured Curriculum: Structured and practical learning on venture capital firms needed skills
Live Q&A sessions to address individual problems: your best opportunity to get in touch with the mentors
Solve Real Problem: Application of essential technical knowledge to assignments
Flexible learning schedule at your own pace: The course material will be recorded videos, so you can watch it at your own schedule
Program Outline:
Week 1: Introduction to Venture Capital
Course Outline
1. Overview of the Venture Capital (VC) Industry
Top VCs
Top Accelerators
Top Super Angels
2. Notable Exits & Crashes
Instagram
Theranos
WeWork
Honestbee
3. The Golden Age of Southeast Asia (SEA)
The ASEAN Startup Ecosystem
Notable Start-ups in SEA
Activity: Selecting an ASEAN City for Research
4. The Promising Business Field (PBF)
Case Study: eWaste Recycling & Recovery
Case Study: Construction
Case Study: Autonomous Transportation
Case Study: Education Technology
The Reapra Business Model Canvas
5. Sourcing & Selecting Start-ups
Generating Deal Flow
Shortlisting Start-ups
Week 2: Investment thesis & Due diligence process
Course Outline
1. Developing an Investment Thesis
Fund Mandate
Elements of a Good Thesis
Designing a Thesis Pitch
Investment Allocation Strategy
Determining a Thesis Match
2. Due Diligence Process
Market Sizing
Financial Modelling
The Founder Meeting
Activity: Script & Questions
Validation & Customer/Client Reference
Background Checks & Character Reference
Week 3: Early-stage instruments, Capitalization table and Valuation
Course Outline
1. Early-Stage Instruments
Equity
Debt
Common Stock & Preferred Stock
Stock Options & Warrants
Restricted Stock
2. Capitalization Table
Classes of Shares
Vesting
Liquidation Preference
Cap
Discount
Cap table Management Software: Karta
3. Valuation
Pre-Money, Post-Money and Price per Share
Scorecard Method
Checklist Method
Discounted Cash Flow with Long Term Growth
Discounted Cash Flow with Multiple
Venture Capital Method
Valuation Benchmarking Tool: Equidam
Week 4: Investment memo, Investment committee and Landing a role in a VC
Course Outline
1. Legal Documentation
The Venture Capital Model Investment Agreement (VIMA)
The Simple Agreement for Future Equity (SAFE)
The Keep It Simple Security (KISS)
The Convertible Agreement Regarding Equity (CARE)
2. Term Sheet Components
Rates/Capts/Dates/Amounts
Events
Termination
Information Rights
Representations, Warranties and Undertakings
Week 5: Legal documentation & Term sheet
Course Outline
1. Drafting the Investment Memo
Introduction
Deal Summary
Business
Traction/Metrics
Competition
Challenges to Growth
Market & Entry Point
Team & Hiring Plan
Use of Funds
Key Risks
Recommendation
2. The Investment Committee
Terms of Reference (TOR)
Protocol
3. Landing a Role in a VC
What VCs look for in a candidate
Opportunities while in school
Opportunities right after graduation
Mentor Information:
Rusydi Khairul
CEO & Co-Founder |Certified Trainer by ACTA | Entrepreneur Mentor
Co-founder and CEO of Reactor
Currently serves on the SG Youth Action Panel with the Ministry of Culture, Community and Youth (MCCY)
Member of the Institute for HR Professionals (IHRP)
Alumnus of the Temasek Foundation Young Societal Leaders fellowship
Previous Enterprise Singapore (ESG) scholar
Previously served on the board of *SCAPE
Graduated from NTU with First Class Honors
What will you get from this?
Venture capital can be complicated, so it's worth it to learn everything you can about requirements, restrictions, and applicable laws. It is also a niche course, with little comparable courses in the market. Whether you're looking to become a venture capitalist yourself or you have a startup idea and want to get more educated on the process of securing funding, this Polaris Masterclass is designed to get you on your way. This course is offered in partnership with leading thinkers and experts in the field. You'll be able to participate on your own time without having to leave your house.
Addition of Experience into Resume: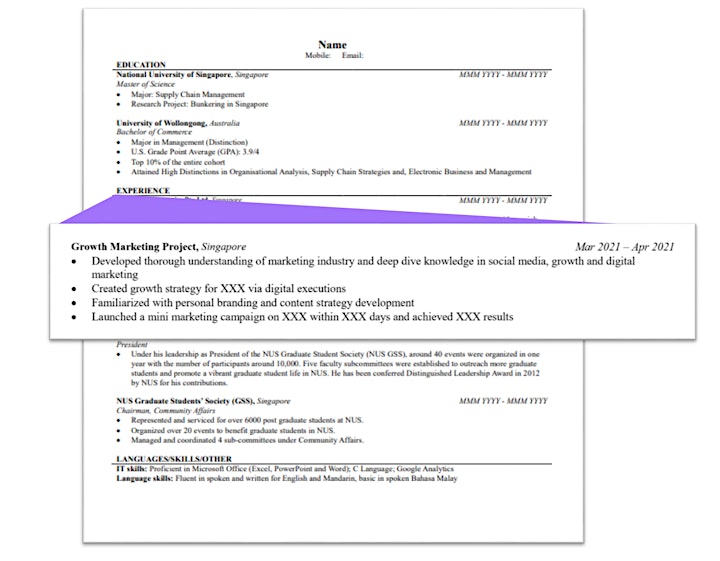 Certificate of Completion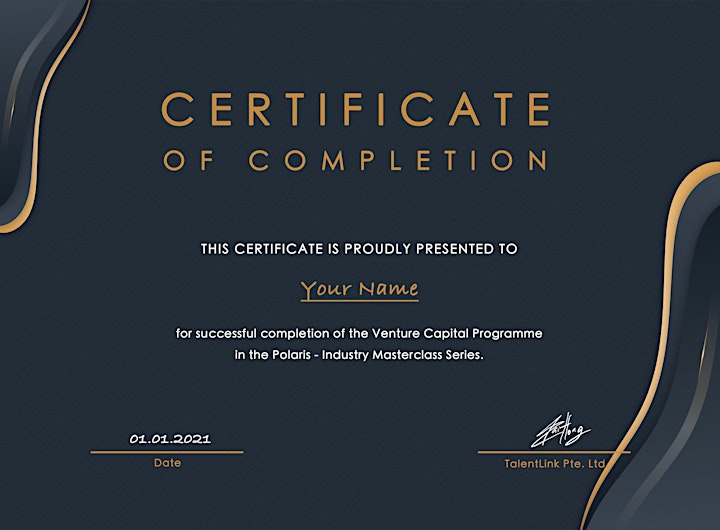 Contact us at contact@talentlink.org if you have any questions!