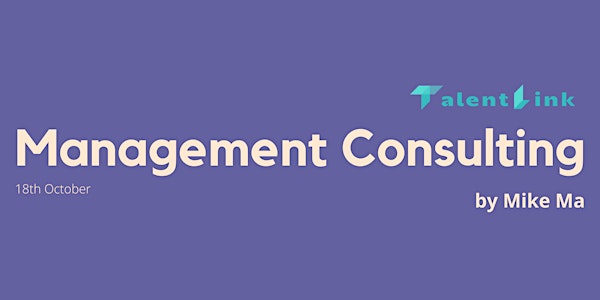 Polaris - Management Consulting Masterclass
Management Consulting Masterclass by Mike Ma | 6 pre-recorded YouTube classes | 5 e-Assignments | 2 Live Q&A Sessions
Date and time
Sun, 17 Oct 2021 18:00 - Sat, 13 Nov 2021 02:00 PDT
Refund Policy
Contact the organiser to request a refund.
Eventbrite's fee is nonrefundable.
About this event
Four-Weeks Programme Schedule
Lessons and assignments are to be attended and completed on a flexible basis; however, within the week of the lesson.
Lesson Dates: 18th October, 25th October, 1st November, and 8th November
Live Q&A Sessions: 30th October and 13th November, 17:00 to 18:00
Programme Content
• Overview of Management Consulting Industry in Singapore
• Consulting & Problem-Solving Toolkit
• Soft skills required to excel in the industry
• Real consulting project experience - solving a Tech start-up problem
• Live Q&A and flexible learning schedule
This Masterclass is thoughtfully curated to allow you to experience the work of a Management Consultant!
As a Management Consultant, you can expect to work in many different industries facing different business challenges. The skills you will use and develop through the course of this workshop are part of the consultant toolkit, applicable to different cases and scenarios across industries.
Masterclasses are conducted via video lessons by experienced industry experts in top companies. One-on-one guidance by TalentLink team is in place to address participants' questions and to offer timely feedback on assignments.
Features include:
1) Learn the McKinsey Way
Curriculum is co-designed by a McKinsey consultant, incorporating the most practical management consultant frameworks.
2) Flexible Schedule
5-hour recorded courses and 2x live sessions to strike a good balance between flexibility and interaction.
3) Solve Real Business Problem
Solve real business case studies.
4) Structured Curriculum
Weekly tasks are designed to synchronize with workshop training schedule.
Mentor - Mike Ma
• Engagement Manager in McKinsey & Company
• 7+ Years experience in the consulting/tech/industrial sector
• MBA from Yale School of Management
• Masters of Science from Georgia Tech
• Graduated from NUS - 1st Class Honors in Electrical & Computer Engineering
Greatest Takeaway
1. Consulting & Problem Solving Toolkit
Consulting industry insights
Approach for case interview
Type of case analysis framework
7-step problem solving toolkit
Design thinking
Agile product development
2. Soft Skills
Effective communication
Project management
Performance management
Influencing models
3. Real Consulting Project Experience
Solve REAL business consulting problems
Immersive management consulting experience
Consolidate the ability through practice
Ace your resume and interview
Drop us an email at contact@talentlink.org if you have any questions regarding this programme! Thank you.
About the organiser
TalentLink is a social enterprise based and founded in Singapore. We are a young team dedicated to being a platform for youths to connect with companies and corporates worldwide. We hope that with our programs and online classes, we can turn our participants into global citizens with the skills and knowledge ready to enter any industry.