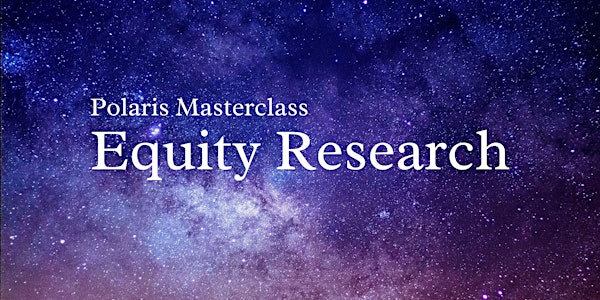 Polaris Masterclass - Equity Research
Master Financial Modelling | Conduct Fundamental Analysis | Present Professional Stock Pitch | Learning Transfer Opportunity | Internship
Refund Policy
Contact the organiser to request a refund.
Eventbrite's fee is nonrefundable.
About this event
Polaris Equity Research is a collaboration between BestTop Consulting and Springboard. Springboard have 10+ years of training experience focusing on equity research.
This programme comprises 10 hours of pre-recorded and live training on financial modelling and fundamental industry research. A real-life project will be provided to allow application of the knowledge and skillsets and a report will be tasked to be generated as the assessment for internship placement opportunities.
Mentor - Ke Yan
- Studied Master in Computer Science in NUS and CFA Charterholder
- Ten years in Equity Research:
Three years at a regional broker (Religare Capital Market)
Four years in independent investment research (Smartkarma)
Co-founded Aequitas Research, mainly service institutional investors
Founded DZT Research, serving both institutional investors and ultra-high net worth
- Frequently quoted by int'l media (Bloomberg/S&P/Reuters/SCMP/Forbes)
- Prior to that: five years in the back office function in SGX
- Mentoring students at Springboard Talent Management
Learning Objectives
Learn essential accounting knowledge to understand financial statements
Independently build financial model and calculate key financial ratios
Conduct valuation on a specific stock and come up with buy/sell decisions
Present professional stock pitch to pass technical interviews
Explore various equity research-related career options
Training sessions are conducted via online video for flexible learning.
10-Hours Pre-Recorded Classes
3 Weekly Practical Assignments
3 Live Q&A Zoom Sessions
----
Week 1 - Week of 25th October
Build an integrated financial model on a listed company
30th Oct, 14:00 - Live Q&A and Feedback on Assignment 1
Week 2 - Week of 1st November
Conduct financial forecasts and troubleshoot financial model
6th Nov, 14:00 - Live Q&A and Feedback on Assignment 2
Week 3 - Week of 8th November
Conduct fundamental research and come up with equity report and stock pitch
13th Nov, 14:00 - Live Q&A and Feedback on Assignment 3
Weekly Learning Content & Activities
Week 1 - Build an integrated financial model on a listed company
Accounting 101: acquire essential knowledge about accounting and financial statements.
Financial Data Preparation: efficiently extract raw financial data from annual reports.
Historical Data Consolidation: consolidate historical numbers into standardized financial statements.
Build Your First Financial Model: Format a financial model and calculate the key financial ratios.
Assignment 1
Live Q&A 1
Week 2 - Troubleshoot your model and get ratios for future financial periods, and continue to balance your model and learn Excel skills.
Making Forecasts: make forecasts for future numbers in the financial model.
Troubleshooting Model and DCF: troubleshoot financial model and work on Discounted Cash Flow.
Demo on Model Troubleshooting.
Excel used in the Financial Industry: learn Excel skills often used by research analysts.
Demo on Model Building for Kim Heng Offshore Marine.
Assignment 2
Live Q&A 2
Week 3 - Apply technical skills to write your own research report and come up with stock pitch slides.
Exclusive Research Report Template: leverage on an exclusive universal research report template.
Write Your First Research Report: understand key parts of the investment report.
Fundamental Analysis: conduct fundamental analysis of a specific industry.
Stock Pitch Preparation: demonstrate your research work in professional stock pitch.
Career Path for Equity Research: prepare your career move in the equity research field.
Bonus Track: use Bloomberg and Capital IQ to facilitate research
Assignment 3
Live Q&A 3