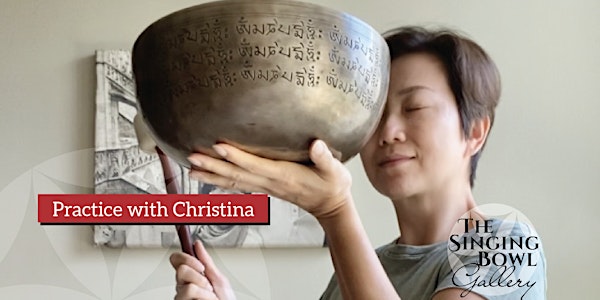 Practice with Christina - Singing Bowl Practice Group
'Practice with Christina' is a Singing Bowl practice group aims to help you build a mindful routine with the singing bowls.
When and where
Location
The Wellness Studio by The Singing Bowl Gallery 160 Robinson Road #04-12 Singapore, 068914 Singapore
Refund Policy
Refunds up to 1 day before event
Eventbrite's fee is nonrefundable.
About this event
Practice Singing Bowl with Christina
$48/class, $144 for 4 classes (contact us for package of 4 classes)

In this series of curated mini workshops, you'll meet like-minded people who also intend to find a simple and effective way to maintain mental and emotional balance and become more calm. If you own a singing bowl, you'll discover more ways to make the best out of it.
Join Christina, founder of The Singing Bowl Gallery and a leading sound healing practitioner in Singapore, to explore how the therapeutic sound from the singing bowls can easily influence our wellbeing positively and develop a practical routine for you to come back to yourself.

How you may benefit

•You'll be guided to use the singing bowls correctly
•Your listening skills will be deepened, allowing you to connect better with your singing bowl
•You'll find a simple tool and useful practices to manage stress levels, clear your mind and balance your emotions

•You'll be able to replicate the experience for yourself or family members and help them to improve mental wellbeing
What to expect
•this is a hands-on class where you'll be playing the singing bowl for yourself and others in each session

•you'll journal your self-discovery and see your own progress

•we'll practice meditation for different purposes and chakras
•there'll be a short sound bath to end each session 

•you'll leave the class feeling refreshed and calm
Who should join this class
•if you have a stressful lifestyle but not enough rest
•if your mind is always overwhelmed with thoughts
•if you get anxious easily
•if you struggle to meditate or fall asleep
•if you want to understand more about healing and how energy affects you

•if you're going through struggles

What to bring

•you may bring your own singing bowls or use our singing bowls in the studio, we'll also use different sound and sizes of singing bowls according to the theme of the class

•a large towel or a shawl to layover your mat

•writing materials for journaling
•optional: your favourite essential oil and/or crystals


This is not a sound bath session: 'Practice with Christina' is a series of classes for people who love to use the singing bowls. You will be guided to play the singing bowls in different ways for specific purposes.
You are encouraged to take 4 classes as a block to see clear improvement.


Class schedule:

Every Wednesday 12pm
Every Friday 7pm
Fees & Payment
$48 per class, book through Eventbrite or Paynow 94777533
Package of 4 classes (save $48)
$144 for four classes
Send in details in this format to 94777533
Name

Contact number
Email

Starting Dates or all 4 dates
Payment will be by Paynow
Confirmation and payment details will be sent to you.
Our Facilitator
Christina Shiu, founder of The Singing Bowl Gallery in Singapore, is a leading Singing Bowl sound healing practitioner in Singapore. Christina's learnings and teachings are rooted in the original lineage from world renowned Singing Bowl Master teachers, Santa Shakya and Shree Shahi. She has been consistently offering sound bath meditation sessions and Singing Bowl Workshop monthly for the pass 8 years. Many of her students are now offering singing bowl events in major yoga studios and wellness centres. She has also been invited to train spa practitioners in luxurious hotels in the region and performed in opening ceremonies of regional events. She also conducts wellness sessions with the singing bowls for corporations and government agencies in Singapore.
Our Studio
Our Wellness Studio is a space that is dedicated to hosting and conducting sound healing related sessions and training. We also offer personal Singing Bowl Therapy sessions by various Sound Healing Practitioners. Do contact us for your appointment.
Refund and Reschedule Policy
Please arrange reschedule and refund at least 24hrs before the event starts. No request will be entertained with less than 24hrs notice.