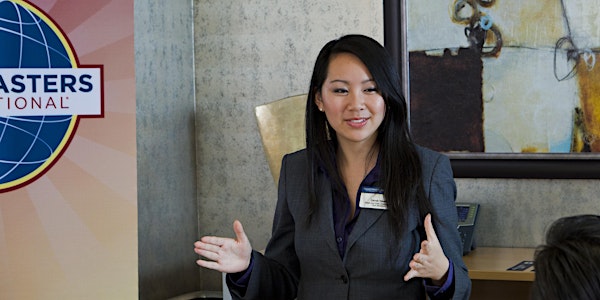 Practise Public Speaking with Toastmasters@CBD (UP: $5)
Boost your public speaking skills with workshops every month!
When and where
Location
Every even month - Oct, Dec: High Street Centre #08-08. Nov: Zoom http://tinyurl.com/brillianttm 1 North Bridge Road, High Street Centre Singapore, Singapore 079903 Singapore
About this event
Build confidence and sharpen your public speaking skills in a friendly environment. Self-pace your learning with Toastmasters International. To find out more, join us at our next club meeting!
Brilliant Advanced Toastmaster Club is proud to present our Mini Speaker Series monthly as well, where we showcase an exceptional speaker to share lessons to shortcut your way to success.
*IMPORTANT UPDATE* Oct 2022 Update: From October 2022 onwards, meetings will alternate between physical and zoom.
Even month (Oct, Dec, Feb), meeting are Physical only (not hybrid)
Odd month (Nov, Jan, Mar), meetings are on zoom.
Meetings are held every 3rd Monday of the month, there will be a $5 fee for physical meetings to cover venue rental cost.
Physical meetings are held at High Street Centre, #08-08 at 7:30pm.
----------------
For registration, please register at : http://tinyurl.com/brillianttm for the meeting link on odd months.
PM 9863O165 for more info
Zoom Meeting Links for odd months (ie. Nov, Jan, Mar):
https://us02web.zoom.us/j/89264366209?pwd=VUdQWGVZSmk2ZGltSUhLMjVuNWo5dz09
Meeting ID: 892 6436 6209 Passcode: 943283
--------
Every month we have a special speaker share extra nuggets of wisdom with us!
In Sep 2022, we have crypto enthusiast Sam Ho share about NFTs and their value.
In Mar 2022, we have founder of Bixie Rosalia share with us what it is like as a startup founder.
In Feb 2022, we have ex-investment banker Allison Nam share with us on how to navigate the recent financial climate.
In Jan 2022, we have TEDx speaker Rozella Marie share with us how to become a better version of yourself.
In Nov 2021, we have learning expert Daniel Tay of BestMinds show us techniques on how we can learn faster.
In Oct 2021, we have counsellor Ellen share with us how to mindfully cope with stress and uncertainty.
In Sep 2021, we had Visibility Strategist Jocelyn Goh share how to use online platforms to brand and reach more consumers.
In Aug 2021, we had crypto fund manager CJ from FishMarketAcademy share about how you can profit from crypto without risk and volatility.
In Jul 2021, we have esteemed senior lawyer Devi Haridas share about intellectual property rights, ideal for business owners.
In Jun 2021, we had Master Implementer Marc Teo share with us "How to overcome Massive Burnout in the New world" with useful tips for self-improvement.
In May 2021, Gabriel Tan of Bamboo Builders shared on Public Speaking for Social Impact.
In April 2021, Business Coach Felicia shared the formula for success.
In March 2021, Anthony Wong from Orichal Partners shared if you should invest in Bitcoin.
In Feb 2021, Cayden Chang from Value Investing Academy shared if it's possible to turn $10K into $1M through the effects of compounding.
In Jan 2021, Allison shared about 2021 Market Outlook for investments.
In Nov 2020, gangster-turned-lawyer Darren Tan shared how he became a toastmasters and how that helped him become a lawyer today.
In Oct 2020, we had SEO & Digital Strategist Eugene Macarius share with us instant SEO hacks.
In Sep 2020, ex-Investment Banker Allison Nam shared with us how to invest wisely and allocate your money in a portfolio to diversify your investments, safeguarding capital and have consistent returns.
In Aug 2020, Boon Lan shared some golden rules to pronounce better. For example. a word is pronounced differently as a verb and a noun. As a noun, the stress is on the 1st syllabus. As a verb, stress on the 2nd syllabus. For example, 'I do a project speech' vs 'I project my voice'.
In Jul 2020, Personal Wealth Manager DTM Eric Tan gave us the ingredients of an inspirational speech.
In Jun 2020, past D80 evaluation contest champion Aaron Ong gave guidance on how to give proper speech evaluations.
In April 2020, Peak Performance Coach Hyder Taufik shows us how to speak with confidence in online meetings.
In Mar 2020, Immediate Past President Sam Ho will be sharing on the Worst Experience of his Life and how he overcame it, and how Toastmasters helped in this.
In Feb 2020, we dabbled in online meeting for the first time.
In Jan 2020, ex-convict cum motivational speaker Bruce Mathieu recounted his drug addict experience and related it to how you can overcome your addictions as well.  
In Dec 2019, we had a festal celebration with chrismas carols.
In Nov 2019, Kin Ng, Peak Performance Coach spoke on How to Think and Sound Smarter at Work and Interviews.
In October 2019, we invited Wiwiek, Top 10 in World Championship of Public Speaking to share 5 lessons on her public speaking journey.
In September 2019, we invited Manoj Vasudevan, the World Champion of Public Speaking 2018 share on how to acquite a world championwinning mindset.
In August 2019, we invited Mudit, a success coach to share on how to create an executive presence.
About the Organizer
Brilliant Advanced Toastmasters Club is open for anyone interested in public speaking.
Practise Public Speaking in a safe and friendly community at Singapore's city centre. 
We welcome you to join us every 3rd Monday of the month at 7.30pm.
Feel free to contact Sam at 9863O165 if you have any questions