Pre-Hackathon Workshop - AIA-Konica Minolta Digital Health Hackathon
When and where
Date and time
Tue, 8 Dec 2015 18:30 - 21:00 +08
Location
Workcentral 190 Clemenceau Avenue #06-01 Singapore Shopping Centre 239924
Description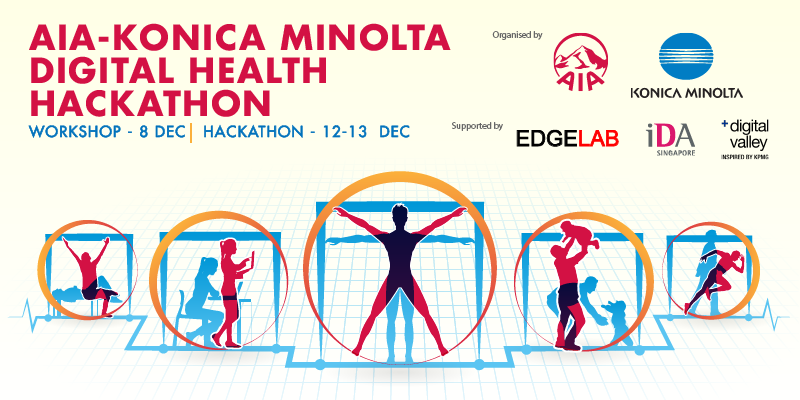 The Pre-Hackathon Workshop, Tuesday, 8 December, is designed to give you an introduction to the themes and challenges (below) of the AIA-Konica Minolta Digital Health Hackathon (12 to 13 December), and explore the opportunities in the rapidly changing healthcare space. Together, they're designed equip you sufficient context and inspiration to give you a head-start at the hackathon.


The workshop and hackathon will centre around the following challenges:
Taking greater control over our health: How can we use pervasive mobile technology to give people more control over their health?

Modifying our behaciour to drive better outcomes:

How can we drive behaviour change to encourage people to live healthier?

Improving our health and well-being at home via our workplace: How can we enable corporations to help manage their employees' health and well-being?
Why You Should Join?
It's a fantastic opportunity to meet like-minded innovators to share your ideas and form teams ahead of the hackathon, as well as hear from these leading experts in the healthcare industry:


Prashant Agarwal

AIA

Director EDGE (Group Innovation)

Veronica Chew

Healint

Advisor & Co-founder

Rachel Goh

Konica Minolta

Director Business Innovation Center (Asia Pacific)

Julien de Salaberry

The Propell Group

Chief Innovation Officer

Jimmy Wong

Konica Minolta

Deputy Director, Business Innovation Center (Asia Pacific)

Dr Wong Mun Yew

Asia Genomics & Partner

CEO & Founder
More Info:
For more information about the hackathon, visit http://bit.ly/digitalhealthhack.