Presenting to Senior Leaders: Influencing the C-Suite (2nd Run)
From MASTERCLASS: Leadership & Management Series
About this Event
80% of your success in influencing TOP MANAGEMENT is your FACILITATION SKILL. Your content is ONLY 20%.
According to this article by Harvard Business Review,
"Senior executives are one of the toughest crowds you'll face as a presenter.
They're incredibly impatient because their schedules are jam-packed — and they have to make lots of high-stakes decisions, often with little time to weigh options. So they won't sit still for a long presentation with a big reveal at the end. They'll just interrupt you before you finish your shtick.
It can be frustrating. You probably have a lot to say to them, and this might be your only shot to say it.
But if you want them to hear you at all, get to what they care about right away so they can make their decisions more efficiently. Having presented to top executives in many fields — from jet engines to search engines — I've learned the hard way that
if you ramble in front of them, you'll get a look that says, "Are you kidding me? You really think I have the time to care about that?""
Don't let your best ideas or concerns go unheard. Learn powerful ways to get your executives to buy in by signing up in this course.
Course Outline:
5 Common Frustrations of Senior Management During Presentations
10 Characteristics of the Typical Senior Executive Audience
Differences between Presenting to Executives vs. Your Usual Presentations (Clients, Peers, Direct Reports)
The Unique Rules in Preparing Your Presentation Material for Senior Management
A Proposed Structure: Presenting to Influence Senior Leaders
11 Practical Steps & Tips from Start-to-End of the Presentation
Solving Common Challenges: Objections, Questions, Disruptions, Interruptions, Cultural Nuances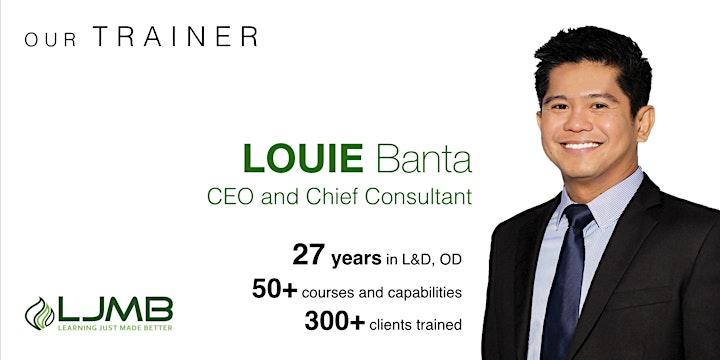 Here's what our previous participants are saying:
"I've never imagined that a virtual training can be this engaging!"
"It's super engaging even if it's 2 hours long and done virtually!"
"Very grateful that I was given a chance to attend this training. I've learned so much and I can't wait to be able to master these lessons and level up my presentation skills. Thank you, Louie and team!"
"The topics were discussed clearly with examples and scenarios, plus it was really interactive and engaging!"
"Engaging facilitator!"
"Simply THE BEST!"
Get your tickets now.