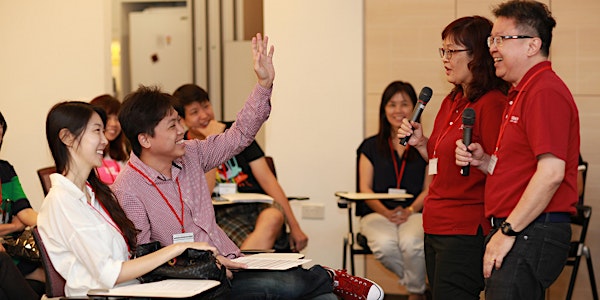 Prevention and Relationship Enhancement Programme (PREP) - Oct 2021
This programme is for soon-to-wed & newly-wed couples at least 21 years old and above
About this event
MSF rebate is open to all soon-to-wed and newly-wed couples attending online marriage preparation for the first time. At least one spouse must be a Singapore Citizen / Permanent Resident.
For couples comprising of a Singapore citizen and a foreigner, kindly email us first before registering at familylife@touch.org.sg
Prevention and Relationship Enhancement Programme (PREP) is an evidence-based marriage and relationship education programme offered by the Ministry. It is designed based on over 30 years of research in US that aims to help soon-to-wed and newly-wed couples to:
-Improve communication and problem-solving skills
-Attain higher relationship satisfaction;
-Develop better conflict resolution skills
Research has shown that couples who attended PREP have higher levels of positive communication and interaction and greater confidence in the future of their marriages.
The PREP workshop provides deeper coverage on a range of topics such as communication, conflict resolution and problem-solving. Couples also have opportunities during the workshop to reflect on their relationship and learn skills to enrich their marriage.
Online PREP format: Using Zoom as online platform for sessions conducted over 3 weekends at 4 hours each
Date: 2, 9 & 16 October 2021 (Saturday)
Time: 9.30am to 1.30pm
Fee: S$420/- per couple, inclusive of 7% GST ($140 rebate* from MSF upon completion of the programme)
*Subject to changes under Ministry of Social and Family Development policy.
You will receive PREP materials, class login ID and passcode via email by TOUCH admin nearer date of the workshop.
Due to limited vacancies, please register early to avoid disappointment.
For any enquiries & assistance, please email to familylife@touch.org.sg
Terms & Conditions Apply
I. No refund policy.
II. Make-up session: Participants are required to ensure that they attend all the sessions as scheduled to avoid any make-up lesson. If make-up session is required, it is chargeable at $50 per session/ per couple and subject to the availability of the instructors; hence, it may not be within your time preference.
III. TOUCH reserve the right to re-schedule course dates, time and format due to unforeseen circumstances.
It is deemed that you have read and understood the terms and conditions stated above.