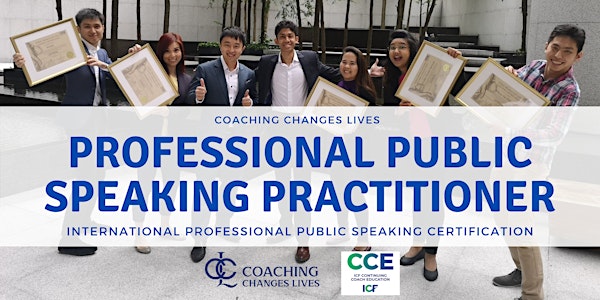 Professional Public Speaking Practitioner (ICF Approved) Singapore
International Coach Federation (ICF) Approved Professional Public Speaking Practitioner
When and where
Location
Singapore Singapore Singapore, 179682 Singapore
Refund Policy
Contact the organiser to request a refund.
About this event
International Coach Federation (ICF) Approved 20 Hours Coach Specific Training Hours (CCE)
Professional Publis Speaking Practitioner Certification Program
Live In-Person Training
Date: 16 & 17 August 2021
Time: 7PM - 10PM (GMT +8)
Discover Your Voice. Unleash Your Passion. Be the Coach of Your Voice.
The Professional Public Speaking Practitioner (PPSP) Program is for leaders looking to be professionally certified as coaches with specialisation in public speaking.
No matter which industry you work for, the ability to speak confidently in front of an audience is one of the most critical skills for leadership. Many people believe that to do public speaking, you need to be fearless or have a naturally extroverted personality. However, the reality is that the best public speakers are able to apply effective strategies on how to appear confident on stage, even in spite of the fear.
In this program, you will learn the strategies, deep domain knowledge, and tools for effective public speaking, as well as how to coach others for success in public speaking. Whether you need to convince clients, colleagues, or crowds, your willingness to speak confidently can make or break your career. 
Having this knowledge is an indispensable advantage to mastering leadership, excelling in sales, and influencing the masses. If you're determined to succeed as an influential figure in your organization or industry, then this workshop is for you. 
The Professional Public Speaking Practitioner Program is tailor-made for individuals who are in leadership positions or preparing to helm leadership positions, including entrepreneurs, students, leaders, and educators.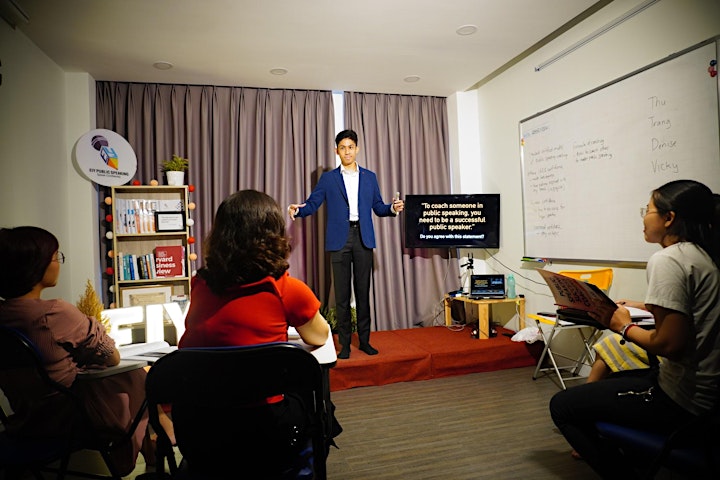 Value of Professional Public Speaking Practitioner
1. Confidence in Public Speaking, Anytime, Anywhere 
As leaders of organization or businesses, we are frequently called upon to give addresses to groups of people. Your competence in public speaking will have a direct impact on how you are perceived as a leader. Public Speaking Success Coaching is about fully equipping yourself with the knowledge, skills and readiness to speak in public.  
2. Empower your Clients with Confidence
As you learn the fundamentals of effective public speaking, you'll also learn how to coach your clients in these fundamentals. Elevate the confidence of your team as well as your clients as they demonstrate the ability to speak effectively in front of large audiences.
3. Professional Coaching Standards and Ethics
The certification program follows the professional guidelines established by ICF. The modules are designed as a systematic approach with active and blended learning to empower you to become a certified Public Speaking Skills Coach. 
4. Grow Your Leadership And Coaching Competencies 
As you progress on your journey to becoming a certified coach, you will gain deeper awareness and clarity of your leadership and coaching philosophy. We use the 3 'A's approach to help you gain depth of coaching competencies. 1) Awareness – creating awareness in self and coachee, 2) Adapt – creating a shift in beliefs to adapt to new situations, 3) Assess – measure the results and accountability of progress. 
 5. Develop The Public Speaking Coach Within You
Coaching is all about the client. Whether you aim to be a certified coach in public speaking for your organization or as your own business with real paying clients, we will continue to improve our skills and enhance our knowledge in the field of coaching. We have regular coaching huddles for skilling and sharing the lessons learnt and best practices around the world. Our clients matter; develop the Public Speaking Coach within you today.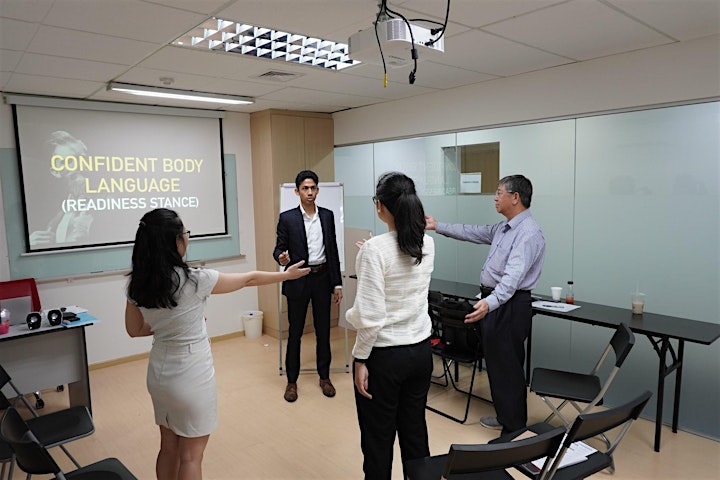 The Professional Public Speaking Practitioner program is suitable for:
CEOs, Senior Executives, Business Owners, Leaders, Sales Executives, Managers, Supervisors
Corporate and Business leaders empower their organization by equipping them with confident public speaking skills to influence in a variety of business scenarios – from the boardroom to a packed auditorium. Whether you are a top executive, middle management, or management trainee, equipping yourself with public speaking coaching skills will enable you as well as the individuals under your charge to be proficient in public speaking.
Leaders who want to be certified Professionally as a Public Speaking Coach
Whether you envision being an executive coach or a life coach or specializing in a niche, having the tools for public speaking coaching will give you a distinctive edge to your personal brand as a coach and all you to transform your clients into powerful communicators.
For individuals looking to develop their public speaking skills for leadership and influence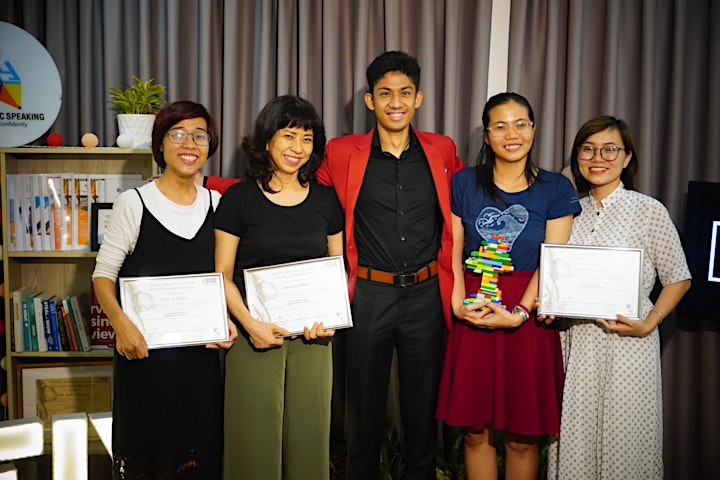 Program Overview
The Professional Public Speaking Practitioner (PPSP) Program is an approved 20 Hour Coach Specific Training program (CCE) conducted over 3 modules through face-to-face training or online synchronous and asynchronous training and coaching. English will be the main mode of delivery (unless otherwise stated). Our focus is on creating results for our coaches, and the training follows the ICF core competency and professional standards. The modules will be delivered through active learning, with theories, demonstrations, practice, reflections, and case studies. The program is hands-on, direct feedback, and application of theories to integrate learnings deeply.
The program will cover: 
Live Synchronous training (in-person or online) – 8 hours
Asynchronous learning, which includes pre-course learning, discussion forum, and peer and group practice – 12 hours
Total training hours = 20 Hours of Coach Specific Training Hours (CCE)
Upon the completion of the course, you will receive 20 CCE Units. 6 Core Competencies + 14 Resource Development Hours 

Program Syllabus Outline
Module 1 – Fundamentals of Effective Public Speaking 
Introduction to Public Speaking 
Organizing Effective Messages
Delivery & Stage Presence
Using Persuasive & Visionary Language 
Module 2 – Coaching For Public Speaking
Introducing the C-O-A-C-H Model for Public Speaking
Powerful Questioning Techniques
Managing Stage Anxiety  
Creating Peak States for Confident Public Speaking
Module 3 – Refining Public Speeches   
Clarifying Intent & Purpose
Evaluating Speech Value & Relevance
Increasing Emotional Impact
Persuasion & Logical Flow   
Bonus Module – Advanced Public Speaking Techniques 
Storytelling for Audience Engagement
Rhetorical Devices
Develop Stage Presence 
Using Effective Visual Aids  
Upcoming Runs
LIVE in Singapore 2021
Run #1: 19 & 20 April 2021
Run #2: 16 & 17 August 2021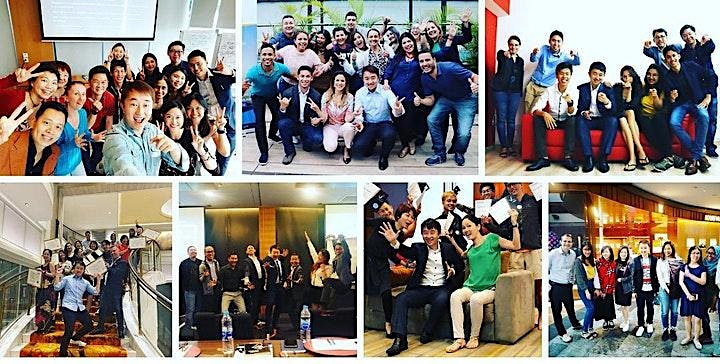 Coaching Changes Lives Advantage
To ensure that all objectives of the course match yours, Coaching Changes Lives' programs are developed after intensive and extensive research within the industry. The programs focus on your immediate working issues to ensure that you are able to apply and deliver immediate results in real work situations. Application and implementation of industry knowledge and experience are the drivers for our course design, not theoretical academic lectures. The training focuses on practical interactive learning tools and techniques including case studies, group discussions, scenarios, simulations, practical exercises, and knowledge assessments during the course. Invest a small amount of your time to prepare before attending the course to ensure maximum learning.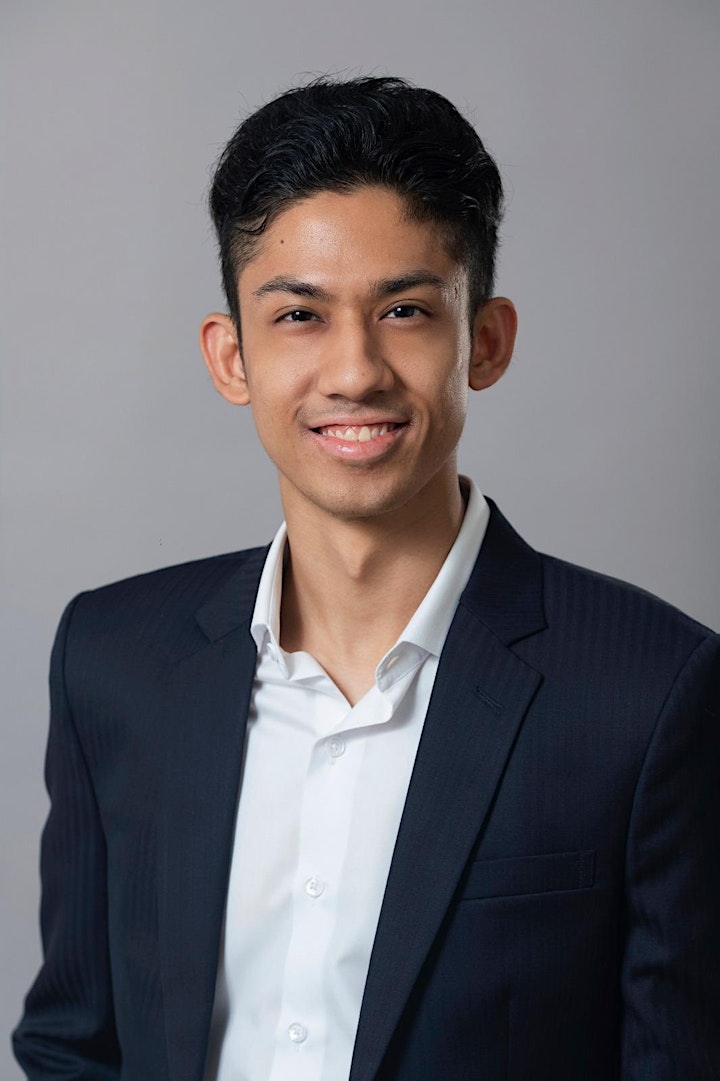 Your Lead Peak Performance Trainer
Hyder Taufik is a Peak Performance Success Coach, Speaker, and Trainer. As part of the world-class team at Coaching Changes Lives, Hyder is involved in Operations and execution of certification training courses for coaches. As a Professional Certified Coach (PCC) under the International Coaching Federation (ICF), he is a highly experienced mentor coach and specializes in public speaking coaching.
Also known as 'Hyder the High Flyer', he is the founder of The High Flyer Nation where he coaches millennial professionals to develop self-discipline, self-awareness, productivity and a peak performance mindset. He believes that anyone can tap into their potential for greatness when they discover and harness their unique gifts. Hyder's cause is to uncover the most coveted strategies of world-class peak performers and share them with the masses. He enjoys training millennial professionals, TED speakers, entrepreneurs, and international students to find their innate 'superpowers' and leave a lasting impact on the world.
As a coach, trainer, and keynote speaker, Hyder has made a difference to executives across multiple levels from organizations such as JP Morgan, Pearson, Great Eastern, AIA, FWD Insurance, USANA, SAESL, SingEx, Moody's Analytics, Nexia TS, Mitsui Chemicals and more. He has also coached international students and student leaders from universities such as NTU, SMU, SIM Global Education, and EASB. As a public speaking coach, Hyder has accumulated over 25 awards and accolades in the area of competitive speaking.
Hyder is the author of 'The 5 Golden Keys to Charisma: How to Gain an Unfair Advantage of Charisma Over Your Competition and Charm Your Way to Success' as well as 'Reset & Recharge: Simple Stress Mastery Strategies to Power Up Your Productivity'.
Hyder started dabbling in personal growth relatively early. Formerly an underperforming student with notoriously low self-esteem, Hyder embarked on his journey of personal transformation, just days after his 'O' levels. Determined to overcome his personal limitations, Hyder immersed himself in a variety of interests by becoming a martial artist, theatre performer, competitive public speaker, straight 'A' student, and entrepreneur. At 19, his relentless drive led him to be an accomplished youth mentor, impacting the lives of more than 2,500 youths in Singapore. Today, Hyder is an award-winning speaker, coach and speaker - and is on a personal mission to empower young professionals with peak performance strategies.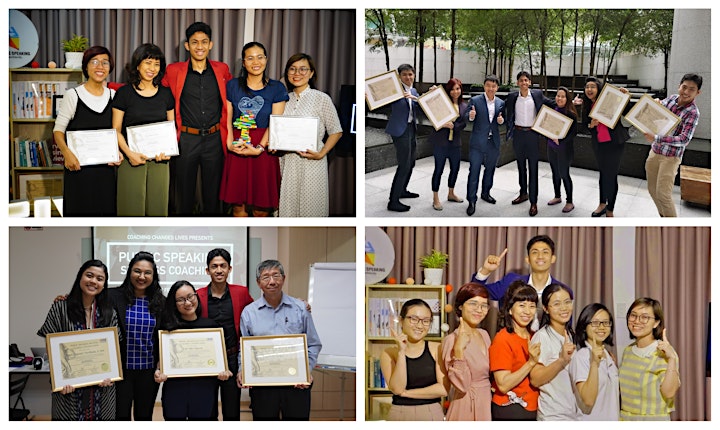 Your Investment 
Usual Price: $997
Professional Public Speaking Practitioner (PPSP) Certification
Special Offer for 2021:
Professional Public Speaking Practitioner (PPSP) Certification
Course Fee: $800 SGD
Continuous Learning and Coaching Community (Bonus Complimentary Access) 
Here at Coaching Changes Lives, we believe in ongoing learnings and engagement with our coaching community. Once you have finished the program, you will gain access to our exclusive coaching community where we will learn, share and continue to hone your coaching skills. 
Bundle Pricing (2 or more programs) : Contact/Email coach@coachingchangeslives.com for a quote. 
* Contact via email or WhatsApp for nett price fees as reflected without ticketing fees
Enquiries
For Enquiries, contact the following channels,
Email: coach@coachingchangeslives.com
WhatsApp: +65 87923402
Our Other Coach Programs (ACSTH/ACTP/CCE for your ICF Credentialing) 
1) ICF Mastery In Coaching Certification (70 Hr ACSTH)
2) Transformative Neuro Linguistics Programming Coaching Certification (100 Hr ACSTH)
3) Team Leadership Coaching (70 Hr ACSTH) 
4) Leadership Executive Coaching (24 Hr CCE)
5) Exponential Career Coaching (24 Hr CCE)
6) Professional Public Speaking Practitioner(20 Hr CCE)
Enquiries
For Enquiries, contact the following channels,
Email: coach@coachingchangeslives.com
WhatsApp: +65 87923402
For Trainings in other Cities and for more information & Registrations visit:
Or email us at coach@coachingchangeslives.com
We look forward to serving you. #CoachingChangesLives
Subscribe to our Youtube Channel Today!youtube.com/c/CoachingChangesLives