Program A Machine with Scratch X Lego WeDo, 19-23 Dec Holiday Camp (PM) @ Orchard

Monday, December 19, 2016 at 2:00 PM

-

Friday, December 23, 2016 at 5:00 PM (SGT)
Event Details
Holiday Camp
Program A Machine with Scratch X Lego WeDo
Schedule: Mon 19 Dec - Fri 23 Dec, 2pm-5pm
Ages: 7 - 12
Requirements: Completion of a Beginner's Scratch Programming course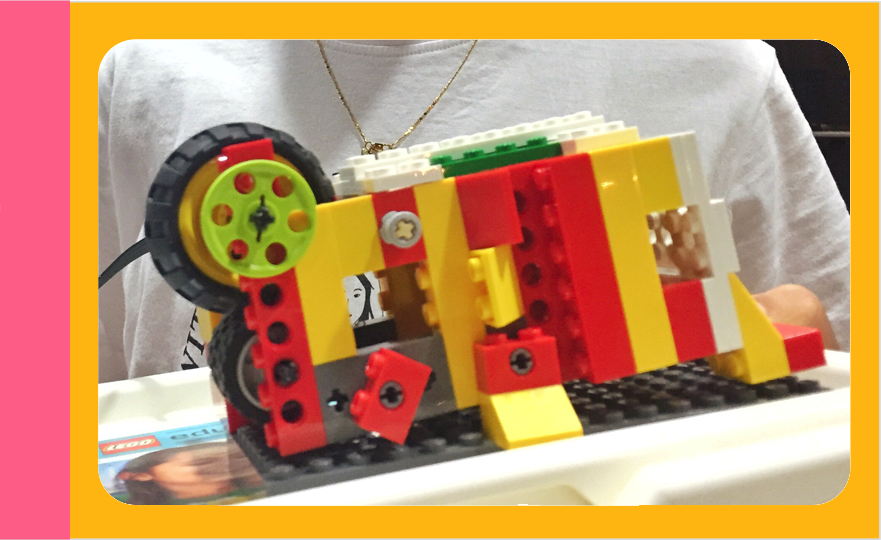 Goals
By the end of this course, your child will be able to construct a functioning Lego WeDo machine and program it using the Scratch programming language.

Learn about simple mechanics concepts like gears and axles using different Lego pieces.

Learn about the Lego WeDo extension in Scratch and how it allows Scratch programs and animations to interact with the physical world
Course Description
It isn't every day that kids can learn to shape the future.

Saturday Kids offers an introductory programming class in Scratch, a visual programming language for kids, developed by the Lifelong Kindergarten Group at the MIT Media Lab.

Saturday Kids offers an introductory class which combines Scratch programming with the creativity of Lego WeDo.

In these classes, we bring the virtual and physical world together. Kids are encouraged to invent innovative and wacky inventions using Lego blocks, before using Scratch to program their inventions.

With its modular framework, Scratch makes it easy for kids to have fun while developing important problem-solving skills. Scratch teaches kids to think creatively, reason systematically, and work collaboratively. In addition, Lego WeDo allows kids to explore their world in a fun and innovative manner.

Scratch and Lego WeDo were designed for 7-16 year olds but are used by people of all ages.
Course Outline
1. What is Lego WeDo?
Explore what you can do with the Lego WeDo by playing with sample projects, and experience tinkering with the programmes and Lego bricks to discover how these projects were made.
2. Make A Simple Machine!
The Lego WeDo comes equipped with sensors, motors and other mechanical parts. Learn how to build classic simple machines such as a robot walker, or a mechanical arm grabber, and how they can built with gears, axles, and sheer mechanical genius!
3. Make A Sensing Machine!
Lego WeDo is compatible with Scratch! Learn how you can use the sensor inputs to build machines that knows where to go, or even machines that sense earthquakes.
4. Make An Interactive Machine!
Programme some interactivity in our machines and learn how to use operators, conditions, and variables in Scratch.
5. Make Your Own Machine!
Kids are given a design brief and experience building and programming their own Lego machines!
6. Share and Present!
Students share their projects with their friends and reflect on their creative experiences throughout the workshop.
Instructors
Instructors at Saturday Kids are curious about design and technology. They come from diverse backgrounds such as psychology, design, business and computer science. They are not necessarily software engineers by training, but having taught themselves programming as they believe computational thinking and digital literacy are basic skills every child needs.
FAQs
1. My child is new to computers and programming. Will he / she be able to follow?
For Inventive Engineers: Make A Machine That Does Something with Scratch X Lego WeDo , it is highly encouraged that your child should have attended the Beginner's Scratch Programming course. This is to ensure that your child will be able to follow the Scratch blocks used and make the most of the workshop.
2. My child is younger than 7. Can he / she join?
Scratch was designed for 7-16 year olds but is used by people of all ages. Sadly, having a 6 year old in the same class as a 12 year old may not result in the best learning environment for the younger student. If your child is very keen, we can organise separate classes if there is a minimum of 4 participants. Contact us directly to enquire.
3. I've enrolled my child, what will he / she need to bring?
We'll provide all materials. You might wish to bring a drink, some light snacks and a jacket just in case your child gets cold or hungry. We'll give the class breaks in between so your child can take that time to sip on some juice and munch on those yummy crackers!
Please note:
This workshop will proceed with a minimum of 6 tickets sold. We will inform you in advance if the workshop is cancelled. Refunds will be made accordingly.

We will be filming and taking photographs of the children in our workshop. By registering a child's attendance at this workshop, parents/guardians grant Saturday Kids a perpetual licence to use the student's work, photographs or videos of the student, and other materials for purposes such as publicising or promoting our workshops/events and the students' accomplishments on Saturday Kids' website or on our partners' websites.
Have questions about Program A Machine with Scratch X Lego WeDo, 19-23 Dec Holiday Camp (PM) @ Orchard?
Contact Saturday Kids
Save This Event
When & Where

10 Square @ Orchard Central
181 Orchard Road, #10-01
Singapore , Singapore 238896
Singapore

Monday, December 19, 2016 at 2:00 PM

-

Friday, December 23, 2016 at 5:00 PM (SGT)
Add to my calendar
Organizer
Saturday Kids
Kids will invent the future. What if they start now?
At Saturday Kids, students don't just learn to code. They code to learn.
Kids today live, learn and play in a digital world, so it's never been more important for kids to learn digital literacy.
However, we also recognise that technology is ever changing, what's relevant today might not be so tomorrow. It's nigh impossible to teach a kid everything there is to know...
But what we can do is bring out the curiosity in kids.
With our design-based approach emphasising creation, we create an environment where there is no right answer, kids are free to explore, can put theory into practice and develop the mindset of "I can figure this out myself" instead of being spoonfed the answers.
Saturday kids learn how to learn.
If you're a firm believer that what kids learn on Saturdays is just as important as what they learn in school Monday to Friday, let's chat!
Can't find a class below that suits you? Email us at hello@saturdaykids.com
Stay informed of upcoming Saturday Kids workshops, new courses and events... sign up here
Program A Machine with Scratch X Lego WeDo, 19-23 Dec Holiday Camp (PM) @ Orchard