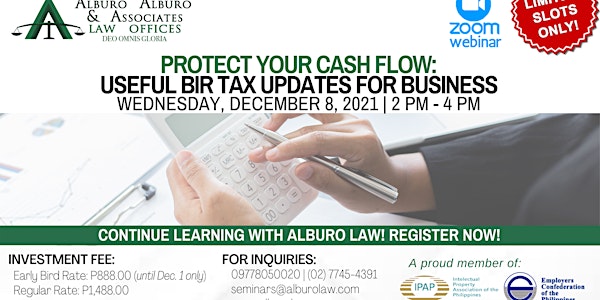 Protect Your Cash Flow: Useful BIR Tax Updates for Business
About this event
Continue learning in the comforts of your home and office with ALBURO LAW ⚖️‼️
As the year comes to an end, let us review relevant BIR rulings and changes in the taxation guidelines. Knowing recent BIR ruling and guidelines will help business owners in their tax planning and preparation. This webinar will discuss BIR rulings in relation to the Bayanihan Law, recent Supreme Court decisions on taxation, and updates on tax assessment processes.
Let us not let the pandemic ruin yet another year. 2022 will be a prosperous year for all of us! Let's claim it!
📌Join us on Wednesday, December 08, 2021, from 2 pm to 4 pm.
❌ Don't miss out our Early Bird Rate and register now!
🗓️ Register on or before December 1, 2021 to avail our Early Bird Rate of P888. Regular rate is P1,488.
🔗Click the link below to register: https://bit.ly/3nUxTnW
📞📱09778050020 | 09778050015
#BIRupdates #taxupdate #tax #webinar #AlburoLaw
Organizer of Protect Your Cash Flow: Useful BIR Tax Updates for Business