Sales Have Ended
Ticket sales have ended
Thank you for your interest. We apologise that all tickets have been sold out. For enquiries, please call 65474407 or email enquiries@simplyislam.sg
Sales Have Ended
Ticket sales have ended
Thank you for your interest. We apologise that all tickets have been sold out. For enquiries, please call 65474407 or email enquiries@simplyislam.sg
Description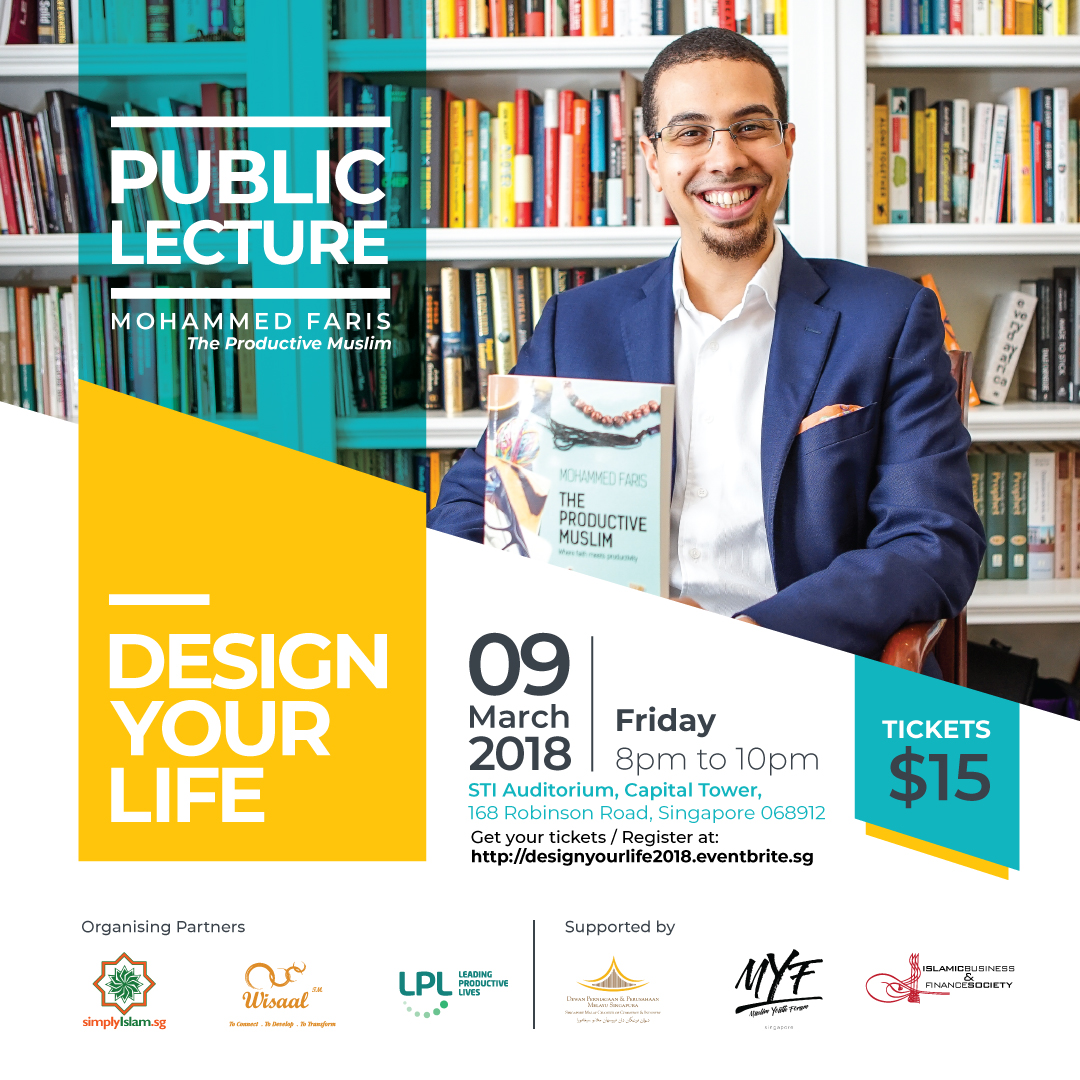 We've all been there. Ramadan comes around and we feel a renewed sense of spirituality and motivation. We make resolutions and aim to inculcate new good habits and eliminate others. We might do well for some time but after a while, the motivation wanes and we are back to square one. We may read a book or two on productivity, discipline and willpower but find that it does not result in changes in our behaviour.
In this lecture, the speaker will outline clear actionable strategies to set oneself up for success, in this world and the next. As Prophet Muhammad (peace be upon him) said,
"Take 5 before 5. Your youth before your old age, your health before your sickness, your wealth before your poverty, your free time before you are preoccupied, and your life before your death."
Guided by Prophetic narrations and example, we will leave the lecture empowered to design a life that Allah will be pleased with.
Event Details

Date: Friday, 9 March 2018
Time: 745pm to 10pm
Venue: STI Auditorium, Capital Tower
168 Robinson Road, Singapore 068912
5mins walk from Tanjong Pagar MRT
Tickets: $15 only
___
BIO OF MOHAMMED FARIS, PRODUCTIVE MUSLIM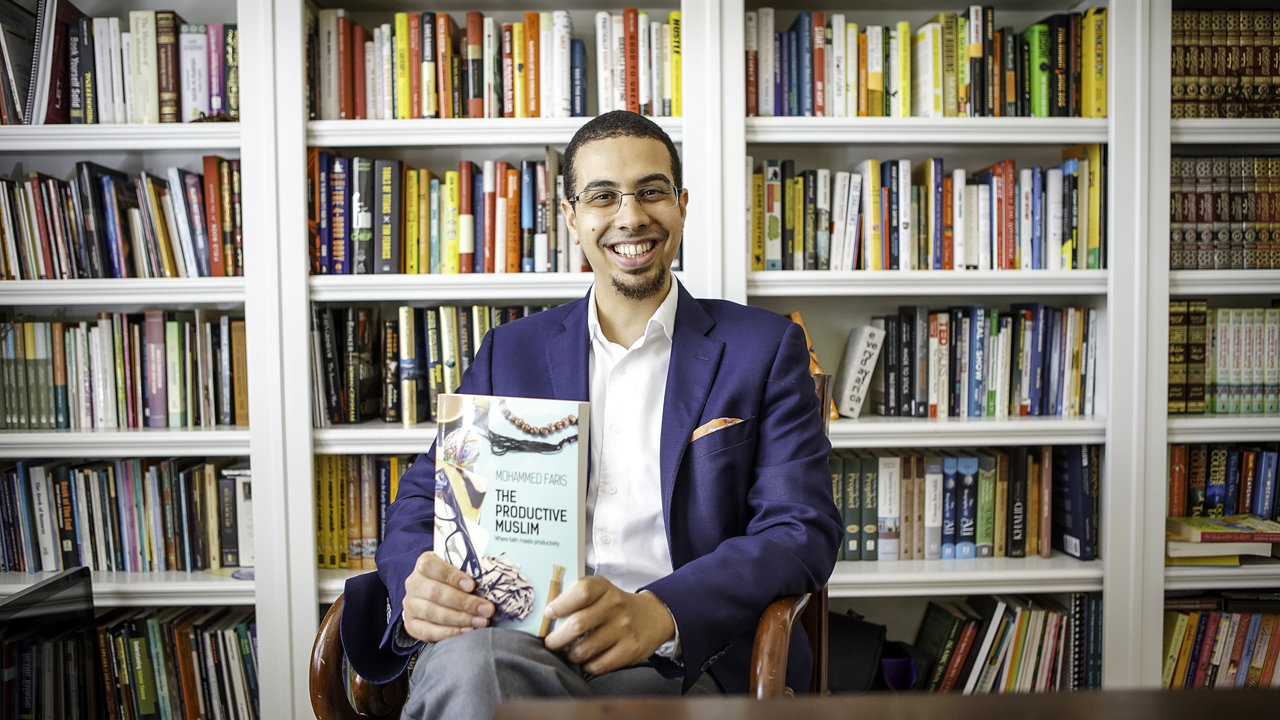 Mohammed Abdullah Faris was born in Tanzania, and is of Yemeni descent, and spent the majority of his life growing up in Saudi Arabia when his parents migrated there. He later pursued his tertiary education at the University of Bristol in the UK, graduating with a Masters in Finance and Investment.
It was at the University of Bristol that he first developed his leadership skills and engagement with numerous grassroots Muslim projects and developed his vision to serve the Muslim Ummah.
Starting with a personal blog in 2008 called "ProductiveMuslim.com" he combined his love for productivity with love of teaching to help Muslims worldwide understand the unique perspective of connecting the demands of today's modern world with Islamic values and principles to lead productive lives.
His journey with his blog and later online training organisation has set Mohammed Faris apart as an international speaker, trainer and author who can distil the broad concepts of Islamic values into practical, actionable steps for Muslims to acquire the tangible skill sets and motivation needed to lead productive lives for the sake of Allah and find true success in this world and the next.
His Productive Muslim ideas and activities were pursued while he was working for many years at the Islamic Development Bank in Jeddah, Saudi Arabia, as a Risk Management Specialist. In 2015, he established the Leading Productive Lives LLC, and is its Founder and CEO, and continues his work full time as an international coach and author, helping executives, professionals, and entrepreneurs to re-balance their lives Spiritually, Physically and Socially, and achieve peak performance in their personal and professional lives.
In 2016, under Awakening Publications, Mohammed Faris published the book "The Productive Muslim: Where Faith Meets Productivity" detailing practical advice to improve one's daily life as a highly productive Muslim.
He has delivered seminars and workshops at numerous events in over 15 countries including United Kingdom, United States of America, Malaysia, Singapore, Switzerland, Egypt, and Saudi Arabia. He has been featured on international media and on the TEDx stage. Over 20,000 people have attended his workshops and he continues to inspire millions of followers online.
In 2014, the Royal Islamic Strategic Studies Centre listed him among the World's 500 Most Influential Muslims in its annual publication. In 2016, the Dubai Government awarded him the 2016 Islamic Economy Award in the Media category for his valuable contribution to the development of the global Islamic Economy.
__________________________________
CANCELLATION & REFUND POLICY
Registrations will not be confirmed until registration is complete and payment is received in full.

There is absolutely no refunds for any tickets purchased.
For any enquiries, please call 65474407 or email enquiries@simplyislam.sg