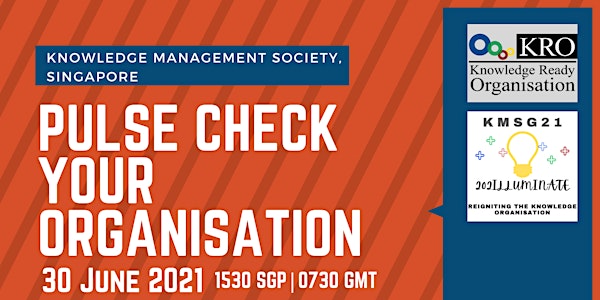 Pulse Check on your Organisation Knowledge Readiness
Managing knowledge has been highlighted as one of the top 3 issues for organisations during the last 2 years, how do we get future-ready?
About this event
Pulse Check on your Organisation
Managing knowledge, has been highlighted as one of the top three issues for organisations during this last two years as organisations struggle with having a scattered workforce. As reported by in Deloitte's Global Human Capital Trends study only 9% of organisations feel ready to address it.
KMS Singapore, will be sharing how we take a pulse check on our organisations, based on the six elements of the Knowledge Ready Organisation.
The session will be in four parts,
Building a Resilient Workforce
Sharing by Rajesh S Dhillon, President KMS,Singapore
Rajesh will share what are the areas that organisations should look at to ensure they have built a resilient workforce that is future ready. Is technology the answer to ensure critical knowledge is transferred as our workforce is scattered? What are the holistic approaches that organisations need to look at to enable harvesting of key knowledge elements? Does the commercial off the shelf "one size fits all" model work for everyone?
The Future of Work
Sharing by Mohd Faiz Selamat, Vice-President KMS,Singapore
The way we work has changed, now most of us if not all, operate in a hybrid environment, how does this affect your workplace efficiency and effectiveness of inter-related departments, like operations and HR? while some organisations have bounced back relatively quickly, others face the challenges of reorganising workflows and strategies. Faiz will share the future of work and the areas of concern on why organisations need to be future ready.
Being a Knowledge Ready organisation
Sharing by KMS.Singapore
How do the six elements of the Knowledge Ready Organisation (KRO) give insight to organisations. Being a pulse check, the aim of the KRO works alongside other KM awards such as the MIKE and the KM ISO30401. The KRO is a growth model that equips the organisation and the transformation team with a maturity view of the effectiveness of their KM systems and giving directions and highlighting the blind spots within regardless of the type or size, or the products and services it provides.
Quickfire session with a Knowledge Ready organisation
Hear past KRO winner, AFCONS Infrastructure's chief knowledge officer, Mr Rudolf D'Souza share how AFCONS has made giant strides in Knowledge Management & Innovation and led KM, as recipients of the Pinnacle Awards in the KM & Innovation field for the last 5 years. Rudolf is also recognized as 'Among the 50 Most Admired Global KM Professionals'.