Puzzle Hunt for Youths: Covert Footwork 2018

Saturday, 24 November 2018 from 08:30 to 13:00 (Singapore Standard Time Singapore Time)
Event Details

*Note: date has been changed to 24th Nov 2018*
Synopsis:
In conjunction with World Intelligence Day, Mensa Singapore presents Covert Footwork, a multi-step problem-solving race. Aimed at youths living in Singapore (13 to 18 years old), with sold-out games held in 2012 and 2015, Covert Footwork 2018 is the third iteration of the event. This year's games are supported by the Curious Chimeras, who create games and run events that build social interactions and community.
---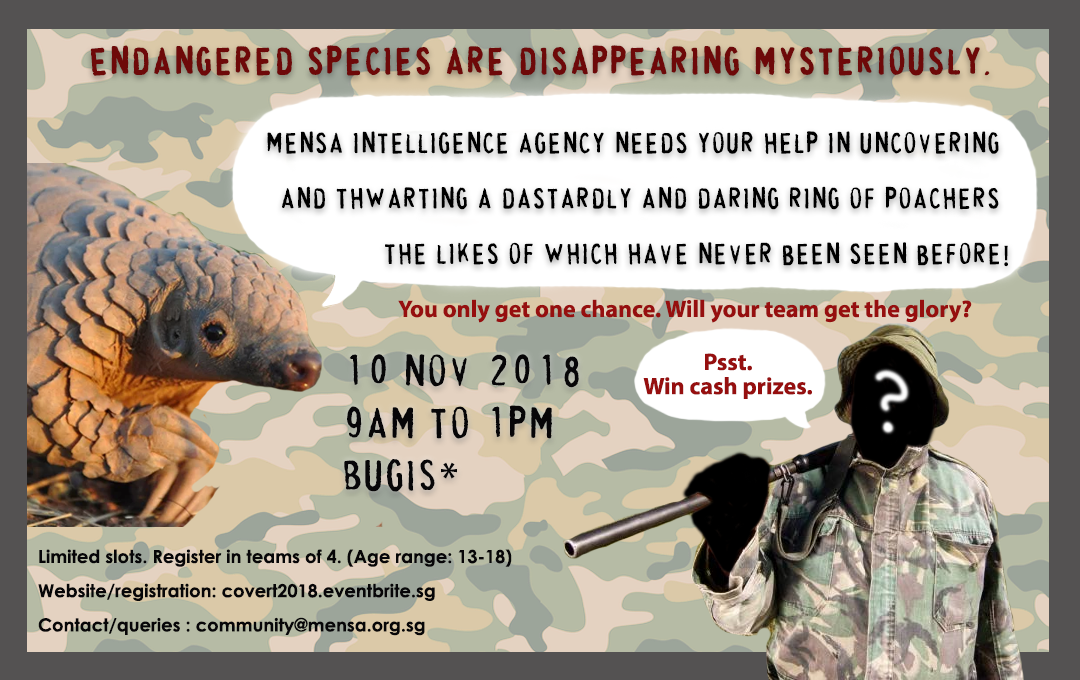 Plot:
Endangered animals are mysteriously disappearing at a faster rate than ever before. The international police suspects that a shadowy and very well-funded organisation of elite poachers is behind the crimes. However, as the members of the organisation conduct their clandestine transactions while leaving barely any traces, Interpol has been left flummoxed — or should we say, utterly puzzled. 
Your team is comprised of elite agents of MIA (Mensa Intelligence Agency) and assigned to intercept the dastardly poachers as they attempt an audacious transaction under your very noses on home turf — Singapore itself! Thinking on your feet isn't easy, especially if you are a secret agent on a time-bound mission. Are you game enough to put your logical thinking skills to the ultimate test? It's a race against time as we only just got intel that a key transaction is taking place on November 10 (Saturday).
To complete the mission successfully, you will need wits, teamwork, good communication — and above all, courage. Cash prizes await the fastest teams who solve all the puzzles and complete the mission!
Sign up now to participate in this fun-filled puzzle adventure!
---
Objective:
The purpose of Covert Footwork is to promote logical thinking among youths in Singapore, with an emphasis on teamwork and communication skills. It is hoped that giving our youths the opportunity to work together to solve puzzles will enable them to one day work together to solve our world's most pressing problems.
Our team has also worked with the World Wildlife Fund in shaping this year's project, so participants will also gain awareness of real-world environmental issues and learn how they can get involved to help the environment.
---
Important:
Participants should be 13 to 18 years old (please bring identification). You will receive a link to a team registration form upon payment. The event address will be provided on completion of this form. No further payment is required.
May parents or teachers accompany the participants?
While it is not compulsory, each team of 4 may have a maximum of 1 adult accompanying them. To ensure fairness, adults are not allowed to assist with the puzzles.
What should I bring/wear to the event?
Please wear comfortable and appropriate clothes and shoes. You may consider bringing an umbrella or fan. You should bring a water bottle, snacks and/or some money in case you need to purchase food or drinks during the puzzle hunt. 

---
FAQs:
Must I or a teammate be a member of Mensa to participate?
No. As long as you are in the correct age group, you are most welcome to play! :)
Can I sign up alone or as a pair?
While tickets for a full team of 4 are sold at $60, you may register as an individual or pair at the rate of $20 per person. Please contact community@mensa.org.sg with your name and mobile number, and you will be notified upon being assigned a team (subject to availability).
Is my registration fee or ticket transferable?
Refunds are strictly not allowed, but you may find someone to replace you. Kindly inform us if you do so.
I have other questions. How can I contact the event organiser?
For event-related queries, please contact community@mensa.org.sg. For all other queries such as the requirements of joining Mensa or questions about the society, you may reach Mensa Singapore via our website at https://www.mensa.org.sg/contact/.
---
Disclaimer:
Mensa Singapore will not be held responsible for any injury, death, damage, loss, delay, cost, expense, or inconvenience arising from travel misfortunes beyond our control.
When & Where

The puzzle hunt takes place in the Bugis area.
The meet-up location will be emailed to you.

Singapore

Saturday, 24 November 2018 from 08:30 to 13:00 (Singapore Standard Time Singapore Time)
Add to my calendar
Organiser
Mensa is the largest and oldest high IQ society in the world. We are a non-profit organisation with three stated purposes: to identify and foster human intelligence for the benefit of humanity, to encourage research in the nature, characteristics and uses of intelligence, and to promote stimulating intellectual and social opportunities for its members.
Mensa Singapore boasts over 1300 active members, creating opportunities to interact with like-minded people that you might normally not get to meet. Mensa provides a forum for intellectual exchange among members.
Its activities include the exchange of ideas via lectures, discussions, journals, special interest groups; local, regional, national, and international gatherings; the investigations of members' opinions and attitudes, as well as assistance to researchers in projects dealing with intelligence or Mensa.