About this Event
Event details
For 12 - 15-year olds
1 week long intensive sessions, Monday to Friday, 3 hours each day
Laptops and materials provided
Small learning group of 1:6 teacher-student ratio
Level 2 available upon completion of this level
Intakes
October
19 - 23 Oct 2020, 15:00 - 18:00
26 - 30 Oct 2020, 15:00 - 18:00
November
2 - 6 Nov 2020, 15:00 - 18:00
9 - 13 Nov 2020, 15:00 - 18:00
16 - 20 Nov 2020, 15:00 - 18:00
Nov & Dec school holidays
23 - 27 Nov 2020, 09:30 - 12:30 or 13:30 - 16:30
30 Nov - 4 Dec 2020, 09:30 - 12:30 or 13:30 - 16:30
7 - 11 Dec 2020, 09:30 - 12:30 or 13:30 - 16:30
14 - 18 Dec 2020, 09:30 - 12:30 or 13:30 - 16:30
21 - 23 Dec 2020, 10:00 - 16:00 (1 hour lunch in between)
Pre-requisites
Some block-based coding experience is helpful, though not a hard requisite.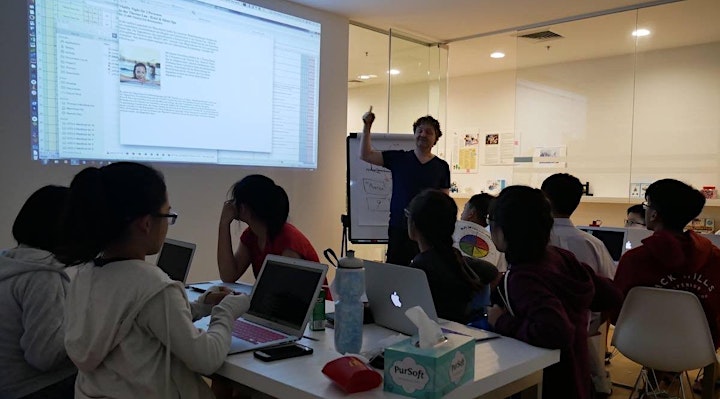 Image: Class discussing the implementation of code where 40-hour manual task is reduced to 10 mins automation.
What do students learn?
This programme is part of the LCCL Core Curriculum, and its instructional design is guided by the LCCL Progression Framework. By the end of Python Problem Solving levels 1 and 2, the learner:
Is able to code most if not any, solutions to with the Python Standard Library
Attained a mastery of fundamental coding concepts
Applied computational problem solving strategies
Python Quick Dive for Teens (PY1) introduces the bare essentials of the Python programming language for students to quickly get their hands wet and dirty with code. Learners will use coed graphical results so that abstract concepts are easier to understand.
Lessons are project-based. Each lesson is scaffolded and learning objectives of each project build upon earlier ones.
Fundamental Coding Concepts with Python
Introduction to code and computing technology
Introduction to how Python and programming languages work
Python Standard Library common functions
Variables
Conditionals
Functions
Loops
Lists
Input/output
Simple object-orientation
Working with modules
Computational Thinking and Problem Solving
Algorithms
Abstraction
Pattern Recognition
Decomposition
Evaluation
Promo
Sibling discount
10% off for second sibling
15% off for third and subsequent siblings
Discounts will be refunded to you after your registration
Add-on Minecraft Coding with Java at only $88 (U.P. $398)
2-day camp, 10am - 4pm
Lunch included
FAQs
How do I know if my child is suitable for this?
You may contact us for a free trial class to test it out. Our teachers will assess your child's suitability and advise accordingly.
Is the class in-person?
This is an in-person class, held at LccL Coding Academy's flagship Tanglin campus. Contact us if you need an alternative.
How do I know more about LccL?
Check us out at LccLcoding.com or visit us virtually.
How do I contact LccL?
WhatsApp or call 6817 2957. Click here to WhatsApp instantly.