Sales Have Ended
Registrations are closed
Thank you! Some things to note for the class: 1. The class will be held at: Computhink @ Kovan 203, Hougang Street 21 #01-83, S530203 2a. If you are traveling by MRT, go to Kovan MRT and exit by Exit C. Make a right turn after Heartland Mall. 2b. If you are driving, you can park or drop off your child at >> Car Park Blk 201-204 Hougang Street 21 - HG9 3. You might want to prepare a jacket and water. 4. Laptops will be provided for the class.
Sales Have Ended
Registrations are closed
Thank you! Some things to note for the class: 1. The class will be held at: Computhink @ Kovan 203, Hougang Street 21 #01-83, S530203 2a. If you are traveling by MRT, go to Kovan MRT and exit by Exit C. Make a right turn after Heartland Mall. 2b. If you are driving, you can park or drop off your child at >> Car Park Blk 201-204 Hougang Street 21 - HG9 3. You might want to prepare a jacket and water. 4. Laptops will be provided for the class.
Description
Register your child for Term 1 2020 weekly coding classes!

Learn to code for kids age 11 and above.
Ready to get your child started on Python Programming at Computhink Kids?
Register for our 2020 Term Classes from January to April/ May 2020. Classes run weekly on weekends or weekdays. Learn to code and build the future!
---
Here is what your child will experience in the introductory class.
Learn what Python Programming is, and how to write, edit and run Python Programs
Learn how to use Python code to control Minecraft
Learn Python Programming Syntax (i.e. code vocabulary and grammar!)
Code 2 or more Python Programs per day to bring home!
Be guided by our experienced programmer trainer (MOE-registered) throughout
The PythonThinker Class has 40 lessons spread over 5 modules.


Attending the PythonThinker Term Classes will help your child:
1. Gain an understanding of what Python Programming is, and how it can be used professionally to solve problems and create solutions.
2. Discover if Python Programming is age-appropriate and something your child would like to learn.
If your child is 11+ years old, now is the best time to let him or her have a headstart in programming!
Sign up your child now for the 16-lessons term class and have fun programming at Computhink (www.computhink.com.sg)!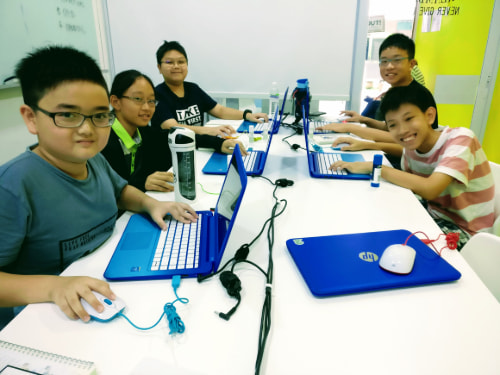 Class Fees
Registration for your child is free! The term classes are 16 weeks from January to April/ May 2020. Fees are collected at the start of the term.
Half-Term: $590
Full-Term: $1180 (*before discount!)
* Enjoy 12% discount for full-term sign-ups (16 lessons)
** Regular students enjoy an additional 12% discount for a total of 24% discount!
*** For Ages 11 and above and for students with some coding experience.
During registration, please select 3 available/ alternative date/ time slots for the class.
Do note classes will only be confirmed when you receive an email from us.
To ensure the best learning experience for your child, we may suggest alternative time slots depending on your child's coding level.
Fees will be charged only after we have found a suitable slot for your child.


Why should your child learn Python Programming?

1. Python is one of the top 10 programming languages in the world and is highly in demand by employers in the biggest technology firms such as Google, Facebook, Youtube, and more
2. You can use Python for pretty much everything.

Data Science & Big Data Analysis

Artificial Intelligence & Machine Learning

Web Development (i.e. make websites)

Finance and Trading

Network Systems and Security

Scientific and Mathematical Computing

Basic Game Development

And much more!
3. Python is widely used in Data Science and Machine Learning Projects. In Singapore, Python was used to analyze train schedule data, and successfully identified the rogue train which was causing massive train delays on the Circle Line.
4. Python Programmers are in demand and are amongst the most highly paid programmers in the US and the world.

5. Python is very beginner-friendly. Python Language Syntax is clean, readable and elegant which makes it the perfect language for beginners to start learning to program.
6. Python is a language of choice for MOE O'Levels Computing Subject.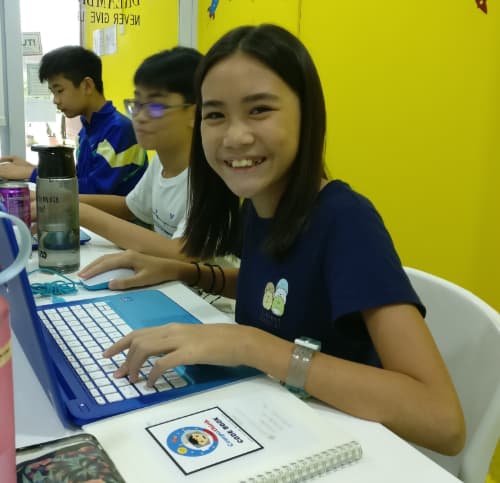 ---
Why learn Python Programming with Minecraft?

We believe that the best way to learn is when the student is self-motivated to complete certain tasks that they are interested in. We use Minecraft as the environment for students to practice their code, but the focus is always on the programming. As we always say in class, "Show me your code."

In the PythonThinker Programming with Minecraft Class, students learn computational and programming concepts with Python® and use these skills to build big structures in Minecraft such as a house with a swimming pool, or a high tower surrounded by a flowing lava moat in just a few seconds and with just a few lines of code!
By learning how to write programs in Python and applying it in Minecraft, your child will learn a new skill while having absolute fun in Minecraft!

This course is part of our beginner Python® Programming Class suitable for young programmers aged 11 and above.


Equipment
• A laptop will be provided for each child.
• If you would like to bring your own laptop (Windows 8 and above only), do let us know in advance!
• Students can use their own Minecraft login user id and password (for PCs). We will also help to provide the Minecraft ID on request.



---
What this class is NOT about

This class is NOT about letting your child learn and play Minecraft. Some play is involved, but the focus is always on learning to program. :)

Note: "Python" and the Python logos are trademarks or registered trademarks of the Python Software Foundation, used by Computhink with permission from the Foundation.


---

Why Computhink?
Small Class ratio in each class

By keeping the class small, we ensure that each kid gets the guidance and coaching he or she needs to create and bring their imaginations to life through programming. Besides allowing us to get to know your kid better, we also encourage the kids in our classes to also get to know one another and this is better facilitated in a small group setting.


Hands-on Activity-based Learning

We believe that kids learn best when they do it themselves in a fun environment. That is why we ensure that each kid is given a laptop to work their own respective projects and try their hand in the programming projects and activities. It is heartening each time we see the kids beaming and being proud of themselves when they could get the code to work as they want it to.


Our Teaching Philosophy

This idea that kids will learn anything that they want to when they are given the freedom to create, inspires and drives our teaching philosophy.

In this, we are influenced by the work of Sugata Mitra (Educational Researcher) whose research demonstrates the effect that a child's innate curiosity and interest have on learning complex subjects outside the normal school environment. The key word here is interest. By itself, it is a simple word and concept, easily understood, but not so easy to influence, especially with children.

At Computhink, our approach to this learning conundrum is three-pronged and can be described by these 3 questions by the child:


What can I do?

What is possible and achievable by programming? We approach this question by showing examples of fun projects that can be done with programming. These can include small mini-games or animations. In the beginner stage, the child would be unsure of what can be done, and it is helpful to be able to emulate and enhance something that is fun and cool.


How can I do it?

Secondly, we guide the children to ask open-ended questions. For example, "How can I make the character walk? Can it jump? Can it fly?" As we answer these questions, this is where the learning starts for the child as we guide them along.


What else can I do?

This class is, well, just the beginning. By the end of the classes, the child would have grasped the basics of programming and computational thinking, and we want to show them what else is possible. By interfacing with other platforms (e.g. Arduino for robotics, makey-makey for home DIY projects), your child will be able to put their skills learned in this course to good use.


Follow-on Mastery Classes

What's next after this class? Like any learning, learning programming is best done through regular practice and with guidance from experts. And this is why we offer the Computhink CodeMentor classes which provides regular weekly practice while exposing the kids to various programming languages such as intermediate Scratch, HTML, Python, and Javascript.

Building on the basic programming concepts learned from the current class, at the Code Club, kids will learn how these same basic concepts are applied and used in the other programming languages to do different things such as building websites and creating mobile apps and games. It is through regular and varied practice that promotes mastery and that is what we aim to do at Computhink classes. Our goal is to develop your kid's interest in programming and guide him or her to reach a skill level to be comfortable enough to build their own websites or creating suitable apps to solve everyday issues and make things better.


________________________________________
Note: We may be taking photographs or videos of the students during the class. By registering your child's attendance, you agree to grant Computhink your permission to use photographs, videos or other materials produced during the class as part of Computhink's electronic or non-electronic promotional materials.
________________________________________

---