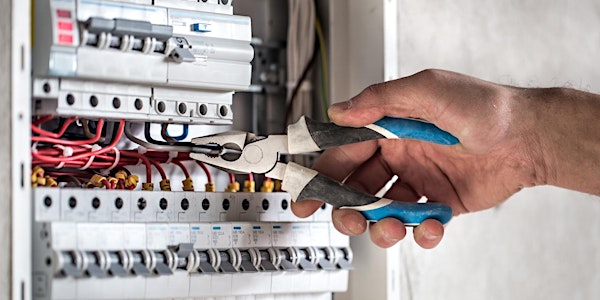 Qatar Civil Defence (QCDD) Exam Preparation - Electrical
Green International, Qatar is a Leader in UPDA Exam Preparation and Project Management Training provider in Qatar.
By Green International doha qatar
Date and time
April 30 · 7pm - May 8 · 10pm +03
Location
Green Intl-MMUP UPDA Qatar Civil Mechanical Electrical Chemical Archit Engg Exam Syllabus Questions Training Center Ibn Seena Street Doha, Doha Qatar
About this event
8 days 3 hours

Mobile eTicket
Green International Qatar is a Leading, Pioneer, and Highly Success Rated Training provider with a Customized Syllabus, Study Materials, and Sample questions along with Exam-focused training by the Industry expert Trainer with more than 30 Years of Professional Experience.
QCDD Electrical Engineering Training helps you to clear the QCDD exam easily on your first Attempt and the course is designed to improve your knowledge and proficiency in NFPA Standards, QCDD Regulations, and their implementation until obtaining QCDD clearance approvals, which will be very beneficial to perform your project roles efficiently. Green International is a Professional organization that provides the best quality services for Qatar Engineers in achieving their QCDD License in Qatar.
#Do not miss the early chance of achieving a QCDD Engineer License
#Prepare Smart with Green International's QCDD Electrical Course
#Highly Exam focused Study Materials and QCDD Exam Sample Questions
We are happy to update the Training Schedule for Apr 2023
PMP - Project Management Professional
05 Apr 2023, Sat-Mon-Wed, 7.30pm-10.30 pm for 45 Hrs
RMP - Risk Management Professional
16 Apr 2023, Sun-Tue-Thu, 7.30 pm-10.00 pm for 30 Hrs
Workshop on Contract Management (FIDIC)
16 Apr 2023, Sun-Tue-Thu, 7.30pm - 10.00 pm for 20 Hrs
Contract Administration & Construction Claim Disputes
30 Apr 2023, Sun-Tue-Thu, 7.00 pm-10.00 pm for 30 Hrs
UPDA MMUP Civil Engineering Exam preparation
16 Apr 2023, Sun-Tue-Thu, 7.30 pm - 10.00 pm for 30 Hrs
UPDA MMUP Mechanical Engineering Exam Preparation
16 Apr 2023, Sun-Tue-Thu, 7.30 pm -10.00 pm for 30 Hrs
UPDA Electrical, Electronics, Instrumentation, Communications Engineering Exam Preparation
15 Apr 2023, Sat-Mon-Wed, 7.30 pm-10.00 pm for 30 Hrs
UPDA – Chemical, Petro-Chemical Engineering Exam Preparation
15 Apr 2023, Sat-Mon-Wed, 7.30 pm - 10.00 pm for 24 Hrs
UPDA MMUP Architecture Exam Preparation
15 Apr 2023, Sat-Mon-Wed, 7.30 pm - 10.00 pm for 21 Hrs
CCP- Certified Cost Professional Exam Preparation
27 Apr 2023, Sun-Tue-Thu, 7.00 pm - 10.00 pm for 35 Hrs
Qatar Civil Defence (QCDD) Exam Preparation- Mechanical
26 Apr 2023, Sat-Mon-Wed, 7.00 pm - 10.00 pm for 15 Hrs
Qatar Civil Defence (QCDD) Exam Preparation- Electrical
30 Apr 2023, Sun-Tue-Thu, 7.00 pm - 10.00 pm for 15 Hrs
Qatar Civil Defence (QCDD) Exam Preparation- Architecture
30 Apr 2023, Sun-Tue-Thu, 7.00 pm - 10.00 pm for 15 Hrs
LEED Green Associate (LEED GA)
16 Apr 2023, Sun-Tue-Thu, 7.30 pm - 10.00 pm for 15 Hrs
Primavera (P6)
16 Apr 2023, Sun-Tue-Thu, 7.30 pm - 10.00 pm for 24 Hrs
Revit Architecture
30 Apr 2023, Sun-Tue-Thu, 7.00 pm - 10.00 pm for 30 Hrs
Revit MEP
27 Apr 2023, Sun-Tue-Thu, 7.00 pm - 10.00 pm for 30 Hrs
Contact our Expert Consultants:
UPDA & Management Training Programs Team
Mob/WhatsApp: +974 6646 4941 / 3340 3359 / 5501 6247
Health & Safety, CFM, ISO Training Programs Team
Mob/WhatsApp: +974 3084 4322 / 7776 5141 / 3098 8433 / 7764 7699 / 3111 4862
Tel: +974 4476 0135 / +974 4476 0546
https://www.facebook.com/groups/updammupexampm