Qing Ming Amitabha Jangchog Puja 2020 清明阿弥陀佛超度法会

Saturday, 4 April 2020 from 14:00 to 16:00 (Singapore Standard Time Singapore Time)
Event Details
Qing Ming Amitabha Jang Chog Puja for the Deceased will be conducted by Ven. Dorzin Dhondrup Rinpoche.
Date : 4th April 2020
Time : 2pm to 4pm
Qing Ming is a time we keep our ancestors, deceased relatives and friends in our minds. We also take this opportunity to practise filial piety and dedicate merits in the puja for their liberation. 
Due to the fast spreading pandemic COVID-19 in the world, this event will be held privately with the assistance of volunteers and committee members.
Special Dedication to all front-line caregivers who lost their lives helping others in the COVID-19 pandemic, and to all those who have died due to the virus.
ONLINE REGISTRATION FOR PUJA ONLY:
  https://tinyurl.com/dtdlqingming2020
Dedication for Individual Name: S$10
Dedication for Ancestory: S$20
Dedication for Karmic Creditors: S$20
Dedication for Sentient Beings: S$20
清明节是我们追思祖先和过世亲人的时节。作为佛教徒,我们也借此为他们
超度,以孝亲之心,愿其早登极乐。因此,直噶如灯大吉林特别在2020年4月
4日举办清明超度法会。

鉴于新冠病毒疫情蔓延全球,本中心也采取了防疫措施,仅开放线上让公众
报名参与。这项超度法会将由更却东周仁波切主法,在本中心委员和义工协
助下进行。

我们也将在这次法会中,特别回向给在新冠病毒疫情中牺牲的医务人员和
罹难者。
鉴于疫情,仅供线上报名:
https://tinyurl.com/dtdlqingming2020
***IMPORTANT: Drigar Thubten Dargye Ling uses Eventbrite portal to manage registrations. Whilst all events are listed as "free" in Eventbrite, please refer to program description to check whether a program/course/class is payable or free.*** 
**重要信息:直噶如灯大吉林使用Eventbrite的平台作为报名的用途。尽管在此平台的所有的活动都将显示为"免费",但请务必以相关活动介绍的内容为准,确认是否该活动/课程/班级为付费或免费。**
#Buddhism #Dharma #佛 #共修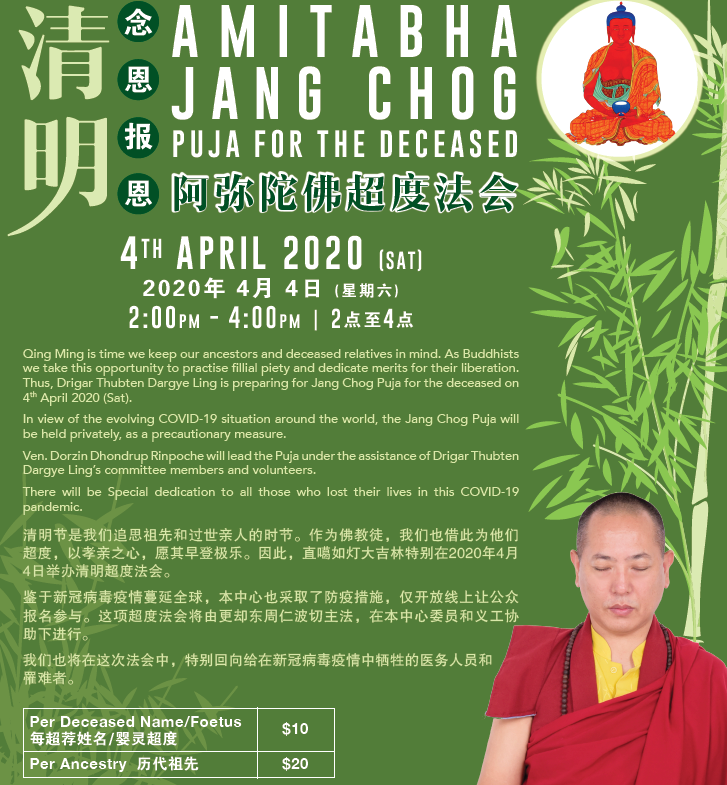 When & Where

Drigar Thubten Dargye Ling
Online Streaming ONLY

Singapore

Saturday, 4 April 2020 from 14:00 to 16:00 (Singapore Standard Time Singapore Time)
Add to my calendar
Organiser
Drigar Thubten Dargye Ling was established by H.E. Garchen Rinpoche in 2007 with the aspiration for all his disciples to practice together as a sangha. 
Ven. Dorzin Dhondrup Rinpoche is the resident teacher of Drigar Thubten Dargye Ling, a centre following the Drikung Kagyu lineage of Tibetan Buddhism. We warmly welcome anyone who wishes to study and practice the holy Buddhadharma at our centre.
No. 15, Geylang Lor 29, #04-01, PTH Building (S) 388069
Tel: 63960960
Web address: www.drigar-dargyeling.com