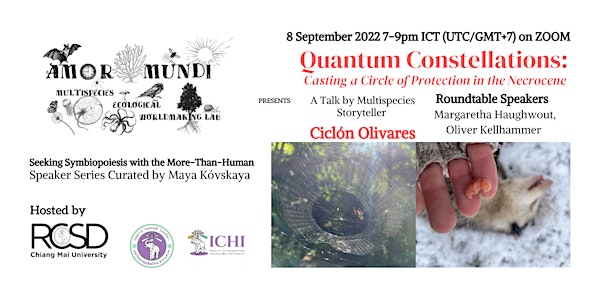 Quantum Constellations: A Talk by Multispecies Storyteller Ciclón Olivares
A talk by Ciclón Olivares, w/ roundtable speakers Margaretha Haughwout & Oliver Kellhammer, moderated by Maya Kóvskaya w/ Audience Q&A.
About this event
AMOR MUNDI Multispecies Ecological Worldmaking Lab's
"Seeking Symbiopoeisis with the More-Than-Human" Speaker Series presents:
"Quantum Constellations: Casting a Circle of Protection in the Necrocene"
A Talk by Multispecies Storyteller Ciclón Olivares and Roundtable Speaker Discussion with Oliver Kellhammer, Margaretha Haughwout, moderated by Maya Kóvskaya, with Audience Q&A
Thursday, 8 September 2022 7-9 PM (ICT) INDOCHINA Time / GMT+7/ UTC+7
TALK ABSTRACT
This lecture introduces critical encounters with wildlife and roadkill in the place settlers renamed as New Jersey; called Lenapehoking at least 10,000 years prior. Transmedia fragments (poetry, photography, video, storytelling) will be used to frame affective engagements with eco grief and hope, creating a dialectic between exoteric and esoteric narrations. The talk will introduce intersectional philosophies that connect critical animal studies with the Sixth Great Extinction. Transportation networks, such as the railroad and highway, will be interrogated in relation to their extractive legacies and discussed alongside feral justice, the multispecies commons, and creaturely care ethics. At its core, Ciclón's lecture will animate a discussion about the role played by aesthetics, magic, and quantum enchantment in more than human entanglements.
Empathic Warning: The talk will contain imagery of dead and mangled animals.
Keywords: Quantum Constellation, Necrocene, Transmedia Ecology, Sixth Great Extinction, Multispecies Care, Multispecies Studies, Anthropocene Studies, Critical Animal Studies, Critical Life Studies, Art and the Anthropocene, Media Studies, Extinction Studies, Multispecies Ethnography
ABOUT SPEAKER
CICLÓN OLIVARES (They/Them, She/Hers)
Ciclón, née Lissette T. Olivares, is the co-founder of Sin Kabeza Productions and SK Symbiotic—transmedia research platforms that collaborate with life-forms within and beyond the technosphere. Their work engages conceptual activisms and develops technologies of consciousness to contend with the conflicted affects of Terran pleasure and strife amid mass extinctions. They have conducted in-situ ethnography in China, India, Chile, Germany, and the US, including documentary and interventionist work with tattooed pigs commodified as art in Beijing and feral canine communities in Santiago and Goa. Sin Kabeza Productions' video art, multispecies architecture, and performance lectures have been exhibited worldwide, including at: "The Worldly House: An Archive Inspired by Donna Haraway's Multispecies Writings on CoEvolution," at dOCUMENTA(13); DisOwning Life Conference (2012); the NGBK gallery in Berlin's Animal Lovers exhibition (2016); Edith Russ Haus for New Media Art in Oldenberg, Germany and Muzeum Sztuki in Lodz, Poland (2017-2019); Nida Art Colony in Lithuania (2019). Ciclón's publications range from theoretical writing to the speculative manifesto included in Modified: Living as a Cyborg (Routledge 2021). Their education includes studies at Vassar College, University of Chile, Peking University, the Whitney Museum as a Helena Rubenstein Fellow in Critical Studies, and the History of Consciousness Department. Awards include: the Fulbright Fellowship, Jacob K. Javits Fellowship, NYU Provost Transition Fellowship for Academic Diversity, ICI Berlin Institute for Critical Inquiry Curatorial Fellowship, A Blade of Grass' Artist Files Fellowship for socially engaged art, and most recently, research funding from The Global South Center and the Social Science and Cultural Studies Department at Pratt Institute. Between 2010-2012 Olivares was an Assistant Professor and Faculty Fellow at the Gallatin School of Individualized Studies; they are currently a union protected instructor at Pratt Institute, teaching "Animals, Ethics and Representation." Since 2018 SK Symbiotic has been restoring a haunted 18th-century Georgian stone house who often reveals complex colonial histories about the site's myriad beings. Currently Ciclón is interested in genetically modified mosquitoes and blastocysts, witchcraft in pre-revolutionary America, and in promoting widespread commitment to multispecies communities, especially those that dwell in your backyard.
ROUNDTABLE SPEAKERS
MARGAREHA HAUGHWOUT (She/They)
Margaretha Haughwout collaborates with humans, and the more-than-human, across technologies and ecologies, gesturing to possible worlds — worlds that generate abundance, presence and relationship, and antagonize regimes of private property. Her work manifests as speculative fabulation, intervention, participatory event, walking tour, experimental pedagogy, installation, and as biological process. Margaretha's active collaborations include the Coven Intelligence Program, with efrén cruz cortés: a coven that uncovers revolutionary ecologies between witches, plants and machines; the Guerrilla Grafters, with Ian Pollock and Tara Hui: who graft fruit bearing branches onto non-fruit bearing, ornamental street trees in the urban environment; Ruderal Witchcraft with Oliver Kellhammer: considering of set of practices specific to planetary, weedy natures that work their way at edges and interstices of public and private property, and which are entangled with a range of other human and non-human outcasts of capitalist modernity; and the annual Grafters X Change, where bioregional eco-artists and fruit tree enthusiasts continue the work toward abundant Food Forest Futures. Most recently Margaretha's work was featured at The Pixelache Festival in Helsinki, Yerba Buena Center for the Arts in San Francisco, Stadtwerkstatt at Ars Electronica in Linz, Austria, and at the Usdan Gallery at Bennington College. Her writing has recently been published in an anthology called Social Practice and Technologies for Change, edited by xtine burrough and Judith Walgren, and she has a forthcoming essay, co-authored with Oliver Kellhammer entitled "The Ruderal Witchcraft Manifesto" coming out through Duke University Press. Margaretha received her MFA from the University of California Santa Cruz. In her studio classes at Colgate, she draws connections between avant-garde legacies, emerging media art, and collaboration, in order to foster distributed, artistic approaches to the interconnected issues of our time/s.
OLIVER KELLHAMMER (He/His)
Oliver Kellhammer is an artist, writer and researcher who turns to botanical interventions and social art practice to demonstrate nature's surprising ability to recover from damage. Recent work has focused on the psychosocial effects of climate change, decontaminating polluted soil, reintroducing prehistoric trees to landscapes impacted by industrial logging, and cataloging the biodiversity of post-industrial sites. Kellhammer is interested in exploring regeneration in the wake of human disturbance, either through passive field observation (what can I not do?) of biota recolonizing industrial wastelands or by actively engaging in the biological and socio-political processes that inform these landscapes by attempting to improve their relationships with each other. The latter approach often takes the form of what he calls "botanical interventions," whereby horticultural techniques mitigate problems between people and the landscape, enhancing both the sense of the place and its ecological carrying capacity, as well as addressing such problems as erosion, the availability of affordable and nutritious food and the frequent lack of agency low-income communities are allowed over the design of their urban spaces. Kellhammer's past projects include a community access bio-materials plantation, the reforestation of an eroded railway ravine where the vegetation is now protected as intellectual property and working with squatters in Canada's poorest neighborhood to establish the country's first public permaculture food forest and Asian ethnobotanical arboretum. Recent investigations have focused on the speculative botany of climate change and the role of brownfield ecologies as refugia for biodiversity. Kellhammer's interventions, when elaborated, are deliberately anti-monumental; they integrate into the ecological and cultural communities that form around them, with the role of the artist becoming increasingly obscured. Kellhammer has been living with an endangered turtle for fifty-five years.
CURATOR & MODERATOR
MAYA KÓVSKAYA (Femme They/Them)
Maya Kóvskaya (Ph.D. UC Berkeley, 2009) is founder and head of the AMOR MUNDI Multispecies Ecological Worldmaking Lab—a multidisciplinary research initiative in the Global South focused on how human and more-than-human worldmaking and survival are mutually entangled under the compound crises of climate chaos, mass extinction, and the Anthropocene condition. Maya teaches Multispecies Anthropocene Studies; Science, Technology, and Society (STS) Studies; and Political, Critical, Cultural, and Semiotic Theory at Chiang Mai University in the Faculty of Social Science. They have published widely on the intersection of the political, linguistic, and ecological with performative, semiotic, and visual culture. Their ecophilosophical work further involves a conceptual examination of the philosophical underpinnings and etiologies of what they call the "Anthroposupremocene." Interrogating the workings of the invidious, hierarchical, dualist division between humans and the more-than-human world, Maya traces the historically contingent, constitutive and rupturing "species-alienation" of Western Humanist "Man/Anthropos" from "Nature," and the unfolding catastrophic consequences for the planet. Their multispecies ethnographic work explores what they call "feral agency," "more-than-human speech acts," "multispecies language games," "eco-performativity," and bio- and eco-semiosis, to investigate the extralinguistic ways that nature "speaks." Understanding how nature "speaks" can help us "rethink the human in a more-than-human world," better conceptualize a "politics beyond the human, and imagine "multispecies polities" as shared sites of symbiopoiesis against the Anthropocene. Current multispecies ethnographic research includes a collaboration with a marine biologist—an eco-semiotic study of the "feral agency" and the coral reef holobiont under climate crisis in the Gulf of Thailand; and collaborative research on multispecies entanglements of macaques-cats-dogs-bats-and-viruses with monks and tourists in Northern Thailand. They have also been a curator, and award-winning art critic since 2005, having lived, taught, curated exhibitions, and done research in Russia, China, India, and Thailand, since the 1990s.
ABOUT AMOR MUNDI Multispecies Ecological Worldmaking Lab
AMOR MUNDI Multispecies Ecological Worldmaking Lab is an intersectional multidisciplinary research initiative in the Global South investigating how human and more-than-human worldmaking and survival are mutually entangled. Our aim is to grow a knowledge-making community by fostering dialogues and collaborations amongst disciplines spanning ecophilosophy and ecological political theory, ethology, animal, plant, and critical life studies, geography, anthropology, political and social sciences, humanities, arts, and natural sciences, through research, publications, workshops, curated conversations, art/science exhibitions, multispecies ethnography, and innovative pedagogy.
HOSTS
—The Regional Center for Social Science and Sustainable Development (RCSD), Chiang Mai University
—The Integrative Center for Humanities Innovation, Chiang Mai University
ORGANIZER
—AMOR MUNDI Multispecies Ecological Worldmaking Lab
SERIES CURATOR
Maya Kóvskaya
EVENT MANAGER
Blake Palmer
LAND ACKNOWLEDGEMENT
We acknowledge that the lands on which we speak, work, and live belongs to all earthly beings, past, present and future, and wish to highlight the vital role played by the many diverse indigenous peoples who came here and made homes long before there were Nations or States. Acknowledgements are not enough, however. We need to actively begin decolonizing our relations with the natural world. Returning stolen lands to the care of traditional custodians, who have proven their capability and will to preserve biodiversity and landscape integrity in the lands under their stewardship for millennia, is one of many needed steps. To borrow the words of Tuck and Yang: "Decolonization is not a metaphor."